Danz, Elmlinger and Hammer Crowned Paratriathlon World Champions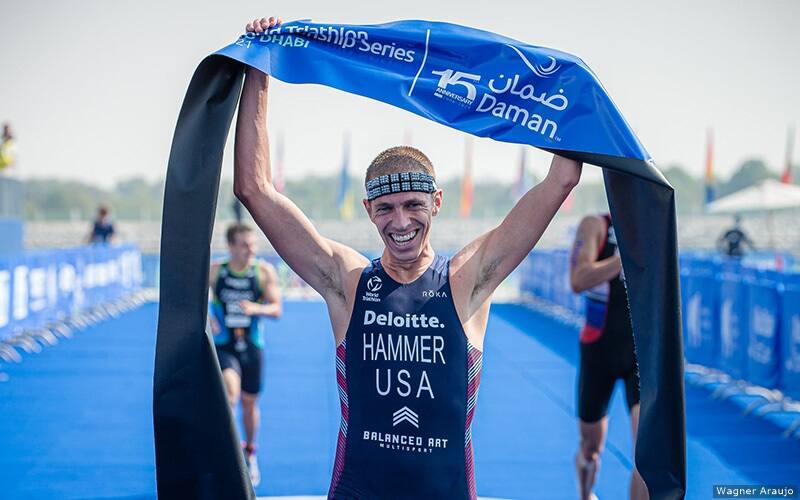 ABU DHABI, UAE — After an epic year of Paratriathlon competition that saw the return of in-person racing and podiums claimed at the Paralympic Games Tokyo 2020, the 2021 World Triathlon Para Championships Abu Dhabi officially closed out the 2021 season on Friday, Nov. 5.

U.S. athletes collected three world titles as Hailey Danz (Colorado Springs, Colo. - PTS2), Kelly Elmlinger (San Antonio, Texas - PTS4) and Chris Hammer (Elkins, W.V. - PTS5) earned gold, while Grace Norman (Jamestown, Ohio – PTS5) landed a podium with a second-place finish and Kyle Coon (Colorado Springs, Colo.) picked up the bronze in the PTVI sport class.

More than 120 elite athletes gathered on Yas Island in the desert capital city to compete for 12 world titles across six sport classes. Abu Dhabi featured a fast sprint-distance course (750-meter swim, 20-kilometer bike and 5-kilometer run) that took the athletes around Yas Marina and part of the Yas Marina Circuit, a Formula One motorsports track.
Hammer claimed his first U.S. world title after a thrilling PTS5 sprint finish on the blue carpet against Aleksandr Konyshev (RUS) and Ronan Corderio (BRA). He crossed the line in 58 minutes, 34 seconds. A fourth place finisher at the Paralympic Games Tokyo this August, Hammer is head coach of the women's collegiate triathlon team at Davis & Elkins University. His team will compete at the Women's Collegiate National Championships on Nov. 13 in Tempe, Arizona.

In the PTS4 race, Elmlinger, U.S. Army veteran and Tokyo 2020 Paralympian, maintained her undefeated World Triathlon season racing PTS4 competition to claim the world title with a time of 1:12:53, nearly three minutes ahead of her competitors. Her PTS4 classification wasn't a part of the Tokyo 2020 Paralympics, so she classed up to PTS5 competition for that race.

Danz won the gold in the women's PTS2 race, adding to her successful year of hardware after earning the silver in the Tokyo 2020 Paralympics, and gold in both the World Triathlon Para Series Leeds and Americas Para Championship Pleasant Prairie. She clocked in at 1:17:21 on Friday. The world title is the second of Danz's career and now seventh World Championships medal.

In the women's PTS5 event, Norman was first out the water, but was caught by Great Britain's Claire Cashmore for the crown. The Tokyo 2020 Paralympics silver medalist ultimately finished 53 seconds behind for a time of 1:05:54. A two-time world champion, Norman has now won six World Championships medals, including two silvers.

Starting off competition day was the PTVI sport class, which saw four U.S. athletes in contention. On the men's side, Coon crossed the line at 1:01:19 to earn the bronze medal, his first at the World Championships. He was guided by Zack Goodman (Salisbury, Md.). U.S. teammate Owen Cravens (Algonquin, Ill.), guided by Colin Reilly (Cincinnati, Ohio), took fifth place, finishing in 1:02:01.
On the women's PTVI side, Tokyo 2020 Paralympians Elizabeth Baker (Roswell, Ga.), with guide Jillian Elliot (Gig Harbor, Wash.), crossed the line at 1:12:28 to take fifth place and Amy Dixon (Encinitas, Calif.), with guide Kirsten Sass (McKenzie, Tenn.), placed 10th overall in 1:19:44.

Howie Sanborn (Denver, Colo.) was the sole U.S. athlete racing in the PTWC category; he finished seventh overall in a time of 1:05:04.

In the men's PTS2 field, Mohamed Lahna (Colorado Springs, Colo.) return to elite level triathlon competition after competing in para-cycling since 2018; he placed sixth with a time of 1:13:48.

U.S. Marine Corps veteran and Tokyo 2020 Paralympian Eric McElvenny (Pittsburgh, Pa.) and Omar Bermejo (Casper, Wy.) competed in the men's PTS4 sport class. McElvenny, the current U.S. national champion, came in sixth with a time of 1:05:27 and Bermejo was 14th with a time of 1:16:29.

For the full Paratriathlon results click here. Watch the full race replay on Triathlonlive.tv.
2021 World Triathlon Para Championships Abu Dhabi
750m swim, 20k bike, 5k run
Women's PTS5
1. Claire Cashmore (GBR) 1:05:01
2. Grace Norman (Jamestown, Ohio) 1:05:54
3. Alisa Kolpakchy (UKR) 1:11:40
Women's PTS4
1. Kelly Elmlinger (San Antonio, Texas) 1:12:53
2. Marta Frances Gomez (ESP) 1:15:31
3. Elke Van Engelen (GER) 1:23:17
Women's PTS3
1. Andrea Miguelez Ranz (ESP) 1:14:42
2. Elise Marc (FRA) 1:19:31
3. Evgeniya Koroleva (RTF)
Women's PTS2
1. Hailey Danz (Colorado Springs, Colo.) 1:17:21
2. Fran Brown (GBR) 1:18:17
3. Lisa Lilja (FIN) 1:23:45
Women's PTWC
1. Lauren Parker (AUS) 1:05:24
2. Jessica Ferreira (BRA) 1:09:19
3. Eva Maria Moral Pedrero (ESP) 1:11:36
Women's PTVI
1. Susana Rodriguez (ESP) 1:06:26
2. Anna Barbaro (ITA) 1:09:25
3. Alison Peasgood (GBR) 1:09:40
U.S. Finishers
5. Elizabeth Baker (Signal Mountain, Tenn.) with guide Jillian Elliot (Gig Habor, Wash.), 1:12:28
10. Amy Dixon (Encinitas, Calif.) with guide Kirsten Sass (McKenzie, Tenn.), 1:19:44
Men's PTS5
1. Chris Hammer (Elkins, W.V.) 58:34
2. Aleksandr Konyshev (RTF) 58:36
3. Ronan Cordeiro (BRA) 58:38
Men's PTS4
1. Alexis Hanquinquant (FRA) 58:44
2. Hideki Uda (JPN) 1:03:22
3. Alejandro Sanchez Palomero (ESP) 1:03:58
U.S. Finishers
6. Eric McElvenny (Pittsburgh, Pa.) 1:05:27
14. Omar Bermejo (Casper, Wyo.) 1:16:29
Men's PTS3
1. Victor Chebotarev (RTF) 1:08:07
2. Daniel Molina (ESP) 1:09:15
3. Nico Van Der Burgt (NED) 1:09:50
Men's PTS2
1. Jules Ribstein (FRA) 1:08:43
2. Lionel Morales (ESP) 1:09:19
3. Wim De Paepe (BEL) 1:10:44
U.S. Finishers
6. Mohamed Lahna (Colorado Springs, Colo.) 1:13:48
Men's PTWC
1. Jetze Plat (NED) 56:15
2. Geert Schipper (NED) 57:33
3. Florian Brungraber (AUT) 57:44
U.S. Finishers
7. Howie Sanborn (Colorado Springs, Colo.) 1:05:04
Men's PTVI
1. Dave Ellis (GBR), 58:29
2. Hector Catala Laparra (ESP), 59:47
3. Kyle Coon (Colorado Springs, Colo.) with guide Zack Goodman (Salisbury, Md.), 1:01:19
U.S. Finishers
5. Owen Craves (Algonquin, Ill.) with guide Colin Riley (Cincinnati, Ohio), 1:02:01