Team USA Represents in Quarteira at 2021 World Triathlon Junior Championships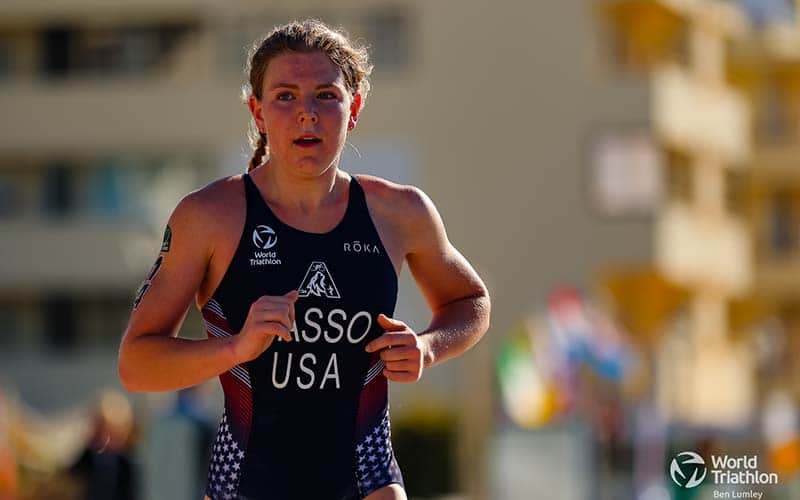 QUARTEIRA, PORTUGAL – The Portuguese beach town of Quarteira welcomed the future of triathlon over the weekend as young talent battled for the title of 2021 World Triathlon Junior Champion.

Since 2009, Team USA has earned five junior world crowns. Lukas Verzbicas (Orland Hill, Ill.) earned the title in Beijing 2011, Tamara Gorman (Rapid City, S.D.) in London 2013, Austin Hindman (Wildwood, Mo.) in Cozumel 2016 and current Tokyo 2020 Olympic Silver Medalist Taylor Knibb (Washington, D.C.) earned back-to-back junior titles in Cozumel 2016 and Rotterdam 2017.

The junior status is for athletes born in the year 2002 or later. The junior men opened up the weekend, lining up on Saturday, Nov. 6 with 26 nations on the roster. The junior women followed on Sunday Nov. 7 with a start list of 24 nations.

Coming off his victory in St. George, Utah, at the 2021 Americas Triathlon Junior Championships last weekend, Nicholas Holmes (Glendale, Wis.) had the top finish for the U.S. men, placing in the top-20 in 19th overall. He crossed the line in 57 minutes and 13 seconds.
The top woman for the U.S. was Faith Dasso (New Braunfels, Texas), who took 23rd with a time of 1:03:23. Dasso also claimed a podium in St. George the weekend before, finishing second in the junior field.

Starting with a beach run into the ocean along the Algarve coast, athletes took on a sprint-distance course with a 750-meter swim in the Atlantic Ocean, a 20-kilometer bike that featured many technical turns and one long descent, before ending with a flat five-kilometer run.

Title contention looked promising early in the race for the U.S. as Andrew Shellenberger (Tempe, Ariz.) exited third out of the water and was able to form a strong pack of three to start the bike, alongside Great Britain's Daniel Dixon and Germany's Henry Graf.

The trio created a decent gap from the behind chase, where it looked like the podium could have been secured. However, misfortunate for all three started to unfold when first Dixon crashed during a descent at full speed. While Shellenberger and Graf were initially able to continue riding as a duo, Shellenberger would ultimately also suffer a bike crash.

While he recovered, Shellenberger wasn't able to regain his leading momentum and he ended up 28th on the day, with a finish time of 58:03.

Earning the men's junior world title was Spaniard Igor Bellido Mikhailova with a time of 55:02. Taking the runner-up position was Portugal's own Joao Nuno Batista (55:39) followed by Dominic Coy of Great Britain in third (55:40).

Also finishing in the men's race was Keller Norland (Corvallis, Ore.), who placed 24th with a time of 57:48.

In the women's race, a leading pack of seven led the competition after a swift swim. They forged ahead and pushed the pace out on the bike leading a huge chase pack that contained the U.S. women.

The run spread out the field even more.

Germany's Jule Behrens was crowned the Junior World Champion, finishing in 1:01:01. Followed by Tilda Mansson of Sweden (1:01:08) and Spaniard Maria Casals Mojica (1:01:17).

With Dasso's 23rd finish, behind her was Micah Poellet (Cedar Rapids, Iowa) in 43rd with a time of 1:07:18. She is a member of the women's collegiate triathlon team at the University of South Dakota. Alexandra Poole (Farmington, Conn.) placed 44th in 1:07:28, and closing out the U.S. women's team was Camille Buchanan (Bartlett Ill.) with a time of 1:08:03 to place 46th. She is a member of the Arizona State University women's collegiate triathlon team.
For complete results click here.

Both events were broadcast live on TriathlonLIVE.tv; monthly and annual subscriptions are available for purchase to watch the full replay.
2021 World Triathlon Junior Championship Quarteira
750m swim, 20k bike, 5k run
Elite Women — Complete results
1. Jules Behrens (GER) 1:01:01
2. Tilda Mansson (SWE) 1:01:08
3. Maria Casals Mojica (ESP) 1:01:17
U.S. Finishers
23. Faith Dasso (New Braunfels, Texas) 1:03:23
43. Micah Poellet (Cedar Rapids, Iowa) 1:07:18
44. Alexandra Poole (Farmington, Conn.) 1:07:28
46. Camille Buchanan (Bartlett Ill.) 1:08:03
Elite Men —Complete results
1. Igor Bellido Mikhailova (ESP) 55:22
2. Joao Nuno Batista (POR) 55:39
3. Dominic Coy (GBR) 55:40
U.S. Finishers
19. Nicholas Holmes (Glendale, Wis.) 57:13
24. Keller Norland (Corvallis, Ore.) 57:48
28. Andrew Shellenberger (Tempe, Ariz.) 58:03