News
Features
Paratriathlon
How Embracing the Journey Brought Elite U.S. Paratriathlete Mohamed Lahna to the Best Destinations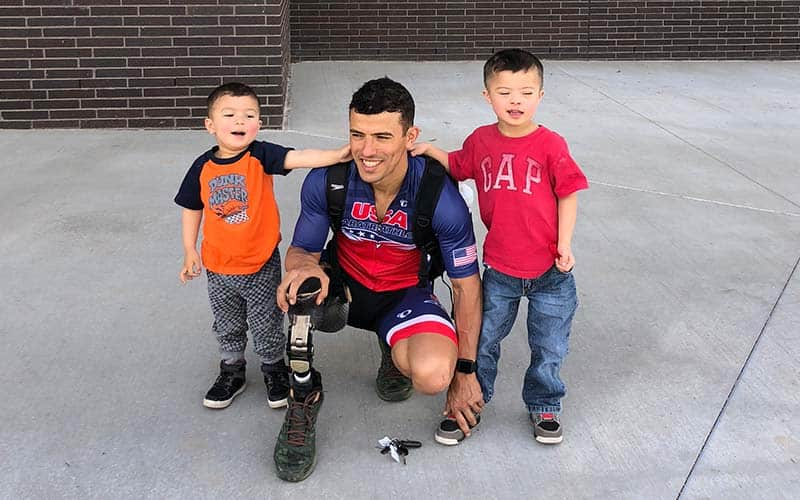 Everyone is familiar with the age-old adage "life is a journey."

And it is true, life is a journey – full of challenges, accomplishments and experiences.

It is how you navigate the journey of life that makes all the difference.

Elite U.S. paratriathlete and two-time Paralympian Mohamed Lahna has been forced to navigate a series of journeys in life that have taken him on paths full of unexpected twists and turns.

But through his ability to harness the power within himself, he has embraced life's journey every step of the way toward of his goal of representing the U.S. at the Paralympic Games.

A Moroccan-American citizen, Lahna began competing in triathlon in 2008, representing his home nation of Morocco. At the time, there was no Moroccan federation for the sport, in part because not only was Lahna the only Moroccan elite paratriathlete competing in the international circuit, he was the only elite paratriathlete in the continent of Africa.

Without national support, Lahna learned to be athlete, coach, travel agent and support staff all at the same time in order to compete.

Alone at races, he "unofficially" was adopted by Team USA after consistently traveling from race to race together.

In 2016, he competed in the Rio de Janeiro Paralympic Games as part of the paratriathlon Paralympics debut, earning the bronze medal in the men's PTS2 sport class.

After Rio, Lahna was living in California with his family with all intentions to retire from the sport and solely focus on life outside of triathlon. However, as a proud Moroccan-American citizen, Lahna knew one unfulfilled dream was to compete at a Paralympic Games as an official member of Team USA.

"When I finished in Rio and reflected on that experience, I came to the conclusion that the journey to getting there was what had the most value to me," Lahna said. "The journey is what made me want to do it again, combined with the love of the sport."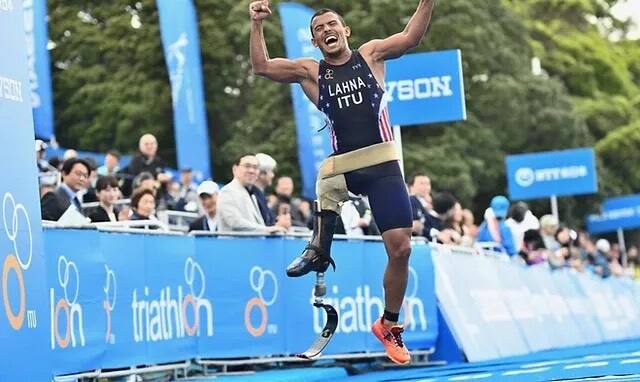 During the national transition, Lahna for three years raced on the elite circuit under the former International Triathlon Union (ITU) name.
Then when the opportunity to join the paratriathlon training program with the U.S. presented itself ahead of Tokyo 2020, Lahna ultimately set his eyes on accomplishing his long-standing dream. His family packed up their lives in California, moved to Colorado Springs, bought a house, enrolled their kids in school and started training at the U.S. Olympic and Paralympic Training Center.

Project Tokyo 2020 was set in motion.

However, Lahna faced a setback in 2018 when the International Paralympic Committee (IPC) announced that his race category, men's PTS2, would be excluded as a medal event for Tokyo.

"I think that was the lowest point in my athletic career. It was really hard. It took me a while before I started thinking about moving on," he said.

After putting so much on the line to get to Tokyo, especially with all the sacrifices his family made, Lahna looked for other opportunities that could get him to Tokyo – making the decision to switch to paracycling in the hopes of continuing his Paralympic journey and representing the U.S.

While new to the sport, he learned how to ride in the velodrome and made essential progress. But despite his effort, Lahna did not make the final roster for the U.S. to compete in Tokyo.

Life presented another detour.

It was then that Lahna and his wife welcomed their third child, so in July 2019, they decided to move back to California and accept the fact that he would not be racing in Tokyo.

Or so he thought.

The COVID-19 pandemic began and postponed the Paralympic Games in 2020. This resulted in the Moroccan Federation contacting Lahna and offering him the chance to compete on the cycling team at the delayed Paralympic Games in Tokyo while representing his birth nation.

Finally making it to his second Paralympic Games in the summer of 2021, Lahna placed 10th in the men's time trial C2 event and 27th in the men's road race C1-3.

"Tokyo was a great experience for me," he said.

Upon coming home from Japan, Lahna found himself again at another crossroads. Would he continue in paracycling? Switch back to paratriathlon? Continue in sport in general?
There were many unknowns.

Then, World Triathlon announced there would be 11 total medal events in paratriathlon for the Paris 2024 Paralympic Games — three more events than there were in Tokyo. Men's PTS2 would be one of them.

The goal to race for Team USA in paratriathlon seemed hopeful once again. Thanks to a hybrid training program, Lahna would still be able to live in California, but come to Colorado Springs every three months to train with the Toyota U.S. Elite Paratriathlon Resident Team.

"All of this combined, the dream to go to Paris started to ignite again," Lahna said.

The first step in realizing that dream was finally getting to put on the Team USA uniform on an elite start line. On Nov. 5, 2021, Lahna competed at the 2021 World Triathlon Para Championships Abu Dhabi, wearing the Red, White and Blue trisuit for the first time — a moment that was over four years in the making.

He finished sixth in the race.

"I was very happy wearing that uniform," he said.

Now with the 2022 race season set to begin this spring, Lahna is once again embracing his new journey and plans to train with the hopes of racing in Paris 2024, while representing the U.S.

"The reason why I wanted to race for Team USA is because I consider myself a Moroccan-American. I already went to the Paralympics two times for Morocco. But I am also American, so if I had a chance to also race for USA, I have a duty to both countries," he said.

He continued, "Someone was asking me which one is best to race for? Morocco or USA? And I will say, each one of them has its pros and cons. For Morocco I owned every decision because I did not have a team, it was a lot of work and was a learning process. On Team USA, you are protected because you follow a plan with a great support system. Both nations have come at a really good time in my life, both of my experiences with each of my nations came at the right time for me."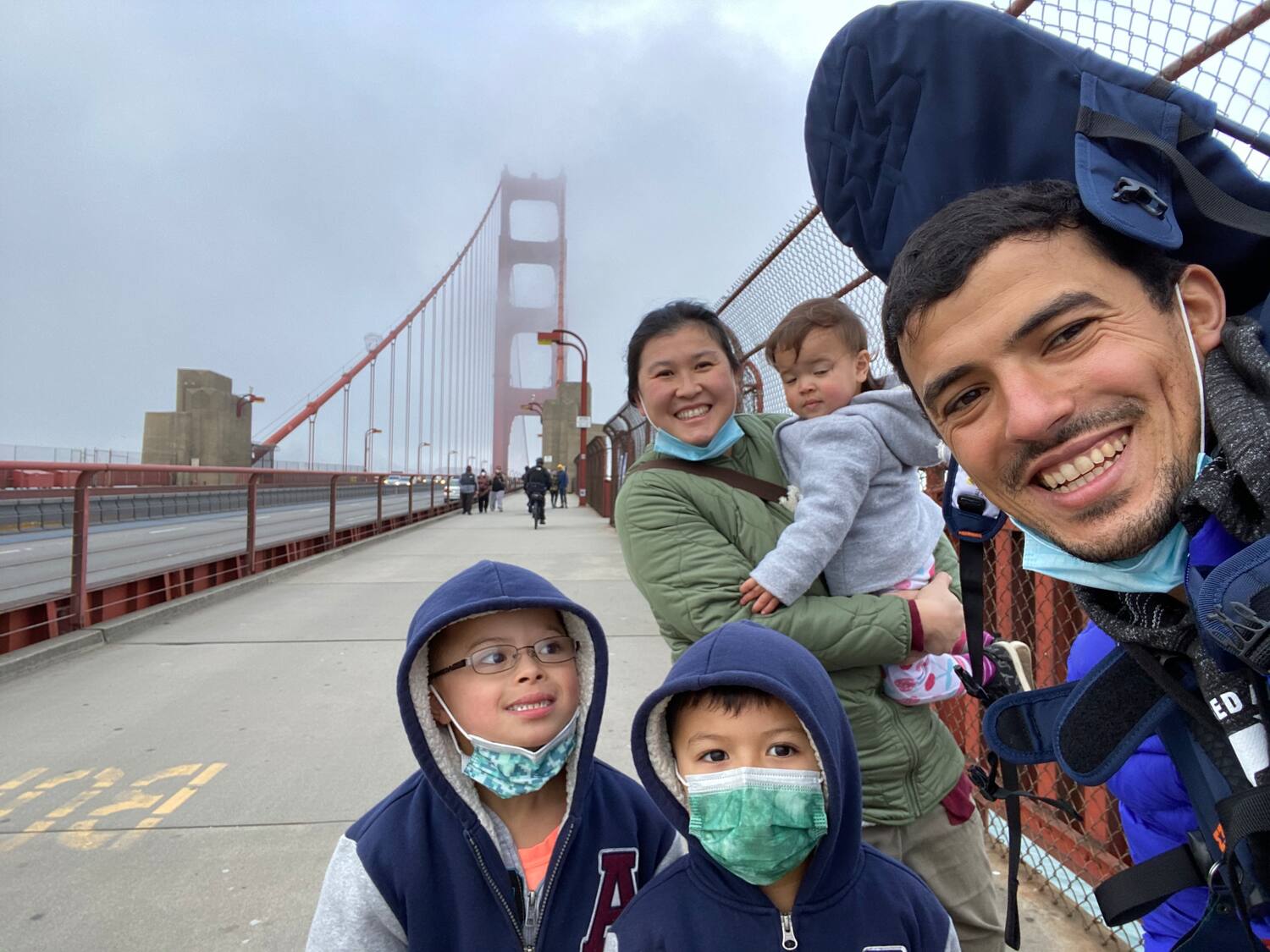 This time around, Lahna will find himself with new challenges getting to his goal, such as older age, three kids at home and working full-time.
"I am not as young as I used to be, so we have to be smart about how we train, how we prepare and how to set the goal. Now, the ultimate goal is to qualify and be competitive in Paris 2024. The challenge is how we can make that work with all of the other priorities such as having a family of three kids under the age of 10. I don't want to miss out on their phases, but I think it is doable," he explained of his training plan.
But despite the challenges, Lahna is excited to get back to work, knowing the purpose of his Paralympic journey has never been clearer.
"Through triathlon I am trying to help as much as possible. It is not just about racing, it is about changing lives. Back in Morocco when I was growing up, with my physical disabilities, society didn't expect much from me and that is still the case. I think doing sports helped me see life's value and to learn to never stop learning," Lahna explained.
"I learned cycling at 24, running at 28, and just completed my bachelor's degree at almost 40. There is no limit to what you can and want to do in life – there is always time. This is why I am still trying to do another Paralympic round. It will be hard work, especially having a family and training, it will not be easy. But I have a goal to work towards, the journey is what motivates and inspires me."