Racing Together as Rivals and Friends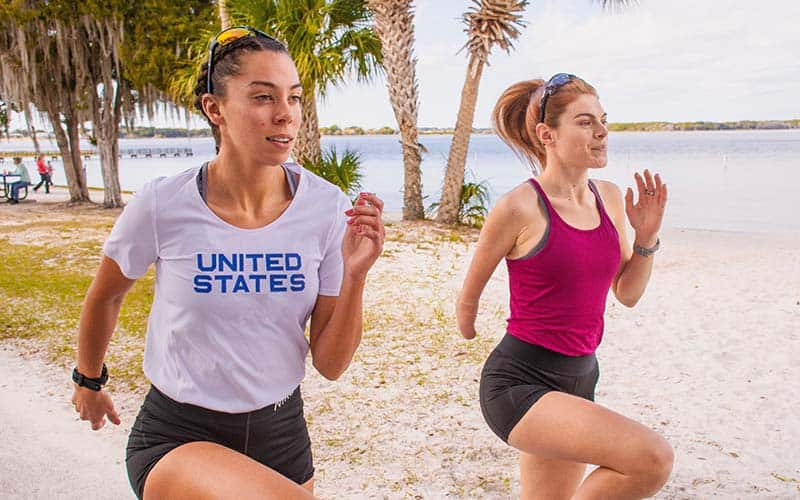 Is there such a thing as friendly competition?
This winter, two of the world's top elite paratriathletes spent three weeks together answering that question.
In preparation for this year's race season, 2022 Toyota U.S. Elite Paratriathlon National Team member Grace Norman began her first training block by hosting a familiar, yet unexpected guest in Florida – her biggest rival, Great Britain's Lauren Steadman.
The British athlete spent the month of January stateside training alongside Norman, avoiding the cold English weather and proving the idea that your biggest competition can also be your biggest cheerleader.
Since 2014, Norman and Steadman have gone head-to-head on the international World Triathlon circuit a total of 14 times. In every one of those events, either Steadman or Norman have made the podium and six of those races had them both finishing 1-2 to each other.
Their rivalry is arguably one of the greatest in paratriathlon history, so close that when they line up to compete in their PTS5 category, whoever claims victory only depends on the day.
Both women are Paralympic gold medalists, Norman having earned gold at the 2016 Rio de Janeiro Games (with Steadman claiming the silver) and Steadman snagging the title last year in Tokyo (where Norman finished less than a minute behind to earn the silver).
Both women are also world champions, with Norman holding the World Triathlon 2016 and 2017 crowns, and Steadman earning the title in 2014, 2015 and 2018.
With their competition so tight and fierce, why decide to train together?
In the eyes of Norman and Steadman however, the better question is 'why not'?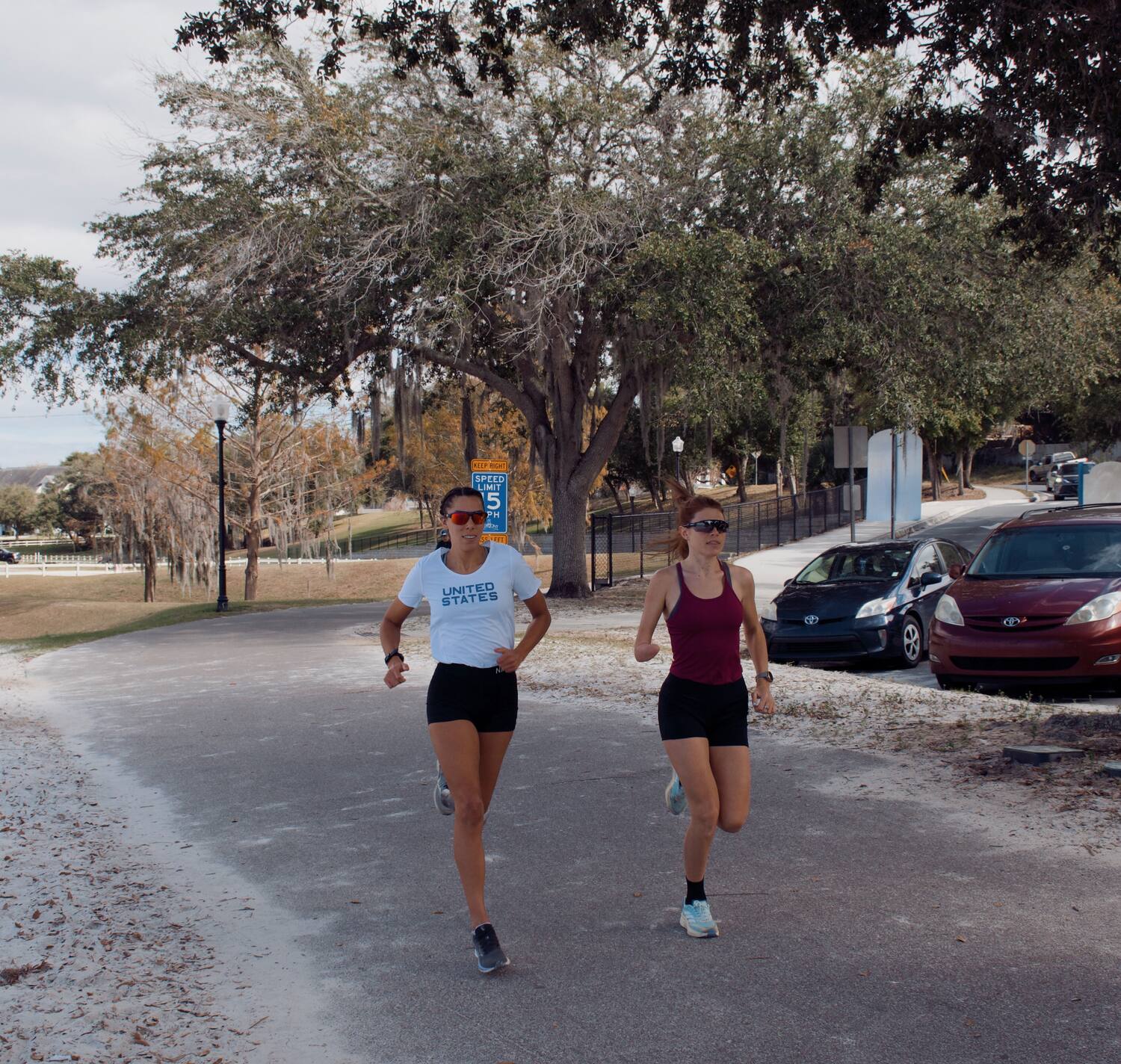 "I think there is a stigma around training with someone from another country because that gives away all their cards. But I think we are pushing to the point where every para athlete that lines up has given their everything, so it doesn't come down to what cards you play, it comes down to what happens in the race," said Steadman. "The only way that we are going to get better is if everyone comes together and learns from each other, this opportunity is only a positive."
In mid-November, Steadman contacted Norman asking if she was up for a training partner. The two spent two weeks training in Clermont, Florida, followed by a week in Fort Lauderdale.
"The first week back my coach was here in Clermont. We had a camp week with some other athletes where we did a lot of cycling and just hit the ground hard with a lot of training," Norman said.
Norman added, "When Lauren called me asking me to train, I immediately thought it was a great idea. We haven't ever trained together but over the past few years we really have grown close as not only competitors but also as friends. To me, we already know each other's strengths and weaknesses from racing together so many years, so what better way to grow as athletes than to surround yourself with greatness?"
The idea of elite athletes training together is not a new concept in the triathlon world. U.S. Elite Triathlon National Team members Summer Rappaport, Taylor Spivey and Seth Rider are all a part of the international squad PS Triathlon, coached by Paulo Sousa. They train alongside top World Triathlon athletes. However, this trend has not infiltrated the paratriathlon system.
"In the able-bodied world you see a lot of athletes from other countries or training groups train together, but you don't see that in para sport in general. Whether that is logistical, or it's more difficult, it's just something not done yet," said Steadman. "But I think there are some great pairs of paratriathletes that would do amazing training together, which is why I called upon Grace [Norman]."
Putting their rivalry aside, strategically speaking, both women benefitted from the experience from a performance perspective. Norman and Steadman are the best in their sport, so training together also means they are training with the best.
Steadman said, "I think you get so caught up in racing someone that you forget you both are doing something for the love of it and you both push the sport forward. So, it's great to come together to see where our strengths and weaknesses are."
"It takes maturity in racing and maturity in your athleticism and as a person to look at your competitor not just as a competitor, but as a person. It took me a while to do that, I viewed everyone as a competitor. However, you can appreciate other athlete's successes, that is why I was able to get happy for her [Steadman] when she won gold in Tokyo."
Not only did they both improve athletically during the three weeks, but they both improved their friendship, which also benefits toeing the start line together.
"There has always been a mutual respect for each other between Grace and I. In Tokyo, I can remember going up to Grace and sometimes when you say good luck to someone you say it out of habit, but I genuinely meant it. I was excited to win gold and when I saw her coming in after me in the race, I was filled with so much happiness," said Steadman.
When they weren't training, they spent time watching movies, cooking and learning about each other.
"The only thing I learned over those three weeks is that Grace is addicted to cinnamon, I never knew that, but she adds it to everything," Steadman said.
Now, race season is officially underway. Norman had her first competition at the 2022 Americas Triathlon Para Championships Sarasota-Bradenton. Her training block paid off as she claimed victory in that Florida race. Her next competition is this weekend, May 14, for the first World Triathlon Para Series event in Yokohama.
Steadman has not begun her season yet, having just spent time at the Beijing Winter Paralympics as a commentator for a TV network in the UK.
But when the two cross paths again this season, racing once again as competitors, the results of who will victor over the other will have a different meaning now as they race together as friends.
"Getting to know Lauren a little bit better will just make competitions more fun, when you surround yourself with greatness you can just pick each other up at the end of each race," said Norman. "Having a better connection as far as training together and now having lived together it is just a different connection than any other athlete, we will be able to utilize our strengths and weaknesses to race better together and I think it was a fun three weeks. I can't wait to go do a training block in England with her."