News
Features
Paralympics
Elite
Living Without Fear: Deb Chucoski Sets Path to Chase her Paralympic Dream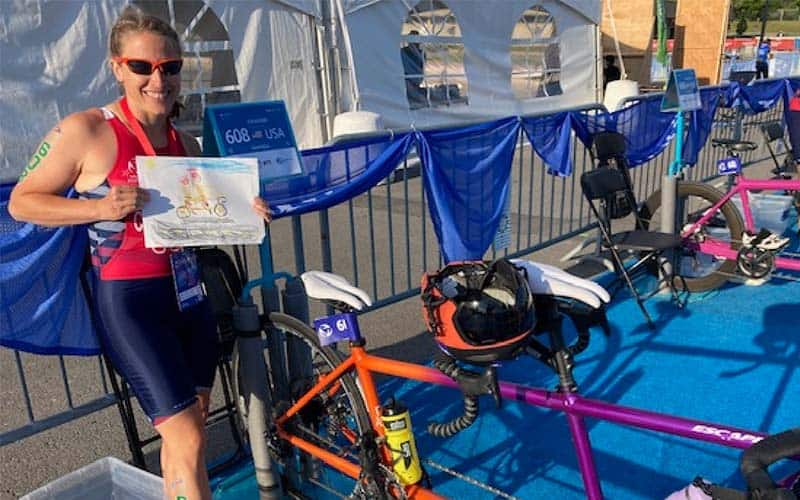 The future is bright for the U.S. Elite Paratriathlon team. With USA Triathlon ramping up its development program to provide training, coaching and resources to upcoming talent, the goals for Team USA are to foster the next generation of paratriathlon superstars.

Deb Chucoski of Corning, New York, is way on her way to becoming said superstar. This year, Chucoski debuted on the international stage, competing at World Triathlon level events and making the podium in each appearance. Racing in the PTVI category as a visually impaired athlete, Chucoski, alongside her guide Ericka Hachmeister, earned the bronze medal in her first-ever World Triathlon Para Series showing in Montreal, Canada. She also earned the silver at the 2022 World Triathlon Para Cup Alhandra in Portugal.

In addition to the international competitions, she also has been flourishing on the national front as she claimed second overall at the USA Paratriathlon National Championships.

We spoke with Chucoski to talk about her successful year and her 2024 Paralympic goals.
How did you get started in triathlon?
I started in 2009 and my vision was not as bad. I have Stargardt's disease, a degenerative disease, so it progresses over time. I started participating in abled-body triathlon, not being super competitive but just to participate. Then my sight loss progressed from 2009 to 2013, so by 2015 I took a break because I was not able to see in the water or could not be super safe on my bike and I just started getting kind of crippling race anxiety. I took a break and had my two daughters. The disease progressed significantly after that, and my husband and I decided that I would switch over to paratriathlon where I'm safer, but I could still participate because it was something I really loved doing. 2020 was going to be my first year of paratriathlon but obviously nothing happened in 2020. I aligned with a local guy here in my community that just really wanted to help me get going, so we did a local triathlon. That just lit the fire. Shortly after that, I was watching the Tokyo Paralympics and I'm just sitting there right in front of my TV crying because I knew I could do that. I knew I had the motivation and the self-discipline; I just needed some help along the way and that's where USA Triathlon came right alongside me. They gave me the opportunity to go in Alabama to a talent ID camp and that is where I got hooked up with a coach right away.
Having started out racing without a guide, how was the transition of training and competing with a guide?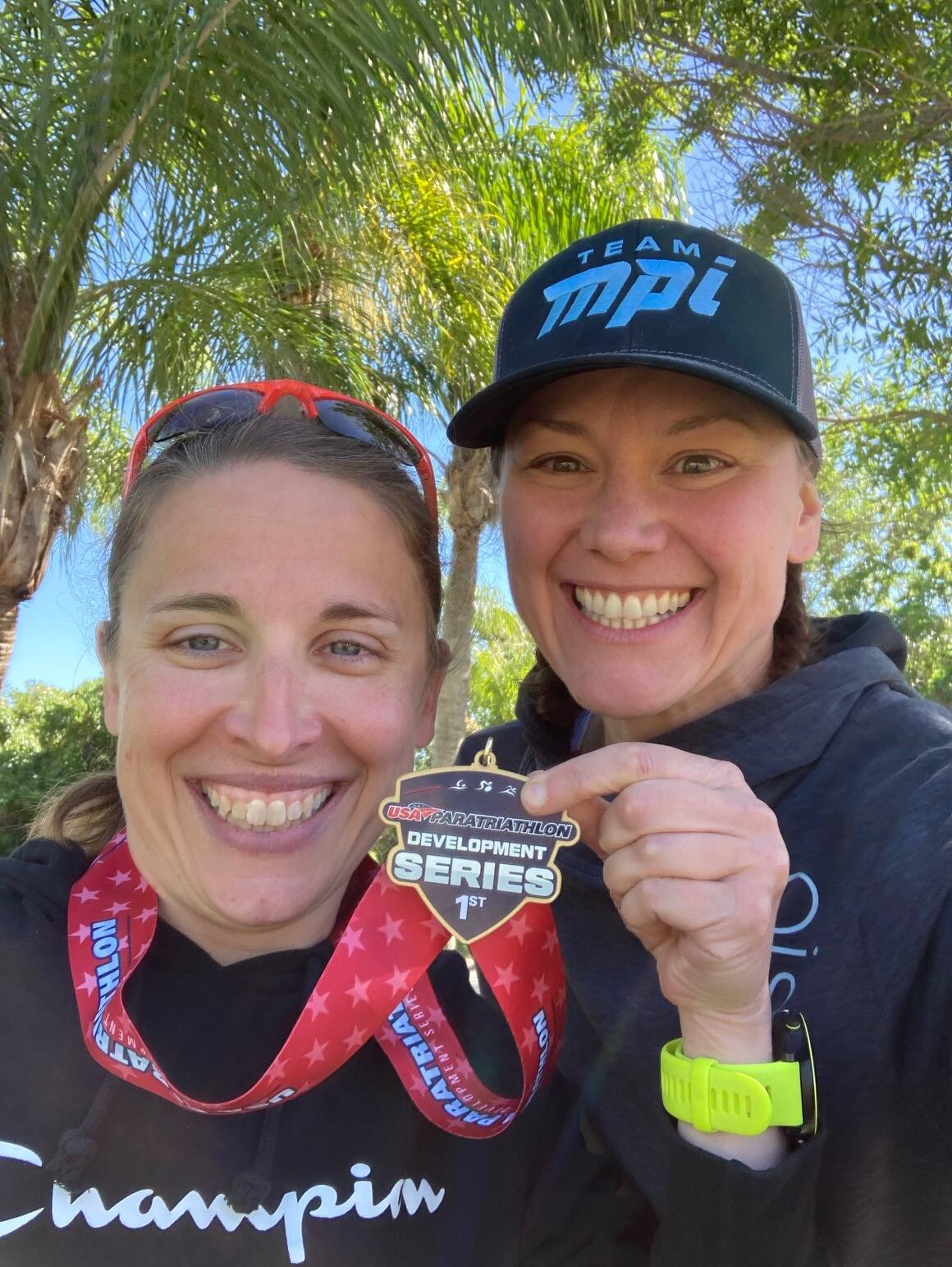 It was liberating! I could finally just go and not have to worry about swimming off into the horizon or crashing my bike. Before it was a safety issue, so I was scared and would go slowly, but then I was just spent by the time I got to the run because I exerted so much energy being nervous. My first go with a guide in a triathlon, I mean I smiled and cried entering the chute because I couldn't believe that's how it should be. It was amazing!
How was the experience attending the talent ID camp with USAT?
It was the first environment to see other visual impaired or completely blind athletes, so it was just inspiring. It helped me to be around other athletes who are competing on the world stage in my category and that they also do not allow a visual impairment to impede their progress, therefore I will not either. It was highly motivating for me.

My guide Ericka also was able to come with me and we were able to practice on the tandem. It was a little bit intimidating, but not overwhelming. There's that balance I think of you could be doing more, but you're also doing great. The coaches met us at the level we were at and then pushed us past that to show we could do it. I really enjoyed camp.

How did you and Ericka Hachmeister get connected? And how has that relationship been this season with training and competing?
I live in upstate New York; we have a big triathlon community here and within that pool I had heard her name before as she was a70.3 pro athlete. I was introduced to her, and we hit it off right away. I was upfront with what my goals were. I said to her, I'm not trying to scare you away, that I would like to go to the Paralympics in 2024. She had been coming off the pro scene and wasn't sure if she wanted to continue racing, so this kind of lit her fire again. She's the conduit for my success, she's just the best person. We get along really well, and our relationship is really smooth, and we have a really good connection. It's been important because I'm making myself vulnerable to her and she's accepting that and accepts her responsibility, so it's been a good team. We met in September 2021, went to camp in November 2021 and then started racing this whole season together. It been a crazy, fast journey.

What made you take the leap into international competition this year?
I sat down with my coaches at camp and told them about my goal to go to the Paralympics. They said, "yes please!" I guess they saw my potential and work ethic, which I 100% get from my upbringing. I am a highly competitive person, and this fire is burning so bright right now because I know that I can give my everything and nothing is hindering me anymore with my vision because Erica will help guide me literally to the finish line. It was decided pretty quick that we wanted to do some international racing this year to work the kinks out to get ready for the Olympic qualifying time period. We never thought it would be this successful, but I am a firm believer and I know God has been making this happen.

How has your experience been racing your debut World Triathlon Para season?
I think it's been one race at a time. Each race has brought its own trials, like one time Ericka's kit ripped as we were leaving to go race, so it hasn't been smooth sailing. But we want to keep fun as a major part of this journey. We have some sayings between the two of us to help us stay calm because the water still brings a lot of anxiety for me because I go from some vision to nothing when I when I get into the water. Each time we learn something, and it helps us to enter the next race stronger. Athletes like Liz Baker and Amy Dixon have stepped off the stage this year to allow us to run with it.

It sounds like this year has been a huge in improving your race anxieties and mental health you were struggling with.
Absolutely. When Ericka and I first started I didn't even want to get in the water until we actually had to race. She was really good about it and was like "okay great but we're getting in because we need to get as much open water experience to help that anxiety." She's really helped help me come over that anxiety of being in the water. It's been good you know we don't want to put pressure on ourselves to have to perform a certain way. We just want to put in hard work and that includes the mental part of it. Then our ability is going to show on the course and hopefully we get some podiums.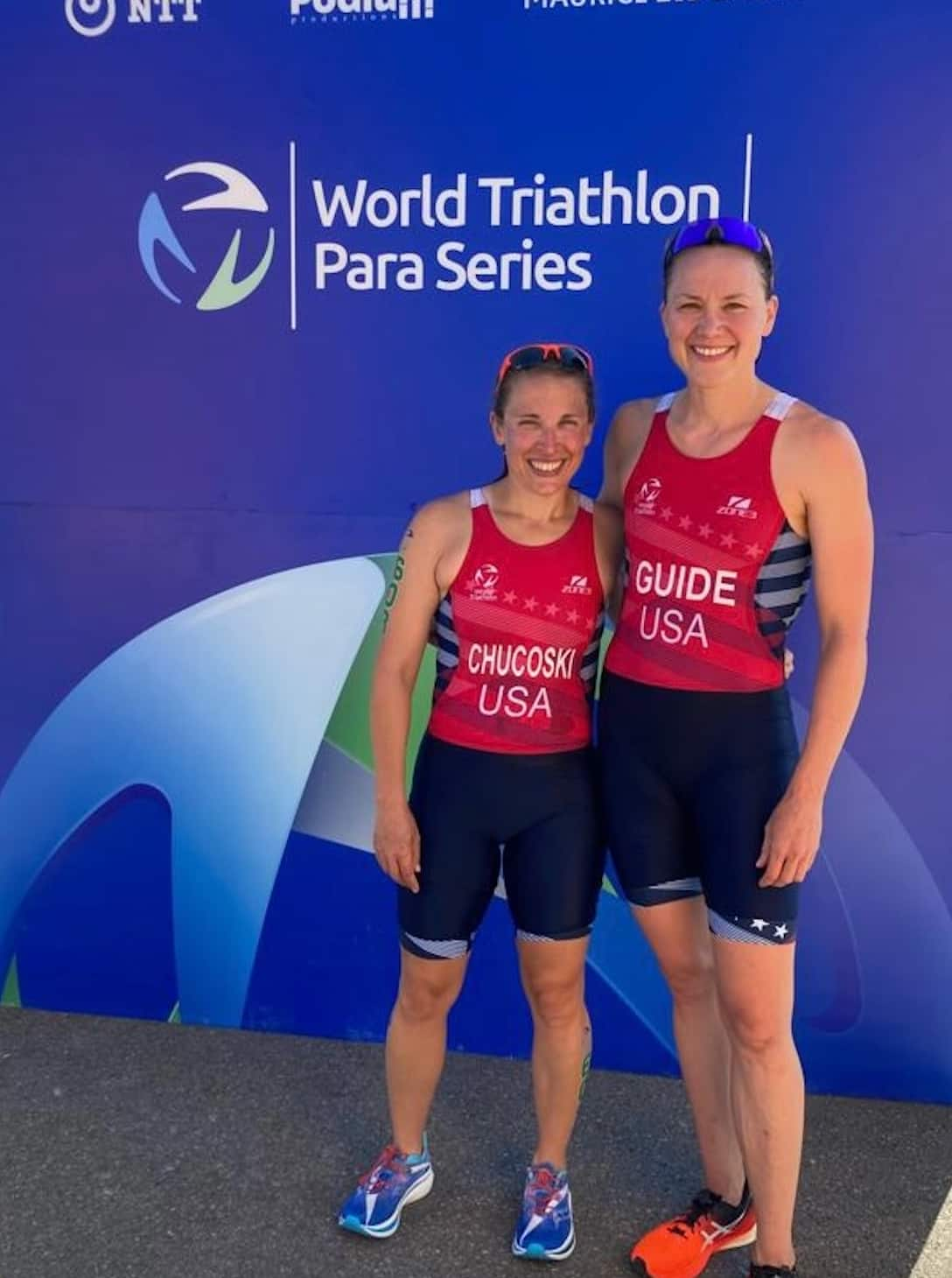 Do you have any Team USA triathlon role models?
I followed Gwen Jorgensen for quite some time, I admire her consistency. In the paratriathlon world, Liz Baker and Melissa Stockwell. I have a family with young kids, so I gravitate towards the people who have kids themselves. I love Melissa's story and it was awesome to get to know her over the last couple races that we've been at together. I also went to the same university as Grace Norman, just many years in between.

How is your family a part of your journey?
My six-year-old who is a big motivator for me. She has really wrapped her head around that Mommy has something wrong, but that it doesn't define who I am – it's just part of who I am. She's really helped bring that out of me and she is so proud of me. She colors me and Ericka pictures and she tells every soul she possibly can after every race how I'm doing. She asks me every single night "Mommy what's your workout for the morning?" It's really amazing to show her to look at all these people with disabilities and how it it doesn't define who you are unless you let it. And you know if she ends up getting Stargardt's disease like I have then it doesn't matter because she'll see me and know that if Mommy can conquer it then you can too. My family is a big part of my training and my motivation.

What is a motivational quote or motto you live by that you can give to other upcoming athletes?
I actually have it tattooed on my foot: "Live without fear." Fear is the biggest hindrance I think to anybody because when you allow fear it's the first thing that is going to stop you out of your dreams. I have to make conscious decisions to not allow fear of leaving my kids, fear of hurting myself, fear of running into a car, etc. to not overcome me. It's liberating to know that we are not supposed to live in fear, we are supposed to live in the hope that you can and will pursue your dreams. My hope is to reach the Paralympic Games, I don't know if that will happen, but I know the journey that I'm on now is 100% worth whatever the outcome is. I am going to do everything in my power to get there, but if I end up falling short, I'm going to turn around and look at all the people that I've touched in my family and community and all these people that I've motivated to take their step to reaching their goal. Whether it's physical, mental or whatever it is if they are going to take that step because I'm doing it and I'm overcoming my fears then it's completely worth it.