Snow, Ice, and Winter: How College Triathletes Make it Work at Cold-Weather Campuses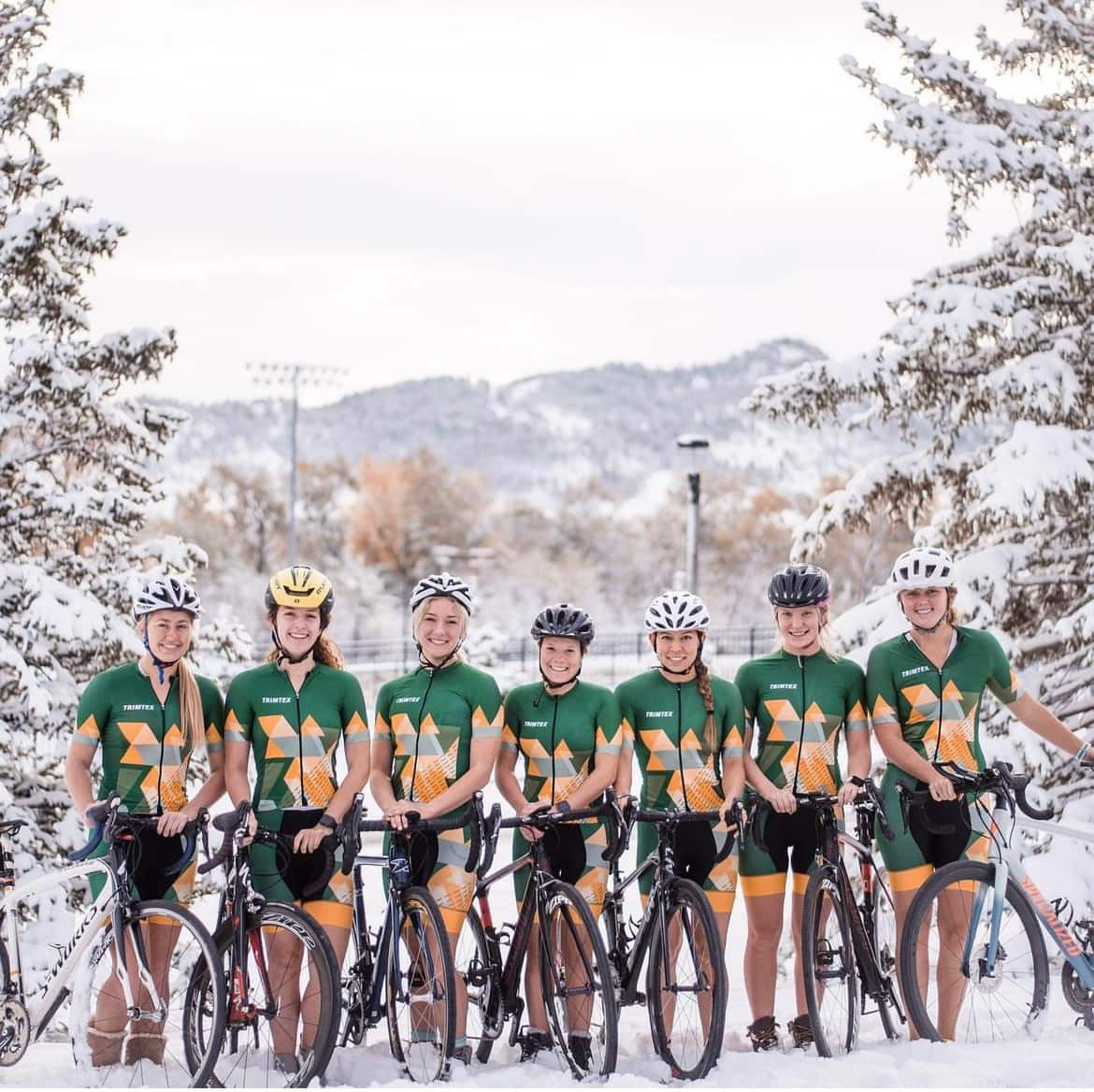 One time, when the whole city of Spearfish, South Dakota, was shut down because of a snow storm, the girls on the Black Hills State triathlon team ran up and down the stairs of their dorm instead.

"We just kind of make do with what we have," said coach Connie Feist — whether that means cold open-water swimming as long as they can tolerate it or running the halls of the school buildings.

The 2022 Women's College Triathlon season culminates with a national championship in mid-November (Nov. 12 at Arizona State University this year), meaning the teams have to prepare as snow starts to fall, and then they get back into base building in the cold of January and February (and March and April).

While some of the big Women's College Triathlon programs are based in Arizona or Texas, and a number of Division II and DIII schools are spread across the East Coast and southeast, there are still a dozen or so teams making it work in hardy winter locations: South Dakota, Michigan, Colorado and Montana.

"Usually around this time we have to start taking it inside for biking," said Kevin Bjerke, head coach at Montana State University in Billings. "We're pretty well-equipped to make do."

Both Feist and Bjerke said they're able to have their teams training outdoors up until mid-October, depending on the weather (which has been alarmingly nice this fall). But as the national championships nears, they have to bring the biking inside to dedicated stationary trainers. Montana State has a spin room down the hall from the pool — allowing them to even do swim-bike bricks where the athletes sprint through the locker room — and Black Hills State uses a room equipped with Kinetic trainers, so they can track their power and heart rate indoors.

It's also around this time the teams have to bring even their hardiest swimmers indoors. Feist has her squad swim in nearby open water lakes once per week until it gets too cold and "when we say cold we're talking under 60 degrees." Bjerke had his team in a lake just three weeks ago, which was also cold — but not terrible with a wetsuit, he said.

The upside is that it prepares them for race conditions, and gives the athletes a "natural edge," Feist said, when they get to cold-water races.

Once they move to the indoor pool, she said, they "get creative" for open-water simulation — taking out the lane lines and putting in buoys for turns. One full perimeter of their pool is 78 meters, so 10 laps is about the length of a sprint-distance collegiate race.

Running, of course, is the sport athletes can keep outside the longest — except for speed work on dangerous ice in the winter. Bjerke has treadmills in the spin room. And Feist has her team on an indoor 200m track most of the time. "They don't plow our outdoor track when it's covered in snow," she said. Then, of course, there's also always the halls and stairs.

In the fall, the teams only have to manage the weather for a short period — with regionals in mid-October and nationals in mid-November. Then, generally speaking, they break for winter: both a good season break, and a natural time for a mental and physical recharge. Some of the students fat bike or cross-country ski or even rock climb, said Feist, but then it's back to work in the spring semester.

As opposed to the collegiate club programs, the women's varsity teams are governed by NCAA rules and regulations — which dictate 144 training days annually. So the students are on their own in the summer and over winter break, but in January they're back training as a team for the fall season, building a base and working on weaknesses. And it's often not until early or mid-April that they're able to be fully back outside again.

The upside of being in one of these winter locations is the access to amazing nature and open space.

There's access to mountains, said Bjerke, and networks of single-track trails. Being in the high desert in Billings also means the snow doesn't stick too long and makes it the "warmest weather in Montana," he said.

Feist agreed their location in Spearfish means they have amazing nature right out their back door, open water swim locations nearby, and riding right from campus without worrying about traffic. "It's one of the beautiful parts of the county," she said.

Sure, it might be a tough sell to recruits sometimes, but they can also "use it as a chance to overcome adversity," said Feist. She has the girls ask themselves: Would we race in these conditions? And if the answer is yes, then get going.