News
Features
Clydesdale/Athena
USA Triathlon Athena Spotlight Series: Leslie Battle and #AthenaProud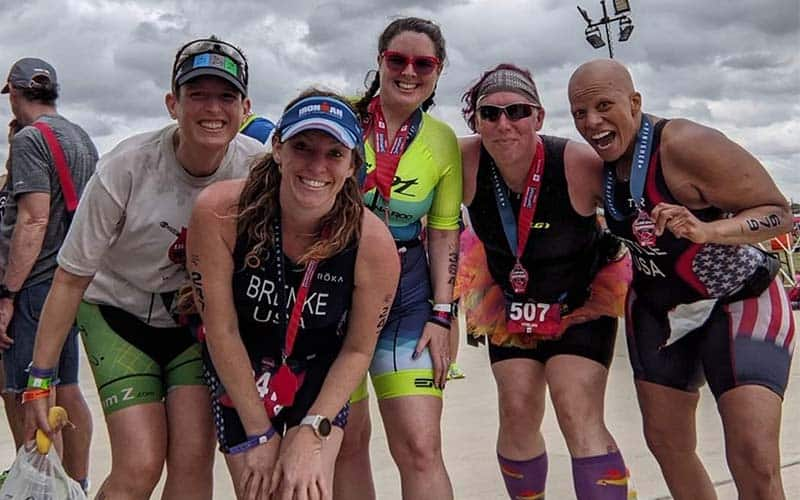 There is no better feeling than finishing a triathlon and having a support system waiting to congratulate you at the finish line.
When Leslie Battle (Warwick, R.I.) began racing in endurance sports in 2009 as an Athena athlete, she lacked the community atmosphere that many other athletes were experiencing once the race was over.
So, she decided to create her own.
Battle is now a 17-time USA Triathlon National Champion in the Athena division. Since 2012, she has earned national titles in triathlon, duathlon, aquathlon and mixed relay. Her titles span across Sprint, Olympic, Long Course and Ultra distances.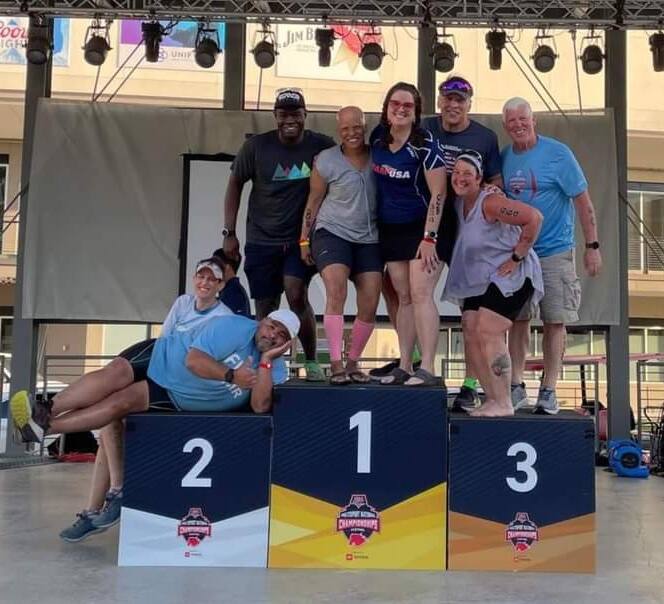 Most recently, she claimed three national titles at the inaugural 2022 USA Triathlon Multisport Festival Presented by Toyota in Irving, Texas, this April.
However, along with her impressive list of multisport accolades is the over 5,000-person community she has built for Athena and Clydesdale athletes in the endurance sports community.
"I started the Facebook group because I was feeling left out and left behind," Battle said. "At first, I would invite people that I met on the podium and ask them to train or race together and then it just grew and grew. I started making a calling card that I would leave on people's bicycles with information on how to join our group."
When Battle started out in the sport, many events were behind the curve when it came to having Athena and Clydesdale divisions. As she became more and more competitive in the sport, a passion sparked for advocating for athletes who did not resemble the "typical" triathlete.
The purpose of creating an online group for Athena and Clydesdales was to acknowledge a community and to have a space where every member felt encouraged and campaigned for in the multisport world.

"It's about having that common base of empathy, understanding and support," Battle said.
Today, thousands of Athena and Clydesdale athletes benefit from the community that Battle had a hand in starting.
As she travels throughout the country and even the world competing in triathlon and for Team USA, there is not a single race where Battle does not come across an athlete that is within her Athena and Clydesdale community group.
She said, "We are lifelong friends, we travel together and support each other, it feels like there's a high five from this inside group with the group of multisport because we understand each other's challenges."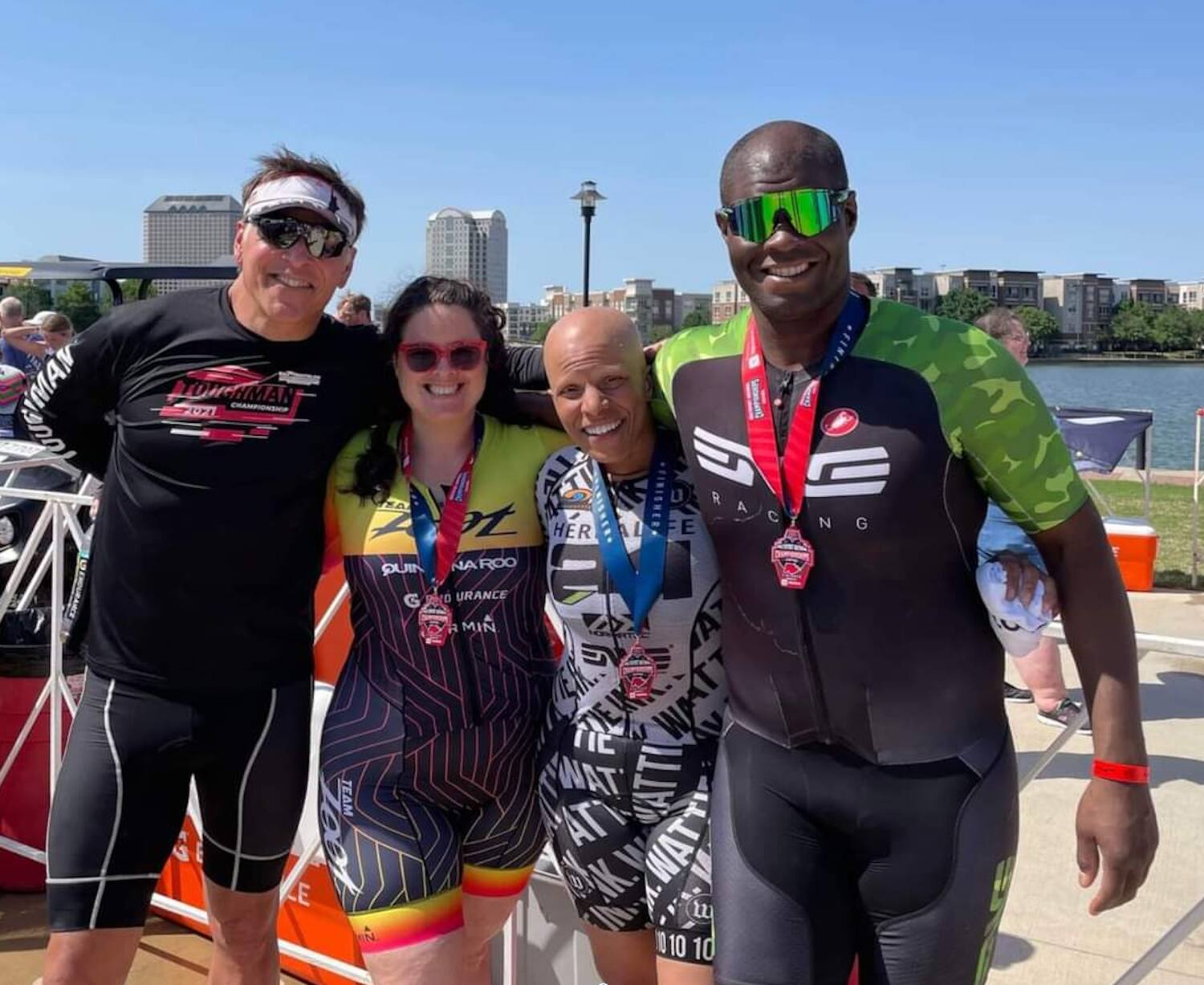 Because of the group, Athena and Clydesdale athletes have a support system at events, even if they have never met in person prior to race day.
Battle recalled racing in Texas at the Multisport Festival this year and feeling so proud of the other Athena age-group racers she saw competing, "I was just so proud of the people who were competing because I knew every single person from around the country. I came out of my skin with excitement and tears of joy, partially because I know I didn't build a movement, but I think I had a part in giving people confidence and getting over any kind of hesitation that they might feel for choosing to raise as an Athena of Clydesdale."

And while Battle doesn't consider herself the founder of the Athena/Clydesdale movement, she does recognize that she holds a sense of responsibility to always champion for all athletes no matter their size, race, religion or any other quality that makes them feel different.

"It is very moving, it can move me to tears. I take it as a very serious responsibility, and I am proud to do it. And I am proud to give a voice to people who might not have had a voice."

"It's a very humbling when somebody comes up to you at a race and says 'Hey you're Leslie Battle! And that they have wanted to meet me or have looked up to me. It's never been about my accomplishments but how I have inspired people that I don't even know you know."

Battle also serves on the age-group committee within USA Triathlon. She advocated for the Clydesdale & Athena National Championship to be included in the annual USA Triathlon Age Group National Championships.

Because Battle's motto has always been "don't count us out!"

This year, her campaign that has come to fruition as Clydesdale & Athena National Championships returns to Age Group National Championships in Milwaukee this August.

"It is not the inclusion of the Athena and Clydesdale National Championship with Age-Groupers, but it is basically respecting all competition divisions at the Sprint and Olympic National Championship. Don't make it an us and a them, we want to compete with whoever shows up," Battle said.
She added, "We want to be challenged on the same course, the same day at the same time with our peers."
Over 160 Athena and Clydesdale athletes are set to compete in Milwaukee at the National Championships, including Battle, showcasing that this division of athletes are ready to compete and ready to continue making their mark in the multisport community.