All-American Honors Awarded to Student Athletes for the 2021 Women's Collegiate Triathlon Season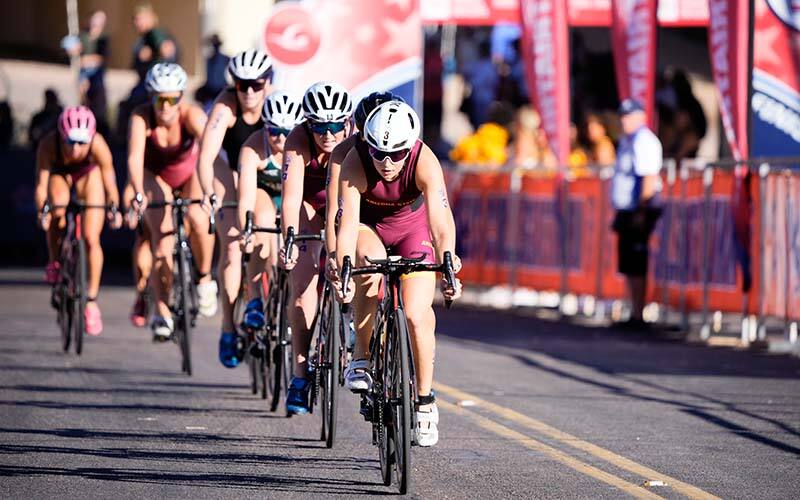 COLORADO SPRINGS, Colo. — The College Triathlon Coaches Association (CTCA) released its list of collegiate triathlon All-Americans, recognizing women's varsity student-athletes and teams that excelled on the race course during the 2021 season.

Seven athletes were chosen across three All-American teams for each division – first team, second team and honorable mention.

Overall, six Division I (DI) schools were represented by athletes earning All-American honors. The 2021 National Championship team, Arizona State University, led among DI teams with six student-athletes named on the list.

For Division II (DII), seven total schools made the All-American teams with Queens University of Charlotte, the 2021 National Championship team, having the most representation with six athletes receiving honors.

Eight total schools made up the Division III (DIII) category. North Central College and National Championship school, Trine University, topped the list with five student-athletes awarded All-American honors for the season.

Individual National Championship race winners, Kira Gupta Baltazar (University of San Francisco - DI), Finja Schierl (Wingate University - DII) and Hailey Poe (North Central College - DIII) were among the First Team All-American list for each division.

The 2021 women's varsity collegiate season saw athletes compete in three qualifying races beginning in September, before lining up for the National Championship event that took place Nov. 11 in Tempe, Arizona.

Deemed an NCAA Emerging Sport for Women in 2014, triathlon has a 10-year window to demonstrate sustainability as an NCAA Championship sport by recruiting at least 40 varsity programs by 2024. To date, 37 schools offer triathlon at the varsity level for women, including nine at the NCAA Division I level, 15 in Division II and 13 in Division III. Alvernia University in Reading, Pennsylvania (DII), was the latest school to earn its varsity status in June. Click here to view the full list of programs

For more information about triathlon as an NCAA Emerging Sport for Women, visit usatriathlon.org/ncaa.
Division I
First Team All-American
Kira Gupta Baltazar (University of San Francisco)
Hannah Henry (Arizona State University)
Gillian Cridge (University of San Francisco)
Molly Elliot (University of San Francisco)
Madisen Lavin (University of South Dakota)
Amber Schlebusch (Arizona State University)
Kyla Roy (Arizona State University)

Second Team All-American
Alexandrine Coursol (Arizona State University)
Freya McKinley (University of Denver)
Micah Poellet (University of South Dakota)
Izi Belogay (East Tennessee State University)
Kira Stanley (Arizona State University)
Olivia Ebenstein (University of Denver)
Ella Kubas (University of South Dakota)

Honorable Mention
Audrey Ernst (Arizona State University)
Yasmin Rieger (Wagner College)
Leah Drengenberg (University of South Dakota)
Sarah Plant (East Tennessee State University)
Avarie Faulkner (University of Denver)
Katherine Badham (University of San Francisco)
Clara Normand (Wagner College)
Division II
First Team All-American
Finja Schierl (Wingate University)
Natalia Hidalgo (Davis & Elkins College)
Natalie Bash (Queens University of Charlotte)
Julia Kekkonen (Wingate University)
Katharina Krosta (Queens University of Charlotte)
Hannah Moloney (Queens University of Charlotte)
Sam McInnes (Queens University of Charlotte)

Second Team All-American
Shannon Feran (Colorado Mesa University)
Sarka Pustova (Queens University of Charlotte)
Kayla Ribbink (Lenoir-Rhyne University)
Jana Millat (Queens University of Charlotte)
Mathilde Bernard (Black Hills State University)
Jayme Vermaas (Drury University)
Eleonora Pierre (Davis & Elkins College)

Honorable Mention
Chloe Telian (Lenoir-Rhyne University)
Dylan Kirchner (Wingate University)
Abigail White (Colorado Mesa University)
Paloma Suarez (Colorado Mesa University)
Andie Kuipers (Lenoir-Rhyne University)
Myna Buckley (Black Hills State University)
Teresa Vesely (Lenoir-Rhyne University)

Division III
First Team All-American
Hailey Poe (North Central College)
Amira Faulkner (Trine University)
Annika Cotner (North Central College)
Hope Roderick (Millikin University)
Charlotte Kumler (Transylvania University)
Alexandria Smith (Trine University)
Katie Yelaska (Millikin University)

Second Team All-American
Grayson Bray (Transylvania University)
Kyra Warren (Trine University)
Delaney McPherson (Transylvania University)
Brigid Deusterhaus (Millikin University)
Lindsey Blommers (Central College)
Samantha Weaver (Trine University)
Katie Berlew (Trine University)

Honorable Mention
Aimee Uebersetzig (Concordia University of Wisconsin)
Aly Barnes (Millikin University)
Natalie Grolmes (North Central College)
Jena Livesay (North Central College)
Ella Isaacson (Willamette University)
Cora Isaacson (North Central College)
Hannah Vincent (Calvin University)