Four Age Group Duathletes Selected to Represent Team USA at 2022 World Games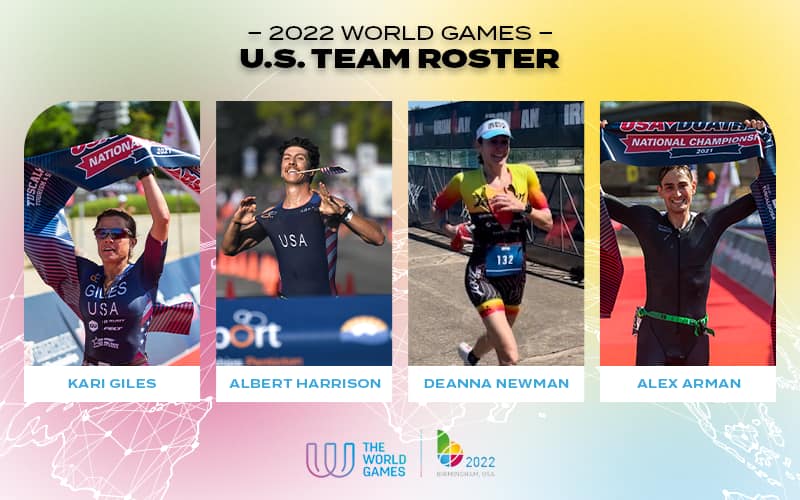 COLORADO SPRINGS, Colo. — USA Triathlon announced the team of athletes that will represent the U.S. at the 2022 World Games this summer. Four age-group athletes, Kari Giles (Austell, Ga.), Deanna Newman (Mountain Brook, Ala.), Albert Harrison (Moscow Idaho) and Alex Arman (Boulder, Colo.) will compete in Duathlon in the international competition, set to take place in Birmingham, Alabama, on July 7-17, 2022.

The World Games, held every four years, primarily showcases sports and disciplines not featured in the Olympic and Paralympic Games. This year marks the World Games' 40th anniversary and will be the first edition of the event to be hosted in the United States since the inaugural World Games in Santa Clara, California, in 1981.

An anticipated 3,600 athletes representing over 100 countries will be in attendance.
This year's event will include two disciplines of Duathlon (run-bike-run), with athletes competing in standard-distance and mixed relay race formats.

Giles is currently ranked 18th in the World Triathlon Duathlon rankings after placing sixth at the 2021 World Triathlon Powerman Long Distance Duathlon Championships last September. She also finished in the top five at the 2021 USA Triathlon Duathlon National Championships.

Newman was the 2021 USA Duathlon National Champion runner up, finishing second overall last year. She also was an honorable mention awardee for the 2021 USA Triathlon Women's Masters Age Group Triathlete of the Year.

Representing the men for the U.S. is Harrison, who won the world title in his age group for both the sprint and Olympic distance at the 2017 Penticton ITU Duathlon World Championships.

Alongside Harrison is Arman, who won his third national championship last month at the 2022 USA Triathlon Multisport National Championships Festival. He also won titles at the 2021 and 2018 Duathlon National Championships.

The men's and women's races are set to take place on July 16 and the mixed relay following on July 17.

The World Games is led by the International World Games Association (IWGA), a non-profit organization that is composed of 37 International Sports Federations and recognized by The International Olympic Committee (IOC).

Tickets are available for purchase for those interested in attending the 2022 World Games. Multisport fans are encouraged to come cheer for Team USA on home soil at this exciting and important event as we showcase our athletes and our sport to the world. The duathlon events are both free to the public events and will take place at Railroad Park.