USA Triathlon to Celebrate Sport, Host Sixth Annual National Triathlon Week Presented by Nix Biosensors June 20-26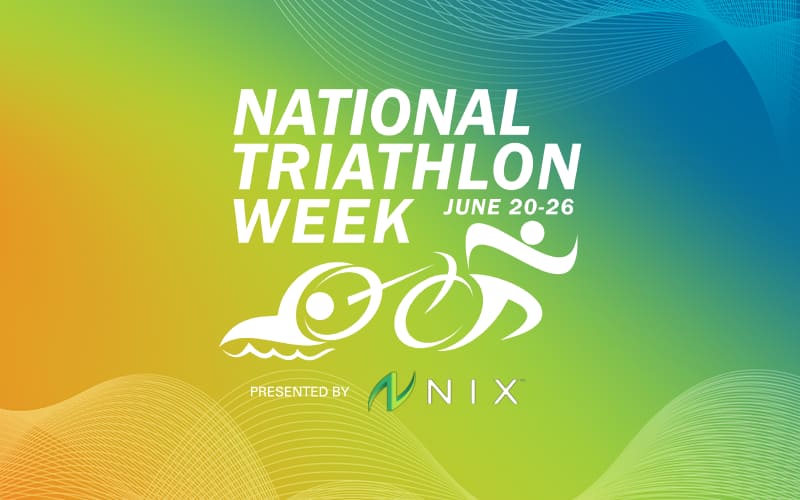 COLORADO SPRINGS, Colo. — USA Triathlon today announced the dates for the sixth annual National Triathlon Week Presented by Nix Biosensors, a nationwide initiative to celebrate the sport of triathlon and all its constituency groups. The largely social-media-based campaign brings together the multisport community from June 20-26 — not only to swim, bike, and run, but also to share experiences, inspiring stories, advice, and support.

The complete schedule, along with ideas for how to participate, is available on the official landing page for National Triathlon Week: usatriathlon.org/triweek. Throughout the week, athletes are encouraged to get involved and celebrate the sport by posting on social media with the hashtag #TriWeek and tagging @usatriathlon. The week's activities promote sharing of stories and training tips by current multisport athletes — making it an ideal opportunity for prospective triathletes to learn more about the multisport lifestyle.

"National Triathlon Week is an opportunity for athletes, coaches, clubs, race directors, officials, partners and industry members to share their collective knowledge and passion for the sport — not only with each other, but with those looking to get into multisport as well," said Thomas Lenneberg, USA Triathlon's Director of Marketing & Communications. "We look forward to sharing unique, engaging, and educational content during this week-long celebration of our sport, and we encourage the wider multisport community to get involved."

"Nix is extremely proud to present USA Triathlon's sixth annual National Triathlon Week," said Meridith Cass, CEO of Nix Biosensors. "We are honored to celebrate new and veteran multisport athletes, and to contribute to their success with personalized hydration strategies and new content."

The emphasis of the week is on celebration, education, and participation in the multisport lifestyle. Each day of the week a different theme will be featured, showcasing all the individuals who make up the multisport community, including age group and elite athletes and elite paratriathletes, USA Triathlon Certified Coaches, race directors, clubs, and officials. Saturday, June 25 is Go for the Gold Day, presented by Toyota, USA Triathlon's Exclusive Mobility & Automotive Partner and supporter of the 2022 Toyota U.S. Elite Paratriathlon National Team.
National Triathlon Week Schedule
Monday, June 20: National Triathlon Week Kick Off
Tuesday, June 21: Something for Everyone
Wednesday, June 22: Certified Fun
Thursday, June 23: Join the Club
Friday, June 24: Faces of Multisport
Saturday, June 25: Go for the Gold presented by Toyota
Sunday, June 26: Future of the Sport

Individuals are invited to participate and join the celebration of National Triathlon Week by sharing photos on their own social media channels of themselves training and racing, using the hashtag #TriWeek and tagging @usatriathlon social media channels.

As part of a fully collaborative launch, USA Triathlon is working with USA Triathlon Certified Coaches, USA Triathlon Official Clubs, corporate partners, the USA Triathlon Foundation, and industry partners such as IRONMAN, to play an active role. Video and editorial content will be shared daily on USA Triathlon's website and social channels, including expert training tips from USA Triathlon Certified Coaches and inspiring age-group features showcasing the multisport community's #PowerWithin. USA Triathlon will also share content that promotes diversity, equity, inclusion, and access in multisport as part of the organization's Together We Thrive campaign.

Daily prizes from USA Triathlon's corporate partners including Hand & Stone Massage and Facial Spa, ICON Meals, KT Tape, Newton Running, Nix Biosensors, Pilates For Sports, Science in Sport, TrainingPeaks and TriBike Transport will be offered on the @usatriathlon social media channels and fans are encouraged to engage with @usatriathlon social media channels using the hashtag #TriWeek.

Lifetime Membership Contest
For the sixth consecutive year, athletes can enter to win a USA Triathlon Lifetime Membership by sharing their multisport journey and demonstrating how triathlon has helped them discover their Power Within. Submissions must either be emailed directly to communications@usatriathlon.org (subject line: "#TriWeek Power Within") or shared on social media, tagging @usatriathlon and using the hashtags #TriWeek and #PowerWithin. Previous Lifetime Membership winners have included Sue Reynolds (Bloomington, Ind.), Stephanie Van Bebber (Fairfax, Va.), Kyle Roberts (Aiken, S.C.), Megan Tuncer (Kensington, Md.), and Tara Wilson Redd (Washington, D.C.).

Where does National Triathlon Week happen?
With an emphasis on social media, #TriWeek is primarily an online initiative. At the same time, National Triathlon Week will take place across the country as triathletes find new inspiration to swim, bike and run with others in their communities.

How can I find out more?
Visit usatriathlon.org/triweek to learn more about National Triathlon Week. This online hub features a detailed explanation of all seven themed days, ideas on how to participate both online and in your community, frequently asked questions, contest information and more.
About Nix Biosensors
Nix is redefining how we manage health by developing biosensors that empower consumers to access, understand, and act on their personal biology at home. Nix's first consumer product is a sweat patch that provides athletes, soldiers, and laborers with hydration data in real-time, helping them optimize safety and performance. Headquartered in Boston, Mass., Nix is led by Founder and CEO Meridith Cass, a graduate of Harvard Business School, former VC, and 9-time marathoner. Advisors include Tom Fowler, Former President of Polar; Dr. Bob Murray, Founder and former Director of the Gatorade Sports Science Institute, and Tatyana McFadden, 5x Olympian and 17x Medalist, among others. Learn more at nixbiosensors.com.
USA Triathlon is proud to serve as the National Governing Body for triathlon, as well as duathlon, aquathlon, aquabike, winter triathlon, off-road triathlon, paratriathlon, and indoor and virtual multisport events in the United States. Founded in 1982, USA Triathlon sanctions more than 4,000 races and connects with more than 400,000 members each year, making it the largest multisport organization in the world. In addition to its work at the grassroots level with athletes, coaches, and race directors — as well as the USA Triathlon Foundation — USA Triathlon provides leadership and support to elite athletes competing at international events, including World Triathlon Championships, Pan American Games and the Olympic and Paralympic Games. USA Triathlon is a proud member of World Triathlon and the United States Olympic & Paralympic Committee (USOPC).