USA Triathlon Weekend Notebook: Long Course Hills and Getting Dirty on Gravel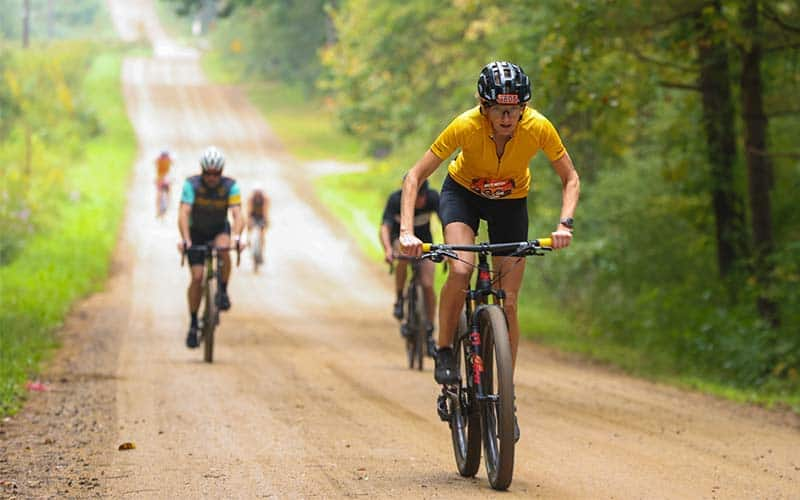 It seems that the theme of this past weekend was to see how resilient multisport athletes are. Events can be unpredictable and courses can be challenging, sometimes things just don't go your way. But that is all part of the fun of this sport and the races over the weekend were prime examples of that, of when you can go with the flow, test your grit, get a little dirty and ultimately have a fantastic race experience!
2022 USA Triathlon Long Course National Championship
Toughman New York - Stony Point, N.Y.
Are you TOUGH?
For the second year in a row, the Long Course Nationals were hosted at the Toughman New York event, with national honors going to athletes competing in the triathlon, duathlon and aquabike.
Unfortunately, a decision was made to cancel the swim due to unsafe water conditions for the athletes, making the triathlon turn into a duathlon and the aquabike in a time-trial bike race.
Kevin Cronin of New York won the overall men's triathlon event, which featured a duathlon run-bike-run format of a 2-mile run, 56-mile bike and 13.1-mile run.
His time was 4:02:55.
The overall female was Blair Bartosiewicz from Florida, she won the triathlon national title in a time of 4:42:35.
Greg Close and Karoline Muehlfellner won the duathlon national honors, while the aquabike champions were crowned to Blair Saunders and Stephanie Van Bebber.

At one point during the race, things got a little hairy... or beary we should say. A woman had to change course while on the run when she was notified that three huge bears were on the course. But all was good and no bears got in the way of her finishing!
The Dirty Mitten Gravel Triathlon
Middleville, Michigan
A great thing about multisport is the multi-ways to enjoy it! Want to get away from typical road racing? Well, The Dirty Mitten hosted by Tris4Health urges people to "forget the pavement and tri to get dirty!" And this year's race was REAL DIRTY!
As part of the Gravel Series, The Dirty Mitten hosted a gravel tri with three distance, the shorty (sprint), the long one (Olympic) and the half crazy (70.3 Half). It took athletes through a swim, then onto a gravel bike course and ended with a trail run.
And because the half crazy athletes had to undergo a super difficult section of the bike course filled with hills, loose gravel and sand that caused a lot of athletes to walk through, The Dirty Mitten awarded the overall man and woman of that distance with probably the best overall awards we have ever seen.
WRESTLING BELTS! How cool would you feel walking into the office the next day getting to show off this accomplishment around your waist?

This is definitely an event to add to your fall race schedule next year!


XTERRA Laguna Beach Gravel Triathlon
Laguna Beach, Calif.
Another gravel triathlon was taking place in California over the weekend, with the XTERRA Laguna Beach Gravel Tri. It featured a sprint, Olympic and aquathlon courses.
Who wouldn't want to race in a picturesque place such as Laguna Beach?
There's only one more race left in the 2022 Gravel Series!