World Triathlon Yokohama Race Rewind With Erika Ackerlund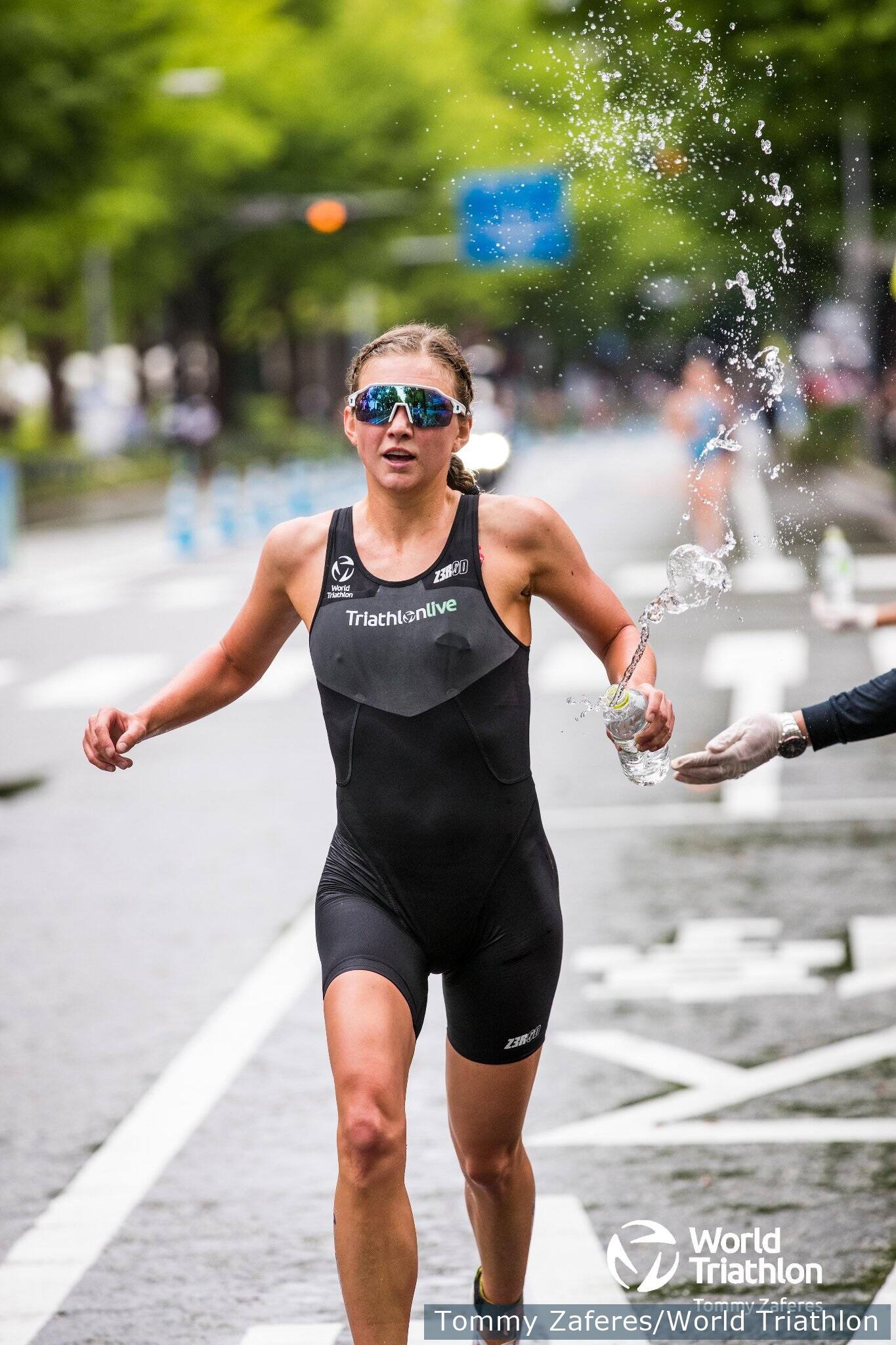 Following each race of the World Triathlon Championship Series and World Triathlon Para Series, USA Triathlon will spotlight a U.S. athlete who shares with us insight about their race, race preparation and travel.
This is the first installment of Race Rewind, featuring U.S. Elite Triathlon National Team member Erika Ackerlund who finished 15th at the World Triathlon Championship Series Yokohama. She's currently ranked fifth in the 2022 World Triathlon Championship Series, which included two races last year. Ackerlund made her debut on the WTCS circuit last year and is a first-time member of the U.S. Elite Triathlon National Team.
USA Triathlon: The race season finally started! Did the offseason feel long to you, or is that just us (the fans itching to watch racing again)?
Ackerlund: Very long! And I actually love the offseason. A lot of people don't love the base training during the offseason. But I love it. I love the big training days. But the longer the offseason, the more nervous I get before race day. Before Yokohama, a lot of other athletes had already raced (in World Cups and U.S. races) and the more you see other people racing, you start to wonder if you're race ready. So, I'm always pretty nervous for the first race of the season.
USA Triathlon: You finished 15th in Yokohama, racing in a strong women's field. How do you feel about your performance?
Ackerlund: The race went OK. It was nice to knock out a top-15 performance. Being in the chase pack, we'd get the splits every lap. After the first bike lap, we were 20 seconds down. I could seen the front girls. But then a couple laps in they put so much time on us. That is a bit defeating when you're so far back in the field. But you just try and make up as much time as you can. On the run, I would get little view points and could see the leaders. I felt better, I'm starting to catch people. The last two laps of the run I felt strong.
USA Triathlon: It was a rainy day in Yokohama. How did that affect the bike?
Ackerlund: We all had our tire pressure really low. But the roads weren't crazy wet. I never felt like I was sliding around; it wasn't as slippery as I thought it would be.
USA Triathlon: This is your first year on the U.S. Elite Triathlon National Team. What does it mean to you be on this team of accomplished U.S. women?
Ackerlund: The U.S. team is so deep. In the races, you're just trying to cling on with that front group. It definitely makes it hard. You are such a good athlete, but you don't always necessarily feel like it when you're racing with all these great women. You can be fifth in the world, but at the same time not even No. 1 for your country. But it's good, we push each other. Competition is good.
USA Triathlon: Anything you learned from your teammates while in Yokohama?
Ackerlund: One of the biggest things is you get the inside scoop on all the good food stops. What grocery stores are good for pre-race — that's important stuff.

USA Triathlon: Looks like you and your U.S. teammates were able to actually leave your hotel rooms and experience Yokohama? How'd that feel? What was the best thing you ate?
Ackerlund: Yeah it was so different. I haven't been to many WTCS races where you can be out. I didn't realize how nice it was to go out and explore. It was so fun. We went out to a few places and had some really good, authentic Japanese udon noodles and soup. It was so good. All of the traditional Japanese food was awesome. When you're traveling and racing, you're worried about the food and it affecting your race, but, for me, Asian food works really great.