Zwift, USA Triathlon partner to engage multisport community, promote USA Triathlon Certified Coaches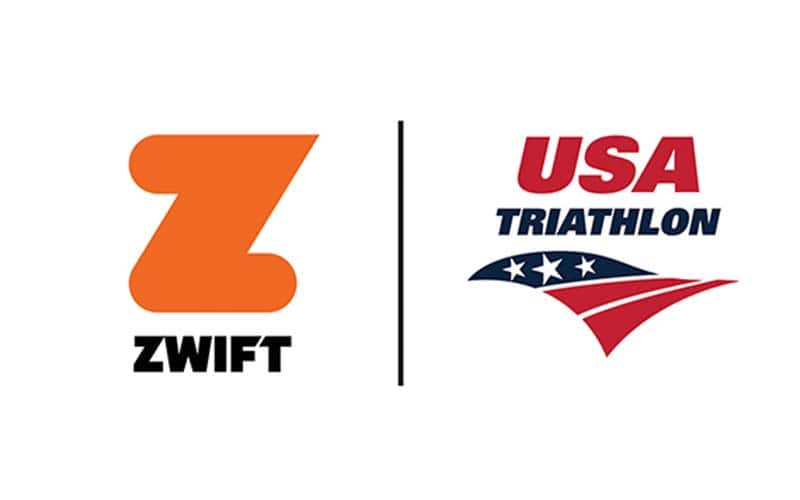 COLORADO SPRINGS, Colo. – Zwift and USA Triathlon have partnered to grow, engage and support the multisport community and promote the value of USA Triathlon Certified Coaches, USA Triathlon announced today.
The partnership features in-game racing in association with Endurance Exchange, Legacy Triathlon and National Triathlon Week, a custom co-branded USA Triathlon kit that can be unlocked in-game, and an increased emphasis on USA Triathlon Certified Coach-led Zwift workouts.
"Zwift is excited to strengthen our relationship with the grassroot triathlon community," says Craig Taylor, Director of Growth Marketing, Triathlon & Run at Zwift. "Partnering with USA Triathlon and USA Triathlon Certified Coaches to provide workouts for athletes around three significant annual milestones – Endurance Exchange, National Triathlon Week and Legacy Triathlon – helps bring athletes from across the country together to celebrate, support and grow triathlon."
USA Triathlon and Zwift will continue to host weekly "Power Within Power Hours" with USA Triathlon Certified Coaches. These Wednesday workouts, featuring a 7:15 a.m. ET social run and a 6 p.m. ET ride, are open to all athletes. Learn more, meet some of the Certified Coaches behind the workouts, and join the rides.
"This is a great opportunity for the community to engage with both fellow athletes and certified coaches in the unique environment that only Zwift can deliver," said Victoria Brumfield, USA Triathlon Chief of Staff and Chief Business Development Officer. "USA Triathlon Certified Coaches bring unparalleled resources and expertise, and we can't wait to work together to bring them directly to athletes."
The partnership officially kicked off March 3-5 at Endurance Exchange 2022 with a series of three workouts led by USA Triathlon Certified Coaches Peter Helling, Reggie Waller and Scott Riecke. The event also unveiled the custom USA Triathlon kit that can be unlocked and worn in-game.
Athletes can find USA Triathlon Certified Coaches through the revamped Find a Coach tool at member.usatriathlon.org/coaches. Those who are interested in becoming a USA Triathlon Certified Coach can learn more on usatriathlon.org or reach out to coaching@usatriathlon.org.
National Triathlon Week will take place June 20-26 and Legacy Triathlon will be hosted once again in Long Beach, Calif., on July 16.
About Zwift
Zwiftis the fitness company born from gaming. We're dedicated fitness enthusiasts, experienced video game developers, and disruptive thinkers. Play is in our DNA and we know fun fuels results. Zwiftutilizes massively multiplayer online gaming technology to create rich, 3D worlds ripe for exploration. Join thousands of cyclists and runners in immersive playgrounds like London, New York, and Paris as well as our very own Watopia. Our app connects wirelessly to exercise equipment: bike trainers, treadmills, and more, so your real world effort powers your avatar in the game. From friendly races to social rides and structured training programs,Zwiftunites a diverse community in pursuit of a more fun, immersive and social fitness experience.
About USA Triathlon Coaching Certification
USA Triathlon provides its certified coaches unparalleled resources to ensure they are qualified, confident and successful throughout their coaching career. The coaching education department develops prospective coaches, cultivates the need for coaches within the multisport community and assists coaches in turning their passions into vocations. Certification provides standards of quality and credibility in the marketplace, and helps coaches turn a passion into a career through paid opportunities, entrepreneurship education, and marketing and communication support.
About USA Triathlon
USA Triathlon is proud to serve as the National Governing Body for triathlon, as well as duathlon, aquathlon, aquabike, winter triathlon, off-road triathlon, paratriathlon, and indoor and virtual multisport events in the United States. Founded in 1982, USA Triathlon sanctions more than 4,000 races and connects with more than 400,000 members each year, making it the largest multisport organization in the world. In addition to its work at the grassroots level with athletes, coaches, and race directors — as well as the USA Triathlon Foundation — USA Triathlon provides leadership and support to elite athletes competing at international events, including World Triathlon Championships, Pan American Games and the Olympic and Paralympic Games. USA Triathlon is a proud member of World Triathlon and the United States Olympic & Paralympic Committee (USOPC).