News
Features
Clydesdale/Athena
Q&A
Athena and Clydesdale Spotlight Series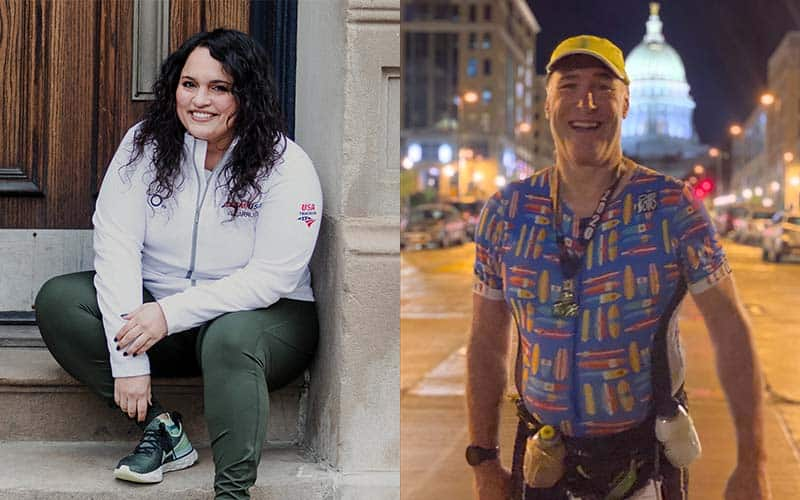 In celebration of the Clydesdale and Athena National Championships being a part of USA Triathlon Age Group Nationals in August this year, for the next six months we will be honoring and acknowledging individuals who have proudly represented and supported the Clydesdale and Athena race categories over the years.
We are thrilled to showcase the continued growth in the sport of triathlon when it comes to inclusion for all types of triathletes.
Athena Athlete - Natali Villarruel
Age: 35
Hometown: Chicago
Occupation: Sales/Marketing
How long have you been involved in triathlon?


Since 2013 when I signed up on a whim without even owning a bike and never having swam in open water.
What is your preferred distance?
Sprint, but longer distances if it is a relay.
What would you say is your strongest discipline?
Running

Favorite race you have competed in as an Athena athlete?
Grand Rapids Triathlon when they hosted the Athena National Championship! We had a big meet up dinner and it was the first time I was in a room with so many athletes I felt like I could really relate to.
What does it mean to you to race as an Athena athlete?
It's really important to me that Athena athletes are present and visible at events so I always make it a point to seek out events that include an Athena category. It means I don't have to be ashamed of my body or weight and there's a place for me in a sport which is widely dominated by people who don't look like me.
How do Athena and Clydesdale athletes represent body positivity and inclusion for men and women in the sport?
The Athena category is such a diverse group and includes so many different body types. From my experience Athena athletes have been a very inviting and supportive group of athletes at races and encourage everyone to get involved. There's a lot of intersectionality within the Athena group and I've seen us all advocate for one another.
What misconceptions do you want to clear up when it comes to Athena/Clydesdale athletes?
The biggest misconception is that it's an "easy" category or that only "fat" athletes compete as Athena/Clydesdale. There are many A/C who place at the top of their age group and choose to race as A/C to bring visibility to the category. Additionally, weight can look different on all bodies and being above a certain weight doesn't make you any less of an athlete.
Why is it important that Athena/Clydesdale was added as a category for USA Triathlon Age Group Nationals?
It's important to show first and foremost we are athletes and we belong there. We are competitive and we deserve to get the same treatment at a national event that other athletes do.

Why are you proud to be an Athena triathlete?
Athena is the goddess of war; wouldn't you be proud to represent someone as fierce as her? I get to show up at races and prove that we are the embodiment of that spirit to never give up and continue to uplift one another.
Clydesdale Athlete - Mike Savage

Age: 60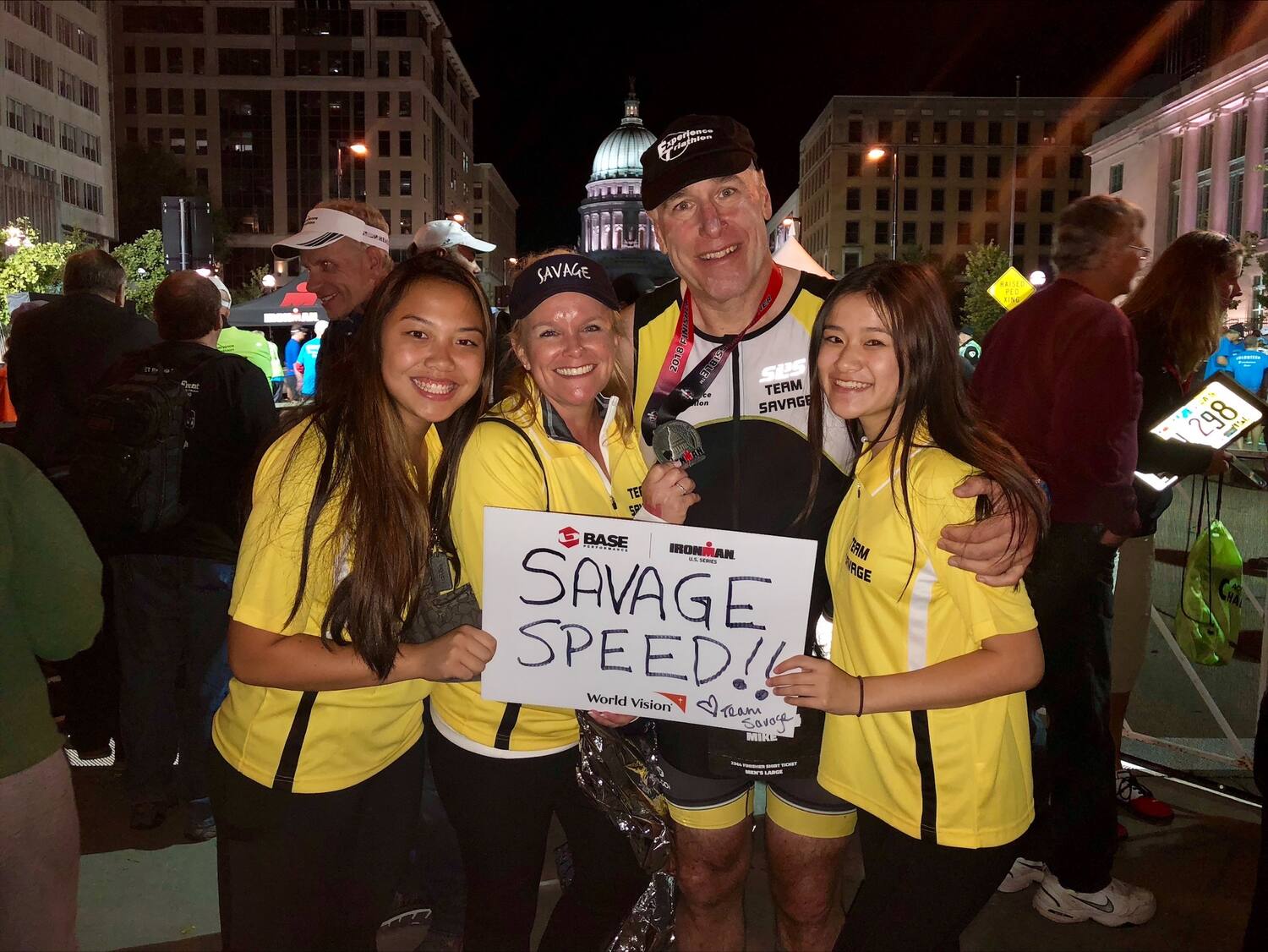 Hometown: Geneva, Ill.
Occupation: Human Resources Executive for Ulta Beauty
How long have you been involved in triathlon?
I have been in the sport about 10 years. Prior to that I was just a former college football player, who was your weekend warrior. Finally, I decided to take control of my health.

What distances do you compete in?
I started out doing a sprint triathlon and I fell in love with it. It didn't matter that I was bigger and older than most of the people I trained with, it was just fun. It brought back the competitiveness spirit in me – it was a blast. I started moving from sprint triathlons, to Olympics, to half-distance to ultra-distance. When there was an opportunity, I would race as a Clydesdale because not every race I did had a Clydesdale class. I have done three IRONMANs, seven 70.3 races and I can't even remember how many Olympic and sprint races. I probably do six to eight races a year.

How has triathlon been a part of your health journey?
When I started in the sport, it was because I decided that I did not like weighing 245 pounds. I didn't want to be a couch potato. I got into it and slimmed down to 210, but then realized my normal weight is around 215-225 pounds. I have been able to hold that weight for a decade because it has become a routine to me, working out seven days a week now it just what I do. I try to believe that I can be a year younger every year.
This sport and Clydesdale representation is also important to me because in 2021 I had a bad bicycle spill that messed my hand up. From that accident they ended up finding ten blood clots in my lungs. They basically said that if I had gone and rode my bike again the next day, I probably would have been dead. So, now I am coming back, I am faster, stronger, better. They had no idea how I had gotten ten blood clots, but because I was in such great shape as a triathlete, the clots didn't kill me, they just happened to reside in my lungs and we found it in time and treated it. But it gave me a respect how fortunate I am right now to be able to do what I am doing. Knowing that six months ago I could have been dead. It gives me a great satisfaction. When I compete at the Multisport Festival this year, I will be supporting the National Blood Clot Alliance and will run in a red and white polka-dot jersey that says "stop the clot."

What is the bond that Athena/Clydesdale athletes have formed competing in this category?

Competing as a Clydesdale and an Athena, it really is about knowing that you are racing in an event where you are inherently physically different than most of the people you are racing against. However, you are going to use your physical stature not as a detriment, but rather as a bond that says 'look, I can be just as competitive as you even though you are physically much different looking that I am.' We know that for people like us it is harder for us to do endurance events because we are physically built different, but that does not mean that we are not important. And the bond I would argue is even stronger because we all know that when we place or do well in a race, it is special for us all. When someone our size wins in an age group, there is a respect and an admiration because it was a victory that came from the challenge of being a bigger size person and racing against the prototypical-size triathlete. There is a common bond between us also because most of us this size were high school or college athletes, so it brings us back to an earlier day when we were competing, the thrill of competition, it's fun. We know we are different, but we are okay being different.

Why is it important that Athena/Clydesdale was added as a category for USA Triathlon Age Group Nationals?

This levels the playing field. Having me run against people my age who are 60-65 pounds lighter than I am, it would be like an offensive lineman competing against running backs, it's not a fair fight. Guys like me are on the fringes of triathlon. We do it because we love it, but we also know that we physically speaking, we are not five foot 6, 145 pounds. We know putting on races is hard, setting it up and all of that – race directing is a thankless job. We are appreciative when races are broken out into Clydesdale and Athena groups and even better when it can be broken out into age groups, because a Clydesdale or Athena at 26 is different than one at 46 or 66. So I am appreciative that at the USA Triathlon events, they have three groups, 0-39, 40-59 and 60-plus. We appreciate the opportunity to race as somewhat of a handicap to try and even it out by racing against similar-type people when we can. Then we know it's fair and all we want as athletes is have a fair competition.


Right now, I am pounding on the bike to get ready for the USA Triathlon Multisport Festival in Irving, Texas and maybe qualify for Age Group Nationals in Milwaukee. I am doing bike numbers that I have not done in five years, but my coach will get me ready by conditioning my body. If you don't push yourself you never get better, you just get good at doing the same level. My coach pushes me as hard as other people in our club, but we do it with the right attitude, we all have jobs, all have families, other commitments, but we also make triathlon an important part of who we are.

How do Clydesdale and Athena athletes represent body positivity and inclusion for men and women in the sport?

In my job, we talk about diversity and inclusion. So, for us it is just a continuation of what our society is doing. USAT does it right by running the sport based on age, physical abilities, triathlon level and now size – it brings more people into the sport. I like how USAT is trying to find different ways to help give people some commonality, so they feel like there are more people like them in the sport and feel they are an important small part of the larger triathlon community.

What misconceptions do you want to clear up when it comes to Athena/Clydesdale athletes?
Just because I am a lot bigger than everybody else doesn't mean that I am less of an athlete. Everyone needs to understand whether you are a triathlete or not, how can we become more inclusive to the kinds of people who don't look and act like the mainstream, but we want as a part of our group because they share the common core values of being high-performance athletes. We just physically look different. How can we address looking at different statures than the mainstream? I am excited that this change is there, I have been working hard because I want to do well, it's as if I am in college football again, it is a goal. Every race I try to be better than I was the race before. If I am not, then what did I learn from it and then apply it into my regular life. Because triathlon is a means to an end, it makes me a better person. It makes me balance things, appreciate what I have and as an older guy, I am competing against time, and time will eventually win, but for right now let me win as much as I can.