News
Features
Q&A
Race Directors
Race Director Spotlight: Michael Harlow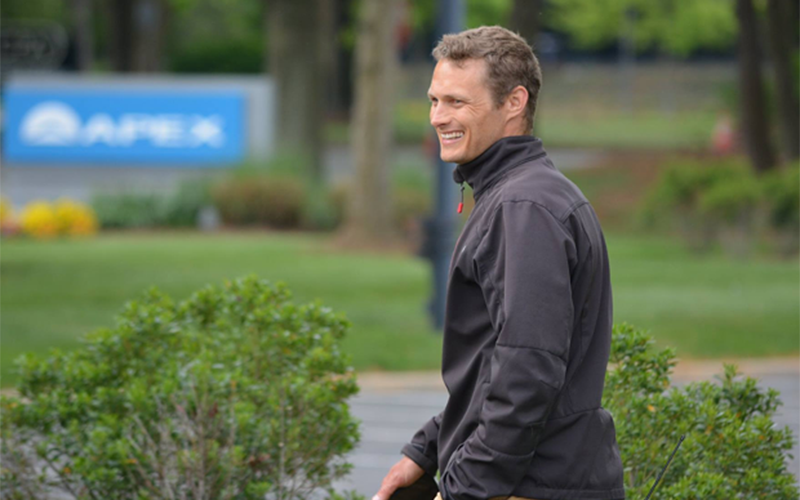 In our continuing content series, USA Triathlon will profile Certified Race Directors from around the country as part of the "Race Local, Compete Nationally" initiative presented by TriBike Transport. Race Local. Compete Nationally. provides USA Triathlon Race Directors with resources, payment flexibility and promotional support as in-person racing returns to the calendar. Learn how these race directors got their start in the business and how they plan to bounce back with their events in 2021.
In this feature, get to know Race Director Michael Harlow, founder and director of Endorphin Fitness and his non-profit, the Live Red Foundation, which is focused on teaching life skills through free youth fitness programs in underserved communities. The East Coast Triathlon Festival presented by the Live Red Foundation on May 2 in Richmond, Virginia, will serve as the 2021 USA Triathlon Age Group Draft-Legal World Qualifier.
How did you first get involved in multisport?
I raced my first triathlon at age 10. After watching my older brother compete during the dawn of the sport, I wanted to follow in his footsteps. I continued to compete in triathlons while also playing many other sports throughout middle and high school and eventually put my full focus into the sport while in college. The sport had not become popular among kids yet, so I was one of the only kids competing in the sport. This led to my passion to start my business, Endorphin Fitness, upon graduating which was founded with the goal of introducing youth to the sport of triathlon.
What do you love about multisport and directing events?
Triathlon is a lifestyle that enables people to achieve their desired level of fitness through a dynamic and socially engaging sport. I have always loved and appreciated the multisport community which is welcoming and encouraging to all levels of athletes. It is truly special.
As for race directing, I love seeing months of planning come together in a perfectly executed event that is enjoyed by the participants. I love creating flawless events.
What makes your event(s) special and unique?
Each one of our races is unique and has a specific purpose; but in general, they are unique in that they are not only great races but a way for participants to also give back to their community. 100% of the revenue from our events goes to producing free fitness programs which teach valuable life skills to kids in underserved neighborhoods. So, by participating in our events, kids are helping other kids. In addition to this, we are one of the few race production companies that focuses solely on youth races and offer a youth-specific experience.
What COVID-19 protocols will your event(s) have in place?
We were able to pull off several youth events in 2020 using the following procedures as well as others:
Limiting our field size to keep race fields small.
Social distancing throughout the event including at the race start, on the course, in transition, and pre/post-race.
Staff and volunteers required to wear masks and spectators highly encouraged.
Eliminating all contact with others through self-body marking instructions, no formal packet pick up, and awards mailed after the event.
Athletes arrive at a specific time, race, and then leave the venue.
Clear policies forbidding anyone with symptoms or exposure to race.
What is one unique thing people should know about race directing?
Race directing requires a certain ability to foresee problems and create solutions for them before they occur. As a race director, most of your preparations are in forecasting these issues and how they impact the participant experience. When you are successful at this, it is a great feeling on race day.
What has been your most memorable event?
After directing my first event in 2012 – a small beginner-focused youth triathlon, USAT asked me to direct a junior elite cup in Richmond. As the coach of one of the largest junior elite teams in the country, the format was not new to me but directing an event of this size was. We compounded this by deciding to make it a triathlon festival and host 9 different races in total on one day. The first year of the Richmond Junior Elite Cup (aka East Coast Triathlon Festival) required everything I had to create a vision and action plan for this new event. On race week, my assistant race director Parker Spencer (now head coach of USAT's Podium Project) and I went for a swim at the race venue. As we finished up, we noticed athletes had started to show up at the race venue for the first time, and the reality of the event hit me for the first time. I remember telling Parker, "Wow, they really came."