Swim
Training Tips
Advanced
Intermediate
Beginner
10 tips for getting back to the pool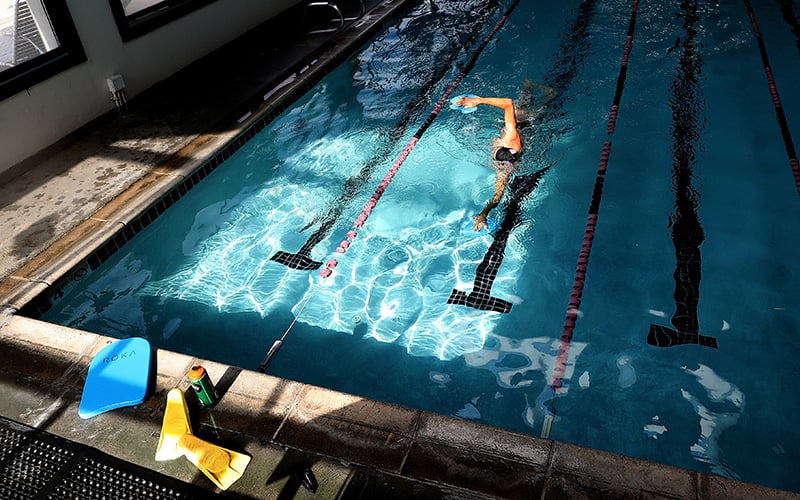 Ease your way back into swimming as you return to the pool.

1. Spend time in the water working on buoyancy, head position, body position, and feel for the water instead of going straight in and doing only freestyle. Get in and play around — it helps your body relearn quicker. Do LOTS of sculling, treading water, lowering your head and diving down and pushing off the bottom. Do streamlines off the wall.

2. Don't jump into a long straight swim right away. Do a warm up, some 25-yard drills, a set with short distance repeats, and make sure to always cool-down. Mix in other strokes, drills, and even super easy double-arm backstroke.

3. Think of your head position. Look directly at the bottom of the pool. Swim in the water, not trying to be on top of it with your head up.

4. Relax and breathe. Do a set of 10 vertical bobs standing on the bottom or in the deep water, just breathing out underwater, breathing in when your head comes up out of water. If you feel out of breath in the beginning it's OK. Your swimmer lungs will come back. Concentrate on not holding your breath at all even for a second. You shouldn't be exhaling any last puffs when you go to breathe in. Exhale it all underwater, but you don't need to take big breaths to do this. The goal is to get your breathing as natural and rhythmic as possible.

5. Do a lot of 25s (one length in most pools) the first few practices, really focusing on drills and technique. Do each drill exactly as it is intended. Do a set of drills and remember that your body will learn only if it's repeated.
6. Get your snorkel out! This is the time to use it. Most of the time the breathing technique needs work, but it also messes up other parts of the stroke. So, it's best to put your snorkel on and focus on your catch, head position, kick. Then take it off and focus on the breathing technique, not throwing your stroke way out of alignment.
7. Build Sets. Do a set of 50s where you start out slow and build effort in each 50. Pay attention to what the water feels like in your hands with more effort. Are you slipping through or able to grab water?
8. Distance per stroke. Count your strokes! Do a set where you count your strokes each 25 and try to lower that number by one. Think about one thing in your technique you can focus on to help you meet your goal number.
9. Work on the "feel" for the water by using these technique drills (below). Even if you know good technique, drills help your body remember and regain feel for the water. Feel is what swimmers have when they can grab the water in the most efficient way. It's elusive and earned, and unfortunately, it does go away a bit when you're out of the water for this long. But it does come back!
10. Ignore the clock right now while focusing on technique and feel for the water. Feel isn't all about fitness, so don't gauge your fitness on your feel or vice versa. Feel will come back. Do not be discouraged your first few times back in the water. Stick with it.
Drills to Help Feel for the
Water
Sculling: Besides being in water daily, this is the best way to get feel. Do sculling during warmup, at least a 50.
Fist drill: Swim freestyle with closed fists. Forces you to make the most of every pull by using your forearm and gives more efficiency.
Tennis ball drill: Same as fist drill, but the tennis balls add buoyancy, so you need to think about the motion.
Hand paddles: Great for regaining technique because they magnify the feedback of your stroke.
Super slow swimming: Slow it way down and think about your technique and feel.
Megan Cameron is a USA Triathlon Level I Certified Coach, U.S. Masters Swimming Level II Certified Coach in Joplin, Missouri. Growing up a swimmer, Cameron rediscovered her love for the sport when her daughters started competing in meets. In 2017, she competed at the USA Triathlon Age Group National Championships and was nationally ranked by U.S. Masters Swimming for her age group. The coach/owner of MC Swim Coaching, LLC and Soakers Swim & Tri Club, Cameron provides swimming and triathlon coaching for youth and adults. Visit
mcswimcoaching.com
.