News
Training Tips
Beginner
Advanced
Winter
Intermediate
Training in Cold Weather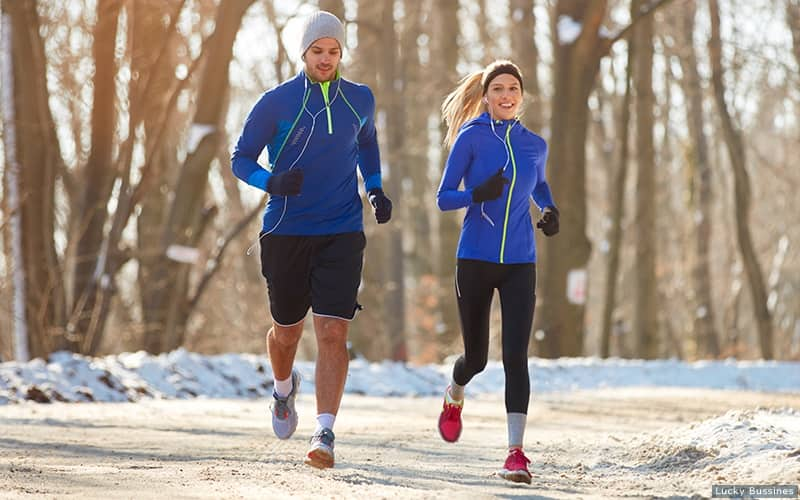 As winter gets closer, triathletes in most parts of the United States need to adjust their training practices to match the colder weather and less daylight. If, like me, you are committed to training outside as much as possible, here are some tips for enduring in colder weather.
Suit up. Wetsuit companies have items that can help you extend your open water swim season, such as neoprene hoods, gloves, socks, and thicker wetsuits. These are excellent products and worth investing in for your training, although not all of them are allowed in races.
Know your limits. Generally speaking, if the water temperature is less than 58 degrees, it's a good idea to move your swim training indoors or to a heated outdoor pool.
Use the trainer selectively. Riding outside improves your bike handling, requires core engagement and teaches you how to ride in the elements. Trainers don't do any of these.
Think layers. Cycling creates more wind chill than running, so dress with layers that can easily be modified by zippers or removed entirely. Plan on being slightly cold as your ride begins. Once you get going, your body will generate more heat to keep you warm. If sweat accumulates on your clothing and you start to feel chilled, you are wearing too many layers.
Protect your extremities. Keeping your fingers, hands, arms, toes, feet and legs warm is essential to safe riding. During any ride below 60 degrees, you should have your knees covered with knee warmers, leg warmers or thermal bib tights. Also, use arm warmers and/or a long sleeve jersey plus full-finger gloves. Below 45-50 degrees means you should use toe or shoe covers, too.
Change it up. If you have a gravel, cyclocross, mountain or fat bike, then head to the trails. This type of riding will likely be at lower speeds, meaning less wind chill and you won't be as cold. Added bonus: it'll also help you work on your bike handling.
Light it up. Always assume that drivers cannot see you, so use forward and rear-facing lights at all times.
Again, think layers. Dress as if it's 10 degrees warmer than it is (windchill is lower while running than on the bike). For example: At 30 degrees, you might wear a long sleeve base layer, a thicker long sleeve shirt, a pair of tights, winter running underwear, thick gloves/mittens and a fleece headband or hat.

Note: We all experience running in cold temperatures differently. Some get warmer than others and require fewer layers. Experiment with different clothing at different temps and find what is most comfortable for you.

Watch your footing. Winter running can mean running in icy or snowy conditions. When the ground is slippery, you either need to move your run indoors or be careful. Increase your cadence to decrease your ground contact time, shorten your stride to keep your center of gravity over your feet and wear traction devices on your shoes just in case.
Reflective over bright. With less sunlight, it's important to be seen in the dark. Wear lights on parts of your body that move so that people will see you more easily. And reflective clothing is better in the dark than bright colors.
One last tip: Extend your warmups for all outdoor sessions. Depending on the temperature, these warmups can be done indoors: dynamic stretching and yoga before a bike or run OR dryland cord work before a swim.
One of the benefits of being coached by a Playtri coach is the thoughtful attention toward equipment. As a Playtri coach, I regularly talk with my athletes not just about their big-ticket items (bike, wetsuit, wheels), but also the kit and tools that will allow them to comfortably train year-round.
Jim Rowe is a Playtri Level 4 Coach, a USA Triathlon Level I Certified Coach, and NASM Certified Personal Trainer who works with adult athletes of all abilities from beginners to IRONMAN World Championship qualifiers. Learn more about Jim at www.playtri.com/jim-rowe.