Three Benefits of Switching to N/A Beers for a Post-Exercise Recovery
by Athletic Brewing Company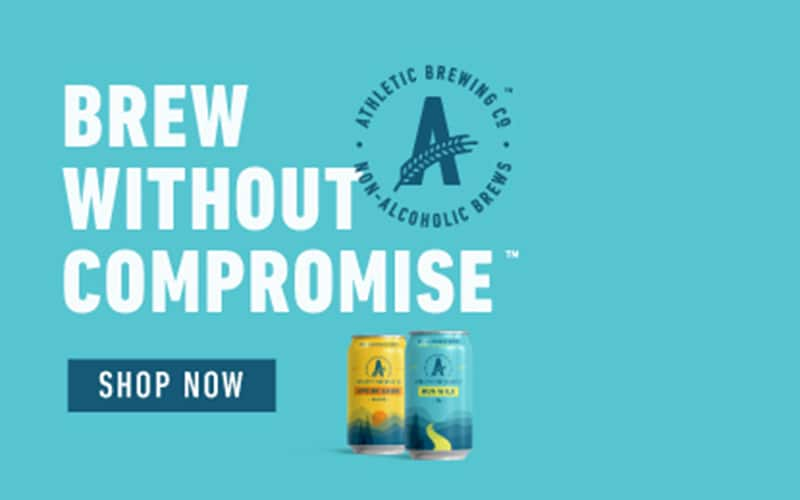 Whether it's in the pool, on the bike, or on the trails, nothing sounds better after a grueling workout than an ice cold beer. However, as refreshing as that sounds, it might not be the wisest decision given the importance of maintaining a smart post-exercise recovery regimen. In addition to building a consistent sleep routine, consuming the optimal amount of calories, protein, carbs, electrolytes, and vitamins is vital to getting the most out of your workout.
With the non-alcoholic (N/A) beer industry exploding, there are now numerous craft brew options that are able to replicate the same bold flavor of an ice cold beer, minus the risks of alcohol-induced setbacks. Below are three health benefits of switching to an N/A beer for post-exercise recovery without compromising the thirst-quenching nature of an ice cold beer after a hot summer workout.
Higher Immune Function and Muscle Healing
Post-workout dietary habits factor greatly into how efficiently your body rebuilds muscle and replenishes its energy stores. Even one drink can lower your immune function and slow the process of muscle healing, both of which are essential to your body's ability to be able to recover. Switching to an N/A will not only avoid these consequences, but the electrolytes contained in each can will actually help to speed up recovery time, which will allow athletes to continue to ramp up their intensity without worrying about the repercussions.
According to an article from NPR, Olympians have actually been doing this for years. The plant-derived compounds in beer called phenols lead to lower inflammation and a reduced rate of sickness, but have often been outweighed by the negative impact of alcohol. Furthermore, the presence of electrolytes in the beer also helps improve the recovery process by helping athletes retain more fluid following a workout.
Lower Risk for Injury
According to Dr. Jackie S. Womble, the injury rate for drinkers is 54.8%, whereas non-drinkers only endure injuries at a rate of 23.5%. This staggering statistic likely stems from the slower muscle healing time resulting from alcohol consumption. But nonetheless, for athletes competing at the top of their sport, this isn't a risk to be taken lightly. "Since alcohol can decrease testosterone and growth hormone, as well as enzymes important for muscle growth, drinking a non-alcoholic beer can allow an athlete to get the most out of workouts and be better prepared for optimal recovery," says Womble. "Non-alcoholic beer is usually higher in carbohydrates, which are necessary for optimal recovery as glycogen stores need to be replenished."
Better Taste
Undoubtedly the stigma behind N/A beers is a bland-tasting brew from some conglomerate brand catering to older demographics who can no longer handle the same amount of alcohol intake they used to. Instead, by making several tweaks to the natural craft process, breweries like Athletic Brewing Company are seriously stepping up the N/A game. Not only are there numerous health benefits to drinking an N/A beer that will enhance your recovery process, but the formula being used by companies like Athletic Brewing has helped N/A beers capture the same flavor of a traditional beer, minus the alcohol. Athletic Brewing has become a popular choice among younger generations recognizing the harmful health consequences of alcohol, and looking to make a change in lifestyle. If you don't believe it, you can try some for yourself at AthleticBrewing.com, and join the thousands of top-notch athletes who have recognized the great taste of an N/A brew like Athletic.