Training Tips
Beginner
Intermediate
Advanced
Embrace adventure this winter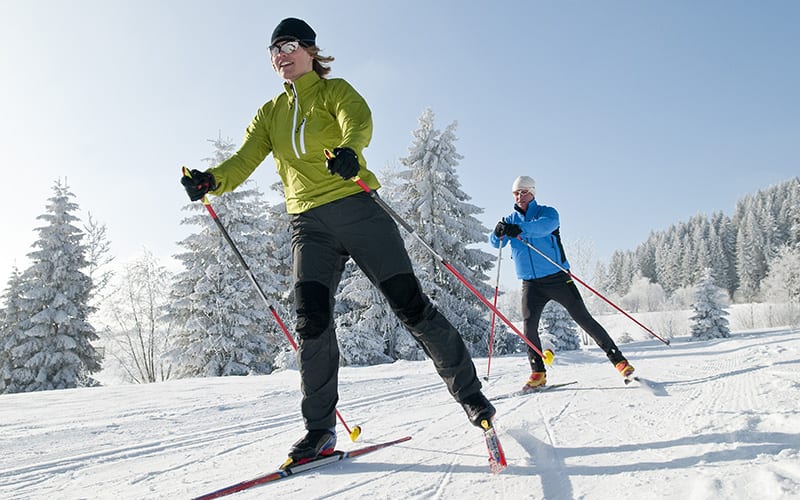 Winter can be a trying time for multisport athletes. Depending on your home state's weather, winter can often mean more time on the "dreadmill," the indoor trainer or bundled up for slippery runs on snow and ice.

I spent many years doing that — hours upon hours on the trainer, or running on the treadmill several times a week when conditions were nasty outside. Too much of this indoor training can get monotonous and eventually burn you out.

But what if there were activities you could do in the winter that would supplement — even build aerobic fitness — and were super fun? If you live in an area that sees a fair amount of snow, there are more options for winter recreation than ever before, as fat biking, cross-country skiing, snowshoeing and alpine touring skiing are all great offseason activities that can help build muscular endurance — and ramp up the fun and adventure.

As a triathlete, you improve as you build your muscular endurance. While cycling, you can work to improve your bike durability — a type of fitness that makes you more fatigue-resistant and better able to access your pure run fitness off the bike. The hallmark of good bike durability is muscular endurance. You can build this endurance with high-muscle tension, low-cadence work on the bike. For improving muscular endurance in swimming, it's swimming with big paddles. For running, it would be steep uphill running. Everything I do in my own training and with my athletes involves a consistent dose of workouts that stimulate muscular endurance.

Cross-country skiing is an excellent winter option for building muscular endurance and fitness. Canadian Peter Reid, who won the IRONMAN World Championship three times, was known for cross-country skiing a lot in the winter — and for good reason. You can build a strong endurance engine by cross-country skiing, and by skiing on groomed tracks that may include hilly courses, you can also work on leg and arm strength and muscle endurance —similar to when you run hill repeats.

Snowshoeing and winter hiking are even more low-key, lower barrier-to-entry winter sports that offer excellent cross-training.

If you are already a downhill skier, your best bet to further improve your muscular endurance (and up the fun factor!) is to try alpine touring (AT) skiing. AT skiing arguably stimulates your body to build muscular endurance more than any of the other snow sports I've mentioned. It's essentially skiing uphill on skis with climbing skins for grip, then transitioning to downhill skiing at the top. With today's improved AT ski gear, this allows you to ski anywhere (resort, side country, backcountry). When going uphill, your boots have a range of motion and your heels are free so you can stride up the hill. At the top you switch your boots into downhill mode and lock your heel into the binding, so you can make regular alpine turns just like you always have. Winter doesn't have to be mundane. Get outside and do some adventurous workouts that build muscular endurance and bring a smile to your face!
GET STARTED CROSS-COUNTRY
SKIING
There are two cross-country skiing techniques: classic and skate.

The beginner-friendly style, classic cross-country skiing involves a kick and glide motion in which you move your skis forward in a straight line. It looks like you're walking on skis. Skate skiing, on the other hand, resembles a speed skater on ice as your skis form a "V" and you propel yourself forward by shifting your weight from one leg to the other. Though more complicated, a triathlete with strong fitness can pick up the motion with practice.

Gear
There are different skis for skate skiing and for classic, and much like downhill skis, cross-country skis have binding systems and boots. Sizing for skis depends on your weight. Often, you can rent skis at a Nordic center. You'll want poles, too.

What to wear?
Given its intensity, cross-country skiing will cause you to sweat, so you'll want to avoid dressing too warmly. Layers of winter cycling or running gear can work great for colder weather.

Where to ski?
An official Nordic center is a great place to start for beginners, as you can rent gear and ski on trails groomed for cross-country skiing and snowshoeing.

Have fun!
John Spinney is USA Triathlon Level I Certified Coach at QT2 Systems brands. He believes the best fitness comes from training that embraces adventure.