Joe Maloy Leads U.S. Effort with 23rd Place at Rio 2016 Olympic Games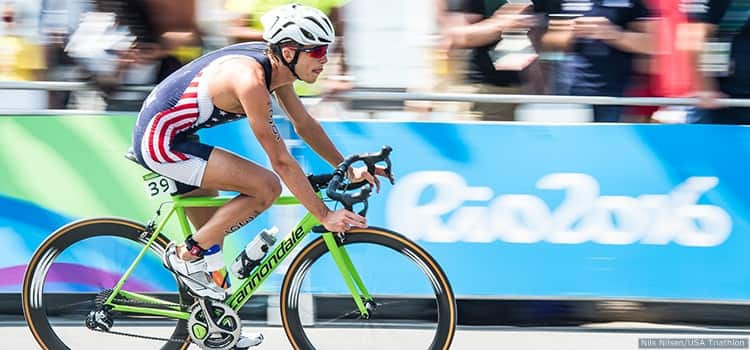 RIO DE JANEIRO — Alistair Brownlee of Great Britain became the first man to defend his Olympic triathlon title with a victory Thursday at Copacabana Beach, while Joe Maloy ran his way to 23rd place as the top American finisher at the Rio de Janeiro 2016 Olympic Games triathlon.
Brownlee finished the 1,500-meter swim, 38.48-kilometer bike, 10-kilometer run course in 1 hour, 45 minutes, 1 second to capture the gold for the second straight Games. Brownlee's younger brother, Jonathan Brownlee, was second in 1:45:07 for his second Olympic medal after winning bronze four years ago, and South Africa's Henri Schoeman earned the bronze with a time of 1:45:43. Maloy (Wildwood Crest, N.J.) clocked in at 1:48:30 in his first Olympic Games for 23rd, while Ben Kanute (Geneva, Ill.) finished 29th and Greg Billington (Spokane, Wash.) was 37th.
"You can't ever quit. You have to keep fighting and keep persevering," Maloy said. "That's what triathlon is about and in a broader sense that's what the Olympic Games are about. I was really proud of the way I ran. I didn't give up; I didn't quit. I kept fighting and that was the best I had. I wanted to make my family and my country proud."
On a hot and humid morning at Rio's famed Copacabana Beach, the pace was quick from the beginning, with the Brownlees among those leading the charge from the ocean on to the bike. Kanute came out of the water within 11 seconds of swim leader Richard Varga of Slovakia and was able to find his place in the lead bike pack of 10 men, which included the eventual medal winners. The lead group pushed the pace through the first few laps, allowing them to put more than a minute of separation between themselves and the chase group.
"It took me until halfway through the bike to even feel like I could catch my breath," Kanute said. "That first lap was all out, and even into the second lap, there was no time to rest. We worked pretty well together. There were a lot of good cyclists behind us […], who were all trying to work to catch us. Our group of 10 was able to hold on and keep going strong the whole way."
Once out on the run, the Brownlees kept the pace quick, stringing out the run field while running just over 31 minutes for 10 kilometers. Kanute fell back from the rest of the lead pack, and was caught by fast-charging runners from the chase pack on the second of four laps. Maloy, who rode in the chase group after missing the front pack on the swim, made up time on the run to move ahead of Kanute and finish 23rd.
"It's special. It's something I can't put into words," Maloy said. "My family is here and my coach is here. What makes sports special are people coming together to enjoy it — the community, the social aspect. It helps bring people together and inspires people in a way that very few other things do. That's something that will stay with me forever."
While Kanute lost contact with the rest of the front pack, his swim-bike combination was a solid showing for the 23-year-old Olympic rookie, who has been competing in triathlons since age 8.
"I think my swim and my bike are pretty much right there," Kanute said. "I'm always looking to improve, but I'm swimming with the front group and riding with the front group. I think my run each race is getting more and more consistent and I'm getting more comfortable running at a fast pace. And it's slowly but surely getting there. If you're asking about 2020, I guess I've got four years to get myself together."
Billington, who also was competing in his first Olympic Games, came out of the water 45 seconds back from the race leaders and missed the chase group in transition, riding much of the nearly 40k bike with Ireland's Bryan Keane.
"What's incredible and what's terrible about this sport is how seconds can make a huge difference in the end," Billington said. "I was fine with my swim; it wasn't quite what I wanted but I was still right in there to make that pack and then for some reason I couldn't execute out of the first transition and from there it was just me and Bryan Keane putting everything we had on the line to salvage what we could of the race."
Though the athletes' finishes may not have been what they had envisioned, the first-time Olympians all expressed gratitude at the chance to race on the world's biggest stage.
"USA Triathlon has been phenomenal here in giving us the support needed to arrive on race day ready to perform our best," Billington said. "It's an incredible experience being at the Games and I'm very thankful for the opportunity to be here. Obviously the week is defined by how the race goes, and it was atrocious, but I'm thankful for the opportunity."
The U.S. Olympic Women's Triathlon Team will be in action on the same course on Saturday, Aug. 20, with Gwen Jorgensen, Sarah True and Katie Zaferes set to compete for Team USA. Visit usatriathlon.org/rio2016 for the latest updates from the U.S. Olympic Triathlon Team in Rio.
2016 Olympic Games Men's Triathlon

1,500m swim, 38.48k bike, 10k run
Complete Results
1. Alistair Brownlee (GBR), 1:45:01
2. Jonathan Brownlee (GBR), 1:45:07
3. Henri Schoeman (RSA), 1:45:43
4. Richard Murray (RSA), 1:45:50
5. Joao Pereira (POR), 1:45:52
6. Marten Van Riel (BEL), 1:46:03
7. Vincent Luis (FRA), 1:46:12
8. Mario Mola (ESP), 1:46:26
9. Aaron Royle (AUS), 1:46:42
10. Ryan Bailie (AUS), 1:47:02

U.S. Finishers
23. Joe Maloy (Wildwood Crest, N.J.), 1:48:30
29. Ben Kanute (Geneva, Ill.), 1:48:59
37. Greg Billington (Spokane, Wash.), 1:52:04
Click here to view the race photo gallery.
About USA Triathlon
USA Triathlon is proud to serve as the National Governing Body for triathlon, as well as duathlon, aquathlon, aquabike, winter triathlon, off-road triathlon and paratriathlon in the United States. Founded in 1982, USA Triathlon sanctions more than 4,300 races and connects with nearly 500,000 members each year, making it the largest multisport organization in the world. In addition to its work with athletes, coaches, and race directors on the grassroots level, USA Triathlon provides leadership and support to elite athletes competing at international events, including International Triathlon Union (ITU) World Championships, Pan American Games and the Olympic and Paralympic Games. USA Triathlon is a proud member of the ITU and the United States Olympic Committee (USOC).