Seven American Paratriathletes Medal at World Championships in Lausanne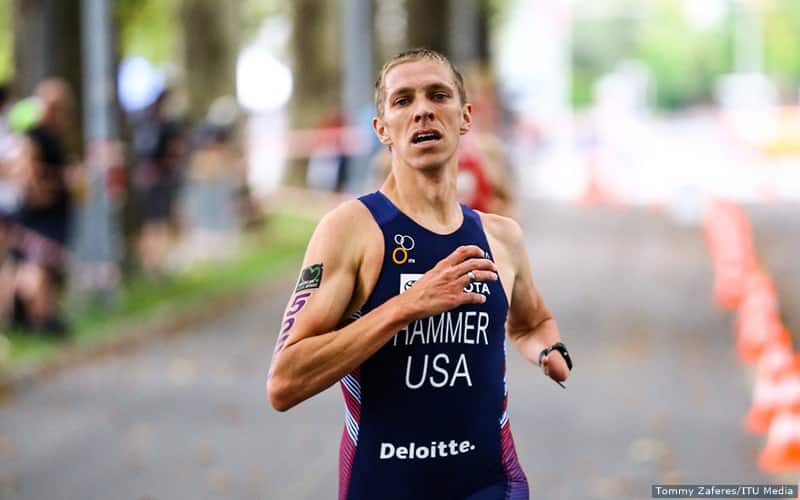 LAUSANNE, Switzerland — U.S. paratriathletes earned seven medals Sunday at the ITU Paratriathlon World Championships, held as part of the ITU World Triathlon Grand Final in Lausanne. Also on Sunday, a squad of up and coming U.S. triathlon stars raced to bronze at the ITU U23/Junior Mixed Relay World Championships.

ITU Paratriathlon World Championships
Kendall Gretsch (Madison, Wis.), Allysa Seely (Glendale, Ariz.) and Kelly Elmlinger (San Antonio, Texas) raced to silver in their respective divisions. Bronze medalists included Hailey Danz (Wauwatosa, Wis.), Grace Norman (Cedarville, Ohio), Chris Hammer (Salt Lake City, Utah) and Aaron Scheidies (Seattle, Wash.).

Athletes covered a 750-meter swim in Lake Geneva, followed by a 20-kilometer bike and 5-kilometer run featuring plenty of hills and technical sections.

In the women's PTWC category, Gretsch raced to a silver medal behind Australia's Lauren Parker. Gretsch came out of the water in the middle of the pack, but she had the second-fastest bike and run splits of the field to cross the line in 1 hour, 21 minutes, 30 seconds. Parker won the gold in 1:18:41, and Germany's Christine Reppe took bronze in 1:24:52.

Gretsch was pleased to return to the podium after placing fifth last month at the Tokyo ITU Paratriathlon World Cup, which was held at the triathlon venue for the Olympic and Paralympic Games Tokyo 2020.

"I didn't have the race I was hoping for in Tokyo at the test event, so this was kind of a reassurance that I can perform at the top level," Gretsch said. "It was a big confidence booster going into Tokyo — and kind of a good insight of what I need to work on, but also where my strengths are."

Seely and Danz shared the podium in the women's PTS2 division, placing second (1:25:18) and third (1:26:26) respectively. Great Britain's Fran Brown earned her first career world title in 1:24:23. The performance marked Seely's fifth and Danz's third consecutive year on the world championships podium.

Elmlinger captured silver in the women's PTS4 division, adding to a stellar season in which she has also earned three podiums in ITU World Paratriathlon Series (WPS) events and a win at the Tokyo test event. Great Britain's Hannah Moore was the women's PTS4 champion in 1:20:26, followed by Elmlinger in 1:22:52 and Germany's Elke Van Engelen in 1:26:11.

Hammer returned to the worlds podium for the first time since 2017, running to bronze in the men's PTS5 category with a time of 1:03:39. He was joined on the podium by gold medalist Stefan Daniel of Canada (1:00:54) and silver medalist Martin Schulz of Germany (1:02:13).

"I couldn't help but smile that whole last half-mile when I saw how it was playing out. To be honest, I didn't know if (a podium at worlds) was ever going to happen again, so it's a really good feeling," Hammer said. "I'm proud that the hard work paid off, and it sets me up to keep at it for another year, so I'm excited for Tokyo."

Norman took bronze in the women's PTS5 division, battling her British rivals Claire Cashmore and Lauren Steadman throughout the race. She was first out of the water, then lost some time to her competitors on the bike. Norman went on to post her fastest run of the season in 19:21, smiling as she ran her way back into medal contention.

"I just had an amazing attitude, and the run was so fun. I loved it," Norman said. "It's amazing what smiling does. It just brings out so many endorphins, and just cranks up the energy."

Cashmore outsprinted Steadman to claim the gold, finishing in 1:12:42 to Steadman's 1:12:45. Norman wasn't far behind, crossing the line in 1:14:02.

Scheidies earned his 11th career ITU Paratriathlon World Championships podium with a bronze in the men's PTVI division, guided by Ben Collins. It was one of the closest races of the day, as Scheidies was just over a minute back from gold medalist Héctor Catalá Laparra of Spain. The world champion finished in 1:05:03, followed by Dave Ellis of Great Britain in 1:05:53, and Scheidies rounded out the podium in 1:06:05.

For a complete description of ITU paratriathlon sport classifications, click here.

ITU Paratriathlon World Championships | Complete Results
750m swim, 20k bike, 5k run

PTWC Men
1. Jetze Plat (NED), 1:02:56
2. Geert Schipper (NED), 1:08:30
3. Giovanni Achenza (ITA), 1:10:10
12. Joshua Sweeney (Hillsboro, Ore.), 1:20:56

PTWC Women
1. Lauren Parker (AUS), 1:18:41
2. Kendall Gretsch (Madison, Wis.), 1:21:30
3. Christiane Reppe (GER), 1:24:52

PTS2 Men
1. Jules Ribstein (FRA), 1:11:40
2. Andrew Lewis (GBR), 1:13:51
3. Maurits Morsink (NED), 1:14:36
4. Allan Armstrong (Colorado Springs, Colo.), 1:25:59
5. Adam Popp (Arlington, Va.), 1:27:03

PTS2 Women
1. Fran Brown (GBR), 1:24:23
2. Allysa Seely (Glendale, Ariz.), 1:25:18
3. Hailey Danz (Wauwatosa, Wis.), 1:26:26

PTS4 Men
1. Alexis Hanquinquant (FRA), 1:04:37
2. Jiachao Wang (CHN), 1:06:59
3. Alejandro Sánchez Palomero (ESP), 1:07:09
6. Jamie Brown (Bend, Ore.), 1:09:38
15. Joel Rosinbum (Austin, Texas), 1:17:38

PTS4 Women
1. Hannah Moore (GBR), 1:20:26
2. Kelly Elmlinger (San Antonio, Texas), 1:22:52
3. Elke Van Engelen (GER), 1:26:11

PTS5 Men
1. Stefan Daniel (CAN), 1:00:54
2. Martin Schulz (GER), 1:02:13
3. Chris Hammer (Salt Lake City, Utah), 1:03:39

PTS5 Women
1. Claire Cashmore (GBR), 1:12:42
2. Lauren Steadman (GBR), 1:12:45
3. Grace Norman (Cedarville, Ohio), 1:14:02

PTVI Men
1. Héctor Catalá Laparra (ESP), 1:05:03
2. Dave Ellis (GBR), 1:05:53
3. Aaron Scheidies (Seattle, Wash.) with guide Ben Collins, 1:06:05
6. Brad Snyder (Baltimore, Md.) with guide Colin Riley, 1:08:00

PTVI Women
1. Susana Rodriguez (ESP), 1:14:11
2. Melissa Reid (GBR), 1:16:11
3. Jessica Tuomela (CAN), 1:17:13
4. Elizabeth Baker (Signal Mountain, Tenn.) with guide Jillian Petersen, 1:17:48
6. Amy Dixon (Encinitas, Calif.) with guide Kirsten Sass, 1:20:09

ITU U23/Junior Mixed Relay World Championships

Closing out the action at the Grand Final was the ITU Under-23/Junior Mixed Relay World Championships. Featuring athletes ages 16-22, the race showcased the fast-paced format that will debut as a medal event at the Olympic Games Tokyo 2020.

In the mixed relay format, teams are comprised of two men and two women from the same country. In Sunday's race, each athlete completed a 300m swim, 4.8k bike and 1.37k run before tagging off to the next teammate (the anchor leg completing a slightly longer 2.1k run to the finish line).

The U.S. team of Tamara Gorman (Rapid City, S.D.), Darr Smith (Atlanta, Ga.), Taylor Knibb (Washington, D.C.) and Seth Rider (Germantown, Tenn.) raced to bronze in a total time of 1:07:22.

Gorman got the team off to a strong start, tagging off to Smith in second place. Smith lost some time to the leaders, but Knibb was able to make up the gap with a strong bike. On the final leg, Rider battled with New Zealand's Hayden Wilde, Great Britain's Alex Yee, Switzerland's Max Studer and Germany's Lasse Lührs as heavy rain added to the drama. Wilde ultimately broke the tape for New Zealand with a total time of 1:06:50, followed by Great Britain for silver in 1:06:57.

"The rain started coming, it was quite an epic finish, and I managed to hold onto third with some fast-charging people coming behind me," Rider said. "This is the last race that's happening here this weekend, and just to finish it off on the podium is really cool."

ITU U23/Junior Mixed Relay World Championships | Complete Results
Leg 1, 2, 3: 300m swim, 4.8k bike, 1.37k run
Leg 4: 300m swim, 4.8k bike, 2.1k run

1. New Zealand (Knighton, Reid, Thorpe, Wilde), 1:06:50
2. Great Britain (Mathias, Dijkstra, Waugh, Yee), 1:06:57
3. United States (Gorman, Smith, Knibb, Rider), 1:07:22
4. Switzerland (Konig, Westermann, Derron, Studer), 1:07:34
5. Germany (Eim, Schaufler, Meißner, Lührs), 1:07:45

The ITU Paratriathlon World Championships and U23/Junior Mixed Relay were held as part of ITU World Triathlon Grand Final, which concluded Sunday in Lausanne. The Grand Final marked the culmination of the ITU World Triathlon Series by crowning the men's and women's elite world champions, while also featuring world championship events for elite paratriathletes, U23s, juniors and age-group athletes. Visit usatriathlon.org for coverage of all races.

About USA Triathlon
USA Triathlon is proud to serve as the National Governing Body for triathlon, as well as duathlon, aquathlon, aquabike, winter triathlon, off-road triathlon and paratriathlon in the United States. Founded in 1982, USA Triathlon sanctions more than 4,300 events and connects with more than 400,000 members each year, making it the largest multisport organization in the world. In addition to its work at the grassroots level with athletes, coaches, and race directors — as well as the USA Triathlon Foundation — USA Triathlon provides leadership and support to elite athletes competing at international events, including International Triathlon Union (ITU) World Championships, Pan American Games and the Olympic and Paralympic Games. USA Triathlon is a proud member of the ITU and the United States Olympic & Paralympic Committee (USOPC).