McDowell and Pearson Ready for Olympic Games Tokyo 2020 Men's Triathlon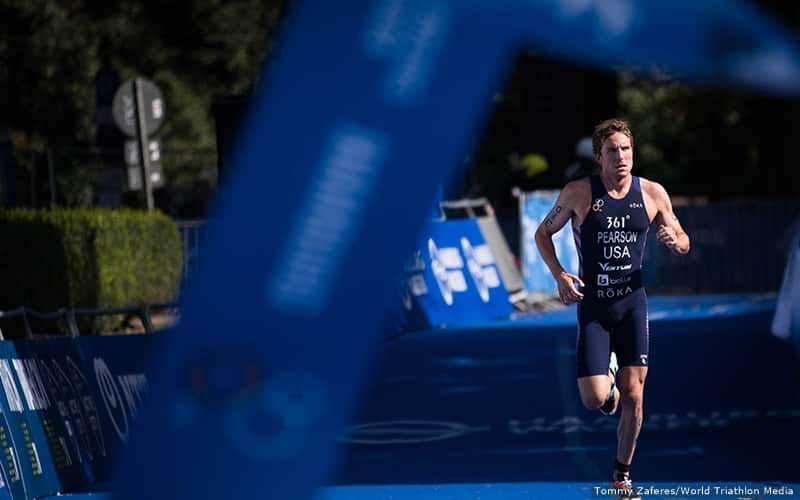 TOKYO — Triathlon competition is ready to get underway at the Olympic Games Tokyo 2020, with Kevin McDowell and Morgan Pearson representing Team USA in the men's individual race on Sunday, July 25 at 5:30 p.m. ET (Monday, July 26 at 6:30 a.m. Tokyo time).

The race will be broadcast live on USA Network and will also be available via livestream on the NBC Sports App and NBCOlympics.com. Hunter Kemper, four-time U.S. Olympian, and Barry Siff, former USA Triathlon Board of Directors President and World Triathlon Executive Board Member, will provide pre- and post-race commentary from the USA Triathlon Facebook page from 4:45-5:15 p.m. ET (pre-race) and 8-8:30 p.m. ET (post-race). Click here to learn more.

The main venue for the Tokyo 2020 triathlon events is Odaiba Marine Park, a coastal tourist attraction with views of Tokyo's iconic Rainbow Bridge. Athletes will cover a 1,500-meter swim in Tokyo Bay, followed by a 40-kilometer draft-legal bike and 10-kilometer run around the park and surrounding city streets. The conditions will be hot and humid even in the early morning, with air temperatures expected to reach the mid-80s Fahrenheit.

Both McDowell and Pearson are making their Olympic debuts in Tokyo. The U.S. has never won an Olympic medal in men's triathlon — Kemper owns the highest finish for a U.S. man to date with seventh at the Beijing 2008 Games — but that could change Sunday. Earlier this year, Pearson proved himself a medal contender against the best in the world, earning back-to-back World Triathlon Championship Series podiums in Yokohama, Japan, and Leeds, England. He is the only U.S. man in history to have won multiple medals at the WTCS level. McDowell, a 2015 Pan American Games silver medalist and 2010 U.S. Youth Olympian, has a World Triathlon Championship Series career-best finish of 11th.

The U.S. men will face stiff international competition from France's Vincent Luis, the 2019 and 2020 world champion; Jonathan Brownlee of Great Britain and Henri Schoeman of South Africa, the silver and bronze medalists from the Olympic Games Rio 2016; Mario Mola and Javier Gomez of Spain, the 2019 world silver and bronze medalists; and Kristian Blummenfelt of Norway and Alex Yee of Great Britain, who won the two season-opening 2021 World Triathlon Championship Series events.

Click here to download USA Triathlon's "United in Tokyo" Olympic and Paralympic Media Guide, and click here to access photos and video b-roll of all 2020 U.S. Olympic Triathlon Team members.

Kevin McDowell (Geneva, Ill.)
McDowell, 28, grew up participating in USA Triathlon's youth and junior elite triathlon circuit as part of the Chicago-based Multisport Madness Triathlon Team. He was USA Triathlon's Junior Athlete of the Year in 2009 and 2010 and represented Team USA at the 2010 Youth Olympic Games in Singapore, where he earned silver in the individual event and bronze in the Mixed Relay. He went on to win a bronze medal at the 2011 Junior World Championships. Later that year, he was diagnosed with Hodgkin's Lymphoma, and took six months off to complete chemotherapy. A year later, he returned to elite competition, making his senior-level World Cup debut. He would go on to win gold at the 2014 FISU World University Triathlon Championships, and silver at the Pan American Games Toronto 2015. McDowell is now a seven-time World Triathlon Cup medalist and recently celebrated 10 years cancer-free. He currently lives and trains in Colorado Springs, Colorado, and is coached by Nate Wilson.

Morgan Pearson (Boulder, Colo.)
Pearson, 27, is originally from Spring Lake, New Jersey, where he grew up as a competitive swimmer, ocean lifeguard and promising high school runner. He went on to run cross-country and track & field at the University of Colorado at Boulder, where he was a seven-time All-American. He got his start in elite triathlon through USA Triathlon's Collegiate Recruitment Program, which identifies top NCAA swimmers and runners who have the potential to excel as triathletes. After winning the overall title at the USA Triathlon Age Group Sprint National Championships in 2017, he debuted as an elite triathlete in 2018. He is experiencing a breakout 2021 season, winning bronze in Yokohama on May 15 and silver in Leeds, England, on June 6, to become the first U.S. male ever to earn multiple World Triathlon Championship Series medals. Pearson currently trains in Boulder and is coached by Dean Golich.

Flash Quotes — Pre-Race, Men's Triathlon

On the Village atmosphere and the Olympic experience so far:

McDowell: "I'm feeling good energy, good vibes. It's been fun with the team here. It's just good mojo between the whole USA group. The Olympic Village is a stimulus overload at times because you're seeing all these people dressed in these ridiculous country outfits, and it becomes the norm. Outside, these things would be getting attention, but inside the Village it's just the normal. The first time we went to the cafeteria, we just didn't know where to start. And just seeing all the different athletes, and builds, and people, it was cool."

On final preparations and mindset:

McDowell: "I've been taking time and space to just be in my room chilling in bed. One cool thing is we got a lot of support letters from family and friends back home, so it's kind of been nice to sit and read all those things, keep some normalcy and just have good memories of everything that has been a part of this journey. It's been a way for me to step away from the focus of the race, because at the end of the day, those people still see me as Kevin. The result isn't going to change anything. So, it's a good mindset to have."

Pearson: "I'm trying to go to bed early every night and not look at anything about the race except the actual course and the technical aspects. And I just want to live in the moment and enjoy the experience. I also mean that on race day — I think that's another sign of a good race. I don't want to be overthinking anything about a result, I just want to be in the moment."

On process goals and what will define success on race day:

McDowell: "A race where I have no regrets, nothing that I can look back on and say 'Oh, I messed this up here,' or a critical moment where I could've easily had a fix and changed a result drastically. Something where I'm across the line and can say I did everything I could that day. I didn't give up any situation, I kept fighting until the end. If I can finish with that, then it should be positive."

Pearson: "I just want to have a race that I'm proud of. We've put in this training, we've put in the preparation. I want to have a race where I'm putting out what I know I can do. We'll see where I finish and what that means, but if I can just have that output that I know I'm capable of, then I'll be happy."

Schedule for Women's Event and Mixed Relay
The women's individual triathlon is set for Monday, July 26, at 5:30 p.m. ET, with Taylor Knibb, Summer Rappaport and Katie Zaferes representing Team USA. The Triathlon Mixed Relay, which makes its debut as an Olympic medal event, will take place Friday, July 30, at 6:30 p.m. ET. The final four-person mixed relay team (two men, two women) is to be determined, but will come from among those athletes competing in the individual events.

For more information about USA Triathlon at the Olympic Games Tokyo 2020, visit usatriathlon.org/tokyo2020.

About USA Triathlon
USA Triathlon is proud to serve as the National Governing Body for triathlon, as well as duathlon, aquathlon, aquabike, winter triathlon, off-road triathlon and paratriathlon in the United States. Founded in 1982, USA Triathlon sanctions more than 4,000 events and connects with more than 400,000 members each year, making it the largest multisport organization in the world. In addition to its work at the grassroots level with athletes, coaches, and race directors — as well as the USA Triathlon Foundation — USA Triathlon provides leadership and support to elite athletes competing at international events, including World Triathlon Championships, Pan American Games and the Olympic and Paralympic Games. USA Triathlon is a proud member of World Triathlon and the United States Olympic & Paralympic Committee (USOPC).