McDowell Earns Highest Finish for a U.S. Man at Olympic Games Triathlon in 6th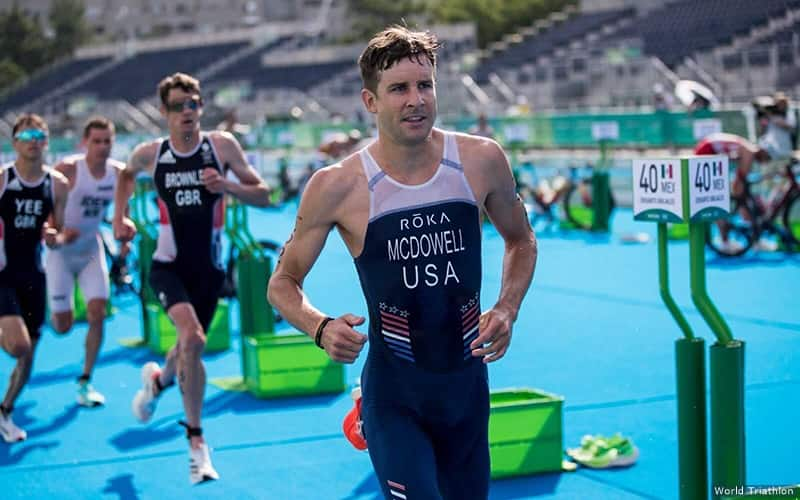 TOKYO — First-time U.S. Olympian Kevin McDowell (Geneva, Ill.) made history at the Olympic Games Tokyo 2020 men's triathlon event Monday morning in Tokyo, earning the highest-ever finish by a U.S. man at the Olympic Games in sixth place.

"The support system around me has been incredible," McDowell said. "I got an overwhelming amount of messages and letters sent from home, and I've been reading them this week. I read my last three today from both my parents, my sister and my grandparents. It meant the world to me to read those last ones and remember where I came from. Ten years ago, I was so sick. I didn't know what would happen, but I was so passionate about this sport. To be up here being in contention at the Olympic Games, I'm living the dream right now. I I have to thank my coach, Nate Wilson. He took me on this year and really helped shape me as a person and put belief in what I could do."

McDowell, a cancer survivor and graduate of the University of Colorado, Colorado Springs, clocked a time of 1 hour, 45 minutes, 54 seconds. His sixth-place finish is one better than four-time U.S. Olympian Hunter Kemper's seventh-place showing at the Beijing 2008 Games.

"Hunter (Kemper) was definitely an inspiration to me through all of this. He's one who took me under his wing when I had some really tough years returning after cancer," McDowell said. "Between him and Andy Potts, two past U.S. Olympians, they've really taken me under their wing. Hunter was awesome throughout the early days when I was returning, and he's always someone I looked up to."
Kristian Blummenfelt of Norway won gold, his first Olympic medal, completing the 1,500-meter swim in Tokyo Bay, 40-kilometer draft-legal bike and 10-kilometer run in 1:45:04. Great Britain's Alex Yee won silver, finishing in 1:45:15 and Hayden Wilde of New Zealand took the bronze in 1:45:24. The race was held at Tokyo's Odaiba Marine Park, and athletes faced hot and humid conditions — with air temperatures in the low 80s Farenheit and water temperatures in the mid-80s.
McDowell exited the swim in 47th place, fifth from the back, but used a strong bike to ride his way into contention. He started the eight-lap course in the second chase pack, more than 35 seconds down from the leading group of nine. By the halfway point, all three groups at the front half of the race had merged, forming one large pack of 30 athletes that worked together through the remaining four laps. McDowell pushed the pace in the final kilometer on the bike, working his way to the front of the peloton to position himself well in transition. He came out of transition onto the run in third place, along with Switzerland's Andrea Salvisberg and Yee, with Blummenfelt and Wilde close behind.
McDowell, 28, hung tough in the run with Yee — considered by many the top runner in the field — even briefly taking the lead midway through the 10k. Yee, Blummenfelt and Wilde pulled away to form a top-three lead pack. McDowell sprinted to the finish to place sixth, the best finish in Games history for an American man.
McDowell grew up participating in USA Triathlon's youth and junior elite triathlon circuit as part of the Chicago-based Multisport Madness Triathlon Team. He was USA Triathlon's Junior Athlete of the Year in 2009 and 2010 and represented Team USA at the 2010 Youth Olympic Games in Singapore, where he earned silver in the individual event and bronze in the Mixed Relay. He went on to win a bronze medal at the 2011 Junior World Championships.
Later that year, he was diagnosed with Hodgkin's Lymphoma, and took six months off to complete chemotherapy. A year later, he returned to elite competition, making his senior-level World Cup debut. He would go on to win gold at the 2014 FISU World University Triathlon Championships, and silver at the Pan American Games Toronto 2015. McDowell is now a seven-time World Triathlon Cup medalist and recently celebrated 10 years cancer-free.
"I wanted to race like that little Kevin who has always had this fire and grit," McDowell said. "I wanted to race with no regrets and just be proud out there. Everyone has been saying how proud they were, so I was thinking, 'Let me give back to what everyone has given to me through this journey.' I just want to go and put on a show and make everyone proud. I went out and gave it all I had."
He currently lives and trains in Colorado Springs, Colorado, and is coached by Nate Wilson.
Morgan Pearson (Boulder, Colo.) the other American man in the men's triathlon race, finished in 42nd place with a time of 1:52:05. He was 25th out of the water and joined the first group of chasers on the bike, but was unable to hold onto the group and found himself in 46th place at the second transition. On the run, he had to serve a 15-second penalty that was issued to him after the swim for dropping equipment (a swim cap) outside of the designated area during the first transition.

Pearson is a University of Colorado graduate who is also making his Olympic debut in Tokyo. Unlike McDowell, his pathway to the sport came after a standout collegiate running career at CU, and he has only been competing in elite triathlon since 2018. Pearson is coached by Dean Golich.

While disappointed in the result, Pearson reflected on the magnitude of the Olympic experience and his U.S. teammate's standout performance.

"It was a tough day. That's not what I wanted to do, but I'm glad I'm here, and I auto-qualified, so no one can take that away from me," Pearson said. "I'm sure in a few days, a few weeks, I'll be more excited about it. I know Kevin had a really good race, so that's really exciting for him. I was taking the run easy because I know I have the Mixed Relay in a few days — and it's the Olympics, I didn't want to drop out, I wanted to finish."

Up Next: Women's Individual Triathlon
The women's individual triathlon at the Tokyo 2020 Games is scheduled for tomorrow — Monday, July 25 at 5:30 p.m. ET (Tuesday, July 26 at 6:30 a.m. Tokyo time) — with Taylor Knibb (Washington. D.C.), Summer Rappaport (Thornton, Colo.) and Katie Zaferes (Cary, N.C.) representing Team USA. The race will be broadcast live on USA Network and will also be available via livestream on the NBC Sports App and NBCOlympics.com. Joanna Zeiger, 2000 U.S. Olympian, and Kelly O'Mara, Triathlete Magazine Editor-In-Chief, will provide pre- and post-race commentary from the USA Triathlon Facebook page from 4:45-5:15 p.m. ET (pre-race) and 8-8:30 p.m. ET (post-race). Click here to learn more.

Later This Week: Triathlon Mixed Relay
The Triathlon Mixed Relay, a first-time medal event at the Olympic Games, will take place Friday, July 30, at 6:30 p.m. ET. The final four-person mixed relay team (two men, two women) will not be determined until race morning, but will come from among those athletes competing in the individual events.

For more information about USA Triathlon at the Olympic Games Tokyo 2020, visit usatriathlon.org/tokyo2020.

Olympic Games Tokyo 2020 Men's Triathlon
1,500m swim, 40k bike, 10k run — Complete Results

1. Kristian Blummenfelt (NOR), 1:45:04
2. Alex Yee (GBR), 1:45:15
3. Hayden Wilde (NZL), 1:45:24

U.S. Finishers
6. Kevin McDowell (Geneva, Ill.), 1:45:54
42. Morgan Pearson (Boulder, Colo.), 1:52:05

About USA Triathlon
USA Triathlon is proud to serve as the National Governing Body for triathlon, as well as duathlon, aquathlon, aquabike, winter triathlon, off-road triathlon and paratriathlon in the United States. Founded in 1982, USA Triathlon sanctions more than 4,000 events and connects with more than 400,000 members each year, making it the largest multisport organization in the world. In addition to its work at the grassroots level with athletes, coaches, and race directors — as well as the USA Triathlon Foundation — USA Triathlon provides leadership and support to elite athletes competing at international events, including World Triathlon Championships, Pan American Games and the Olympic and Paralympic Games. USA Triathlon is a proud member of World Triathlon and the United States Olympic & Paralympic Committee (USOPC).