With Leeds Silver, Pearson Becomes First U.S. Man to Win Multiple World Triathlon Championship Series Medals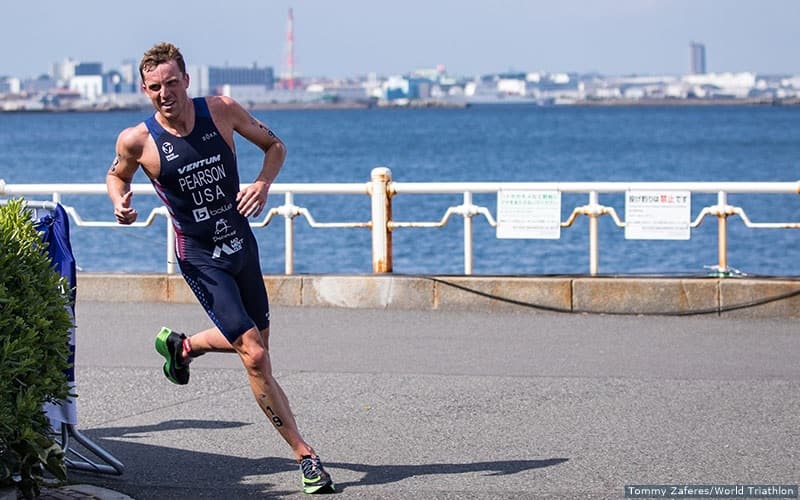 LEEDS, England — Qualified 2020 U.S. Olympian Morgan Pearson (Boulder, Colo.) made history Sunday in Leeds, England, becoming the first U.S. man ever to earn multiple medals at the World Triathlon Championship Series level. Pearson's silver comes on the heels of his first career WTCS medal, a bronze in Yokohama, Japan, on May 15 — which, as a U.S. Olympic Team auto-qualifier, earned him a spot at the Tokyo Games.
"Ever since I started triathlon, my goal was to make the Olympics. Every race, that's been in the back of my head," Pearson said. "This was the first race where I didn't have any pressure on me to prove anything to the selectors or the federation (USA Triathlon). I felt light at the start line, I felt relaxed all week, and I think that played to my benefit."
Only three U.S. men have ever medaled at the WTCS level. Matt McElroy (Huntington Beach, Calif.), also a Tokyo hopeful, earned silver in Leeds in 2019, and Jarrod Shoemaker, a 2008 U.S. Olympian, won gold in Hamburg, Germany, in 2009. With Pearson's back-to-back podiums just seven weeks out from Tokyo, he has established himself as a bona fide Olympic medal contender.
Taylor Spivey (Redondo Beach, Calif.) led the U.S. women's contingent in Leeds with a sixth-place finish. The event marked the final World Triathlon Championship Series race, and the second-to-last race overall (a World Cup is scheduled for next weekend), before the full U.S. Olympic Triathlon Team is named on June 16.
Olympic Qualification Process
Pearson is the only U.S. man to date to have punched his ticket to Tokyo, thanks to his bronze in Yokohama. Summer Rappaport (Thornton, Colo.) and Taylor Knibb (Washington, D.C.), neither of whom raced Sunday in Leeds, are qualified on the women's side. Rappaport auto-qualified with a fifth-place finish at the 2019 Tokyo ITU World Olympic Qualification Event, and Knibb punched her ticket with a gold in Yokohama on May 15. The U.S. will send three women and a maximum of three men to Tokyo, as long as three men remain in the top-30 of the World Triathlon Olympic Qualification Rankings by June 14.
All remaining spots on the 2020 U.S. Olympic Triathlon Team will be named via discretion by USA Triathlon's Games Athlete Selection Committee on June 16. For a complete explanation of U.S. Olympic Triathlon Team qualifying, click here.
Men's Recap
The Leeds course featured a 1,500-meter swim in Roundhay Park's Waterloo Lake, followed by a nine-lap, 40-kilometer ride and a hilly four-lap, 10-kilometer run through the park.
In the men's race, Seth Rider (Germantown, Tenn.) was the first American out of the water in 17:42, four seconds behind swim leader Aaron Royle of Australia. Pearson and Chase McQueen (Columbus, Ind.) were also within 10 seconds of Royle, and a long train of athletes followed closely behind.
A lead pack of more than 25 men formed early on the bike — with Rider, Pearson and McQueen all in the mix. Several athletes, including Belgium's Marten Van Riel and Great Britain's Samuel Dickinson, tried for individual breakaways over the 40k course, but no one was able to build a substantial gap.
A mass of men entered the second transition together, leaving the race to be decided on the run. Great Britain's Alex Yee made his move on the first lap and continued to run away from the field. Behind him though, the race for podium spots was fierce between Pearson, Hayden Wilde of New Zealand, Antonio Serrat Seoane of Spain, Kristian Blummefelt of Norway and Van Riel of Belgium.
On the third and final lap of the run, Pearson surged ahead of Wilde to establish himself in silver-medal position. He found another burst of energy on the bell lap, ultimately clocking a 30:04 10k — the second-fastest of the field behind Yee's 29:46.
Yee crossed the line for gold in 1:43:27, and Pearson followed to take silver in 1:43:52. Van Riel also passed Wilde in the final kilometers, taking bronze in 1:44:03.
Rider was the second U.S. finisher in 17th place, with a time of 1:46:21. McQueen was 25th in 1:47:16. McElroy, after landing in the chase pack on the bike and struggling to move back into contention, took 30th in 1:48:22.
Women's Recap
Great Britain's Lucy Charles-Barclay — a four-time IRONMAN and IRONMAN 70.3 World Championship silver medalist who made her WTCS debut Sunday — immediately made an impact on the swim, taking the lead and breaking the field apart early in the race. She was first out of the water in 18 minutes, 19 seconds, followed closely by Great Britain's Jessica Learmonth and Sophie Coldwell, the Netherlands' Maya Kingma, Brazil's Vittoria Lopes and Spivey.
Kingma, Learmonth and Coldwell took advantage of the gap on the rest of the field, teaming up to form a breakaway on the bike. Spivey, Lopes, Charles-Barclay and Bermuda's Flora Duffy created a four-woman chase group.
By the halfway point of the bike, the leading trio had nearly 80 seconds on the four chasers. Another 50 seconds behind them, two larger groups merged into a pack of 25, which included the other two Americans in the race — 2019 World Triathlon Champion Katie Zaferes (Cary, N.C.), and Kirsten Kasper (North Andover, Mass.).
At the end of the bike, Kingma, Learmonth and Coldwell were more than two minutes ahead of Spivey's group, and had almost four minutes on the larger chase.
The podium trio would not be threatened over the remaining 10k run. Kingma ultimately held off the Brits to earn her first career WTCS gold in 1:54:26. Learmonth took silver in 1:54:37, and Coldwell completed the podium in 1:54:46.
Duffy had a strong run from the chase group to take fourth in 1:55:25. Charles-Barclay surprised in her WTCS debut with a fifth-place finish in 1:56:50, and Spivey crossed the line 10 seconds later (1:57:00) as the top U.S. woman.
Kasper was the next American in 15th place with a time of 1:58:47, and Zaferes rounded out the U.S. contingent in 18th (1:59:02).
The final event in the World Triathlon Olympic and Paralympic qualification window, a sprint-distance World Triathlon Cup in Huatulco, Mexico, takes place next weekend.
2021 World Triathlon Championship Series Leeds
1,500m swim, 40k bike, 10k run
Elite Women — Complete Results
1. Maya Kingma (NED), 01:54:26
2. Jessica Learmonth (GBR), 01:54:37
3. Sophie Coldwell (GBR), 01:54:46
U.S. Finishers
6. Taylor Spivey (Redondo Beach, Calif.), 01:57:00
15. Kirsten Kasper (North Andover, Mass.), 01:58:47
18. Katie Zaferes (Cary, N.C.), 01:59:02
Elite Men — Complete Results
1. Alex Yee (GBR), 1:43:27
2. Morgan Pearson (Boulder, Colo.), 1:43:52
3. Marten Van Riel (BEL), 1:44:03
U.S. Finishers
2. Morgan Pearson (Boulder, Colo.), 1:43:52
17. Seth Rider (Germantown, Tenn.), 1:46:21
25. Chase McQueen (Columbus, Ind.), 1:47:16
30. Matt McElroy (Huntington Beach, Calif.), 1:48:22
About USA Triathlon
USA Triathlon is proud to serve as the National Governing Body for triathlon, as well as duathlon, aquathlon, aquabike, winter triathlon, off-road triathlon and paratriathlon in the United States. Founded in 1982, USA Triathlon sanctions more than 4,000 events and connects with more than 400,000 members each year, making it the largest multisport organization in the world. In addition to its work at the grassroots level with athletes, coaches, and race directors — as well as the USA Triathlon Foundation — USA Triathlon provides leadership and support to elite athletes competing at international events, including World Triathlon Championships, Pan American Games and the Olympic and Paralympic Games. USA Triathlon is a proud member of World Triathlon and the United States Olympic & Paralympic Committee (USOPC).