Mind, Body, Wellness: 3 Ways to Find your Balance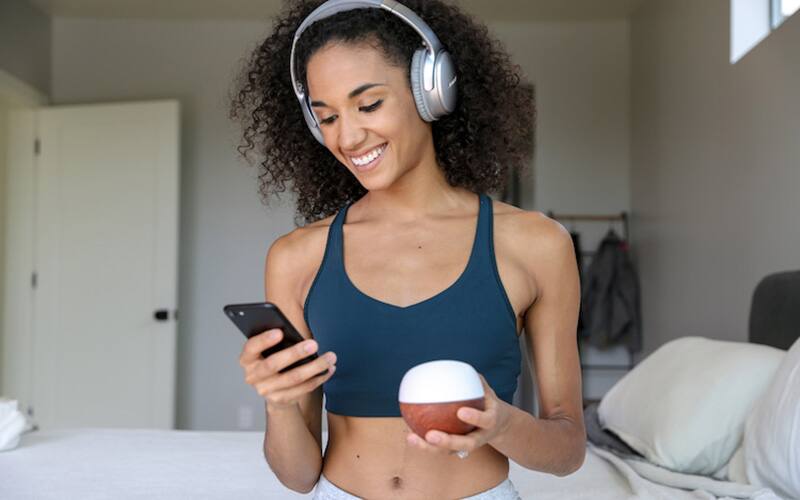 If you had to describe how you stay healthy, what would you say? For many of us, we think of healthy habits in terms of things like eating well and avoiding excessive sugar, staying active and keeping our weight in check, drinking plenty of water, and wearing sunblock. But what about our mental wellness? How do we measure our emotional well-being, and where does that fit into our equation?
Recently, through candid words and public actions from leading athletes like Naomi Osaka and Simone Biles, the conversation has begun to shift. We are looking inward, and we are being more mindful of the role that a healthy mind plays in our overall wellness, and the deep connection between mind and body.
Here are three tips for taking care of our mental wellness and taking a more holistic approach to our health.
Meditate more
Building a meditation practice is an incredible opportunity to tune in to the potential of your mind. From finding deep, restful sleep, to better managing anxiety, coping with stress, sadness, and anger, and even boosting focus and motivation, meditation is a powerful tool.
Developing a meditation practice, like any training, takes time, and consistency is key. For anybody who is new to meditation, or looking to build a richer, more consistent practice, Core by Hyperice is like a meditation coach. It creates an immersive experience and helps you stay focused by pairing guided meditations in the Core App with a device that you hold in your hands. Vibrations and lights on the Core Trainer guide your breathing and help ground you, while ECG biosensors measure your HRV and track the effectiveness of each session.
Embrace your hobbies
Life is busy and the hustle and bustle of balancing it all can be taxing. It is important to identify what makes us happy, and to schedule those things on our calendars. It could be as simple as spending time with family and friends, or as specific as playing an instrument, trying new recipes each week, or paddle boarding.
The ability to step away from the noise and focus on something that brings you joy will brighten your day. So do what you love. More.
Make time for recovery
We've said it before and we will say it again: recovery is essential. Whether you are putting in regular training to stay fit and hit goals, sitting or standing long hours at work, or experiencing pain, inflammation, or fatigue, recovery is the self-care you need to rejuvenate and feel your best. It is a pillar of all good training plans and should be a part of your everyday routine. Proper recovery includes quality sleep, healthy nutrition, and actively caring for your muscles through methods like massage, foam rolling, and other therapies like heat and cold.
One of our favorite ways to recover is with the Normatec dynamic air compression system. Normatec's specialized compression massage not only feels amazing after a long day on your feet, but it provides tangible recovery benefits including increased circulation and reduced pain and soreness. It is like having a personal, on-call massage therapist so you can recover anytime, for as long as you want. Some people like to nap while they are in the boots, but you can also use the time to multi-task by watching your favorite show with a loved one, clearing out your inbox to catch up and declutter, or tuning in to a meditation for the ultimate relaxation experience.
For a limited time, save $50 on Normatec at hyperice.com with code USAT50.