A Day in the Life of Team USA Athletes at Multisport World Championships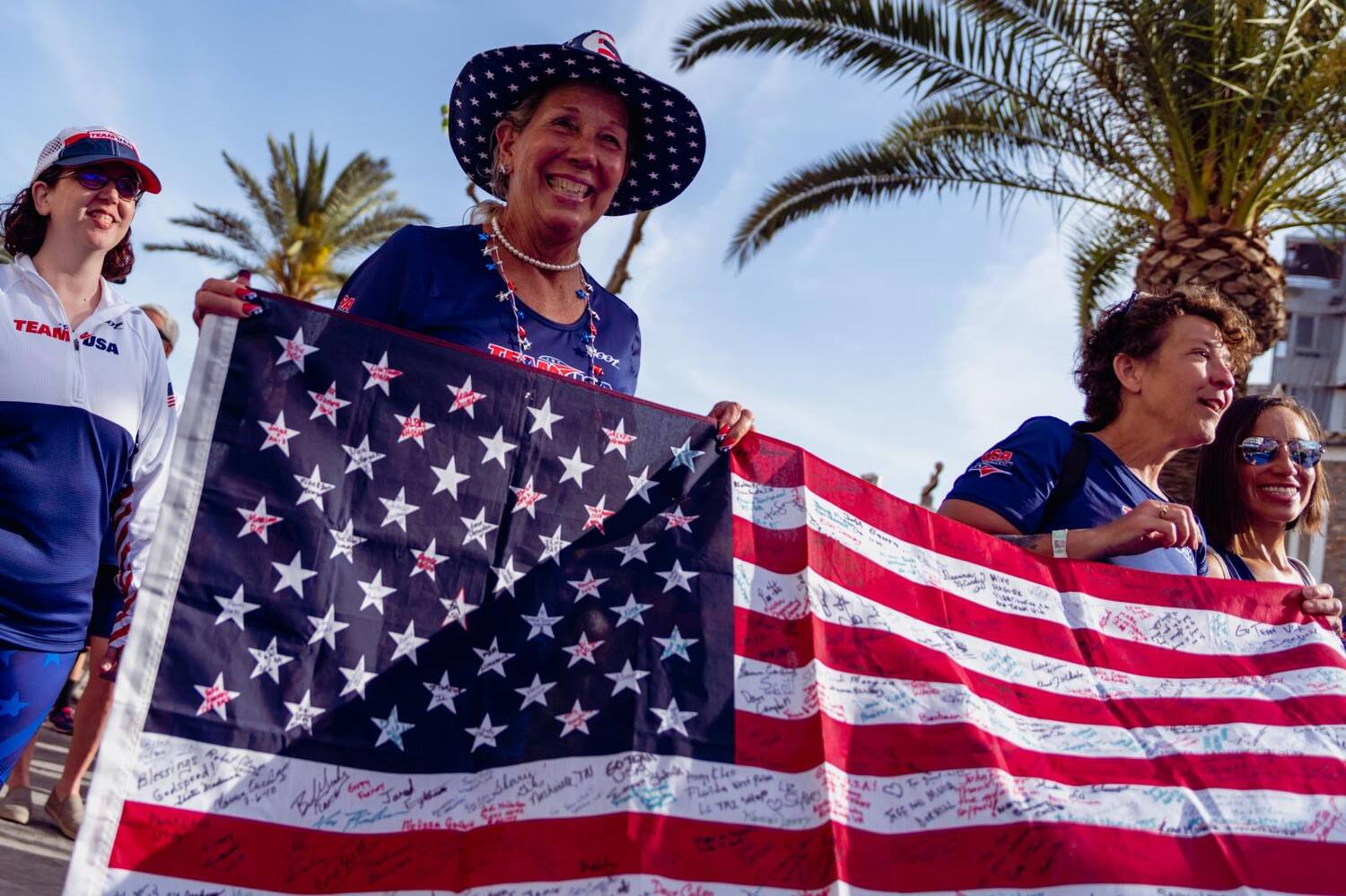 IBIZA, Spain — Tucked away in the Mediterranean Sea just off the coast of Spain is the island of Ibiza. From April 29 to May 7, 3,000 multisport athletes took over the Balearic, musically electric, island to compete in the 2023 World Triathlon Multisport Championships Ibiza.

USA Triathlon Chief Sport Development Officer Tim Yount and Team USA Coordinator, Hans Ernst, were on site for the entire two weeks to support all 425 Team USA athletes. Throughout our time here, the pair answered questions from dawn to dusk, led team training sessions, went to every event, handed out American flags to finishers on the final corner, socialized with athletes turned friends, and provided an overall fun and welcoming experience.
Here's a snapshot of the Team USA experience in Ibiza.
On average, 17 hours seemed to be the travel time for most athletes, whether they were coming from California, Ohio, or Arkansas. Solo athletes, couples, and families traveled to compete and cheer on their teammates and loved ones. Some stayed in Ibiza for the entire span of events while others came to compete in their discipline then get back home. Some brought work with them, others took time off and a handful of stories about missed connections, lost luggage, and delayed bikes fluttered through the hotel lobby and athlete Facebook page.

"The only hiccup was one suitcase that was stuck in Zurich, and we didn't receive it until the day after we arrived," said Team USA athlete Erika Chau.

Chau, who has been competing on and off in multisport since college, competed for Team USA last year in Slovakia. This year, she showed up to compete in the female 45-49 age group category in the aquathon with the goal to have fun and drop some time off her race.

"The swims were amazing. I didn't see any fish but I did hear lots of people got to see some. The runs were fun to run along the water and to see and hear the water can't be beat," Chau said.

Regarding her race, Chau felt good overall. Although she didn't have the swim she'd hoped for, she came out of the water close to an athlete she was chasing the whole time.

"Competing internationally is always a good test because it pulls you out of your comfort zone, and you have to be able to adapt and at the same time be able to stay on your routines and training schedules," Chau said. "You also get to go to and race/train in countries you may never see (I'm looking at you Slovakia)."

Accompanying Chau was her partner Rob Balucas who qualified to compete in paratriathlon in the handcycle division. Balucas competes in the H1 sub-group which is for athletes who have movement moderately affected in the legs and are also affected in the trunk and arms, according to LEXI, a Paralympic classification system.

The duo chose to stay at the Sol Beach House Ibiza in Sant Eulària as recommended by USA Triathlon staff.

"We enjoyed how central it is, and the fact that Jeff was able to confirm with the hotel in advance we had a wheelchair accessible room," Chau said. "When we went to Nice for 70.3 Worlds in 2019 it was very stressful trying to find a hotel that was close, accessible, and reasonably priced. We really like being able to see other Team USA members, to easily find the mechanic, masseuse, etc."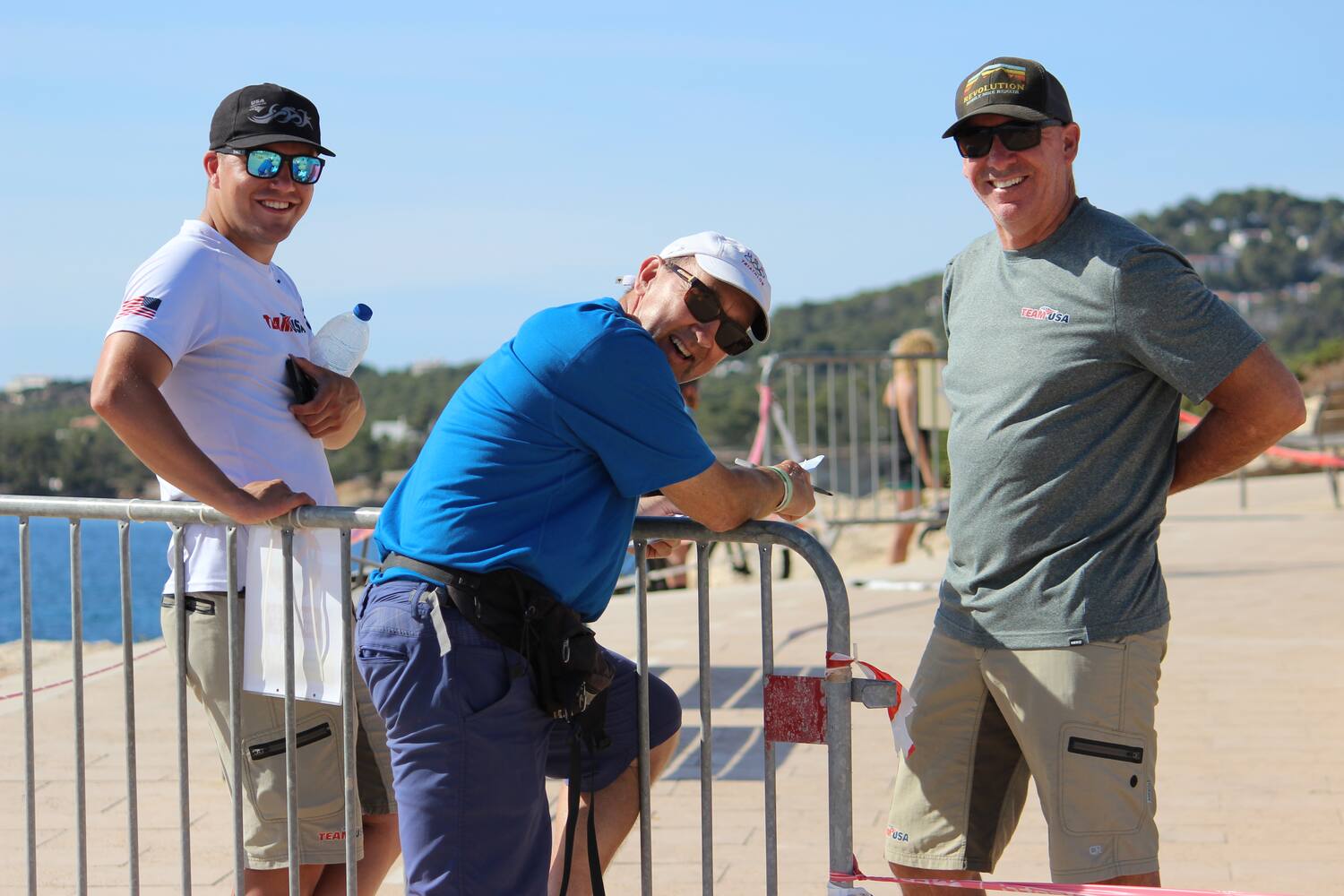 Team USA's unsung hero - the bike
mechanic
Speaking of bike mechanics, Team USA was graced with one of the best. Drew Kolb has been working with Team USA since 2016 Worlds in Oklahoma City. He's "worked and wrenched" in shops since 2009 and has owned my own business, Revolution Mobile Bike Repair, since 2016.

"The best part of this whole team are the friends and relationships that have grown over the past years," Kolb said. "It is always fun to get to see athletes and the support staff come back to these events year after year."

Based out of Sol Beach House, Kolb's days were full-on for 14 straight days. On days with no racing he was up at 6 a.m. with a coffee doing computer work for his business, deciding what to choose from the insane breakfast spread at 8 a.m., then working on bikes for the rest of the day until 6 p.m.

And on race days?

"They tend to be a little longer," Kolb said. "We're at the transition prior to the race to help support athlete needs and then back to the bike room to keep working through athlete's bikes that are preparing to race in the coming days."

Over the course of two weeks, Kolb said he saw between 175-200 bikes. With that kind of volume, a few issues were bound to pop up.

"This event saw more than its usual problems," Kolb said. "The biggest was a kinked hydraulic brake line that was internally routed. Hose had to be replaced and system bled. We saw several Di2 issues with some eTube wires that had been disconnected. Those take a little time to work through to figure out where the disconnect is. Several issues with derailleur hangers being bent."

Pro-tip from Kolb: Always remove your derailleur hanger when you travel with your bike.

While many chose to travel with their own equipment, about just as many chose to rent.

Susan Felicissimo and her husband Michael arrived Tuesday prior to their races with a stacked week ahead of them. Michael raced Friday, Saturday, Sunday and Susan raced on Saturday.

"We decided to rent bikes and the bikes overall were great," Felicissimo said. "We each had great races and did what we set our goals and which ones to qualify for the world championships in Townsville in 2024."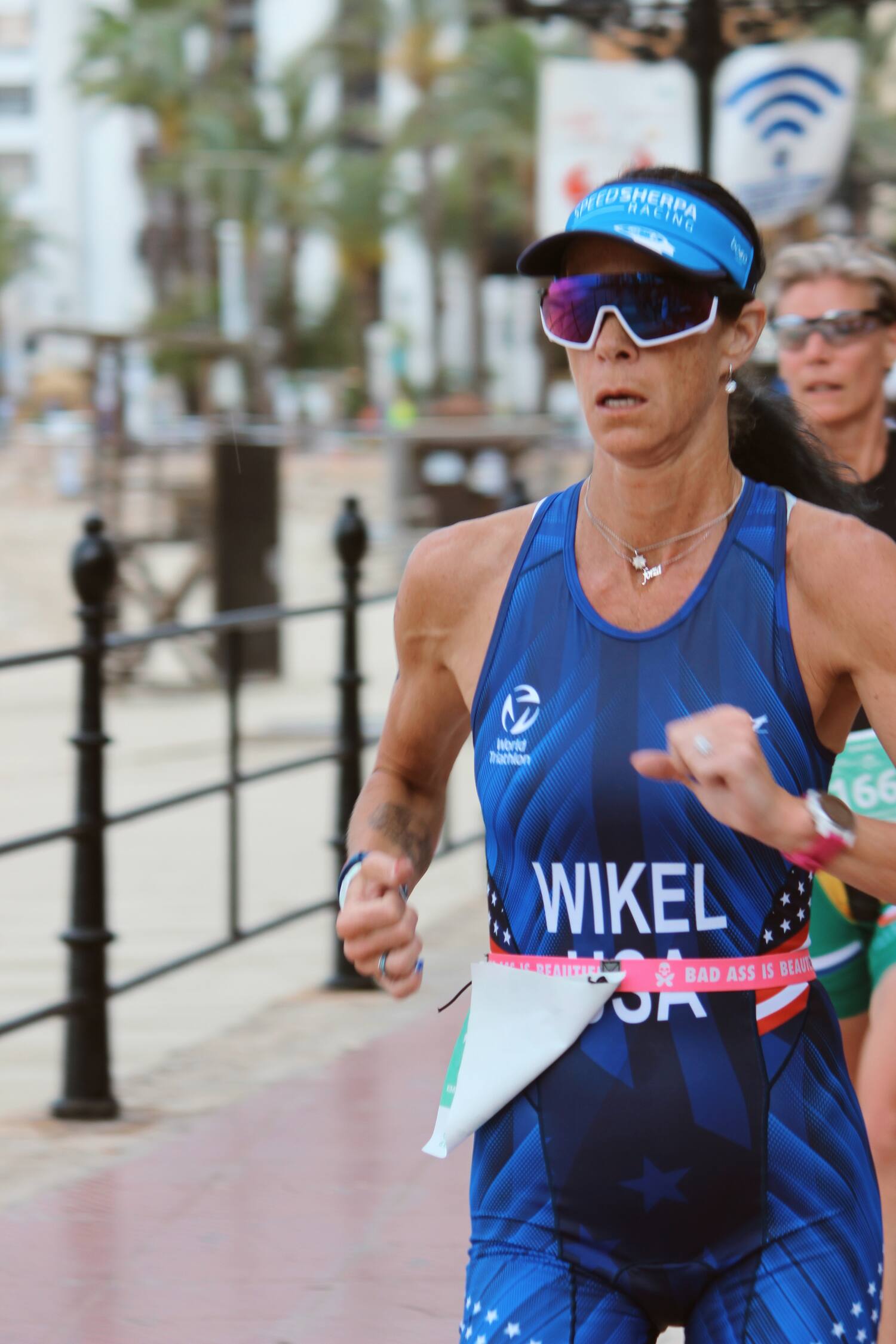 An honor to race for Team
USA
Felicissimo mentioned a moment the crowd went wild during her standard duathlon race. It gave me goosebumps as I remember choking up when hearing the deep chants as well.

"It is such an honor to race for team USA and we can't wait to do it again next year," Felicissimo said. "For me, running towards the finish line, past all of the restaurants with people cheering like crazy and yelling 'USA! USA!' was an amazing experience. I had a big smile and tears in my eyes entire time. It was an incredible experience, and I am blessed to have experienced it."

Without a doubt, the electric atmosphere of the Parade of Nations was near and dear to many athletes hearts. Friday night, before the races kicked off, athletes, coaches, and team managers from 62 countries danced down the boardwalk in Sant Eulària making their way up to the finish line with their team kit on display and nations flag billowing high.

"I wouldn't miss it. It's a definite highlight of the World Triathlon event," Kim Wikel said. "I love talking with the athletes from other countries — I even made some new GB (Great Britain) friends. It's such an honor to get to represent USA and walk with fellow athletes and countries."

January was the start of Wikel's event specific training, in the sprint duathlon, with a focus on the 2023 USA Triathlon Multisport National Championships in Irving, Texas, and Multisport Worlds in Ibiza. This would be her third build up to a worlds event for Team USA with the goal to place on the podium in the F45-49 age group.

"It took a little time for me to appreciate the result. Fourth is really good and the world is a pretty big place but dreaming of that podium spot made the finish a little bittersweet," Wikel said. "After talking with my husband and coach, David Henkel with Speed Sherpa, I was able to feel the accomplishment. Then my mom and I celebrated at the hotel pool and then later that evening at dinner with champagne."

Cheers to hoping Kim is competing in Townsville for 2024 Worlds so that we can help her celebrate a redemption podium place finish.

Fellow Team USA athlete Nicole Cartier was proud to snatch qualification spot in the aquathon F45-49 age group after seven years of qualification attempts.

"The Parade of Nations was an amazing experience," Cartier said. "I walked along in the pack, then my friends Lisa Thomas and Joni Briganti told me to come to the front. It was fantastic. I loved chanting USA, USA!"

She went on to say, "Some of these people, we just raced against each other the previous week in Texas, here we are in the same team. I loved the camaraderie."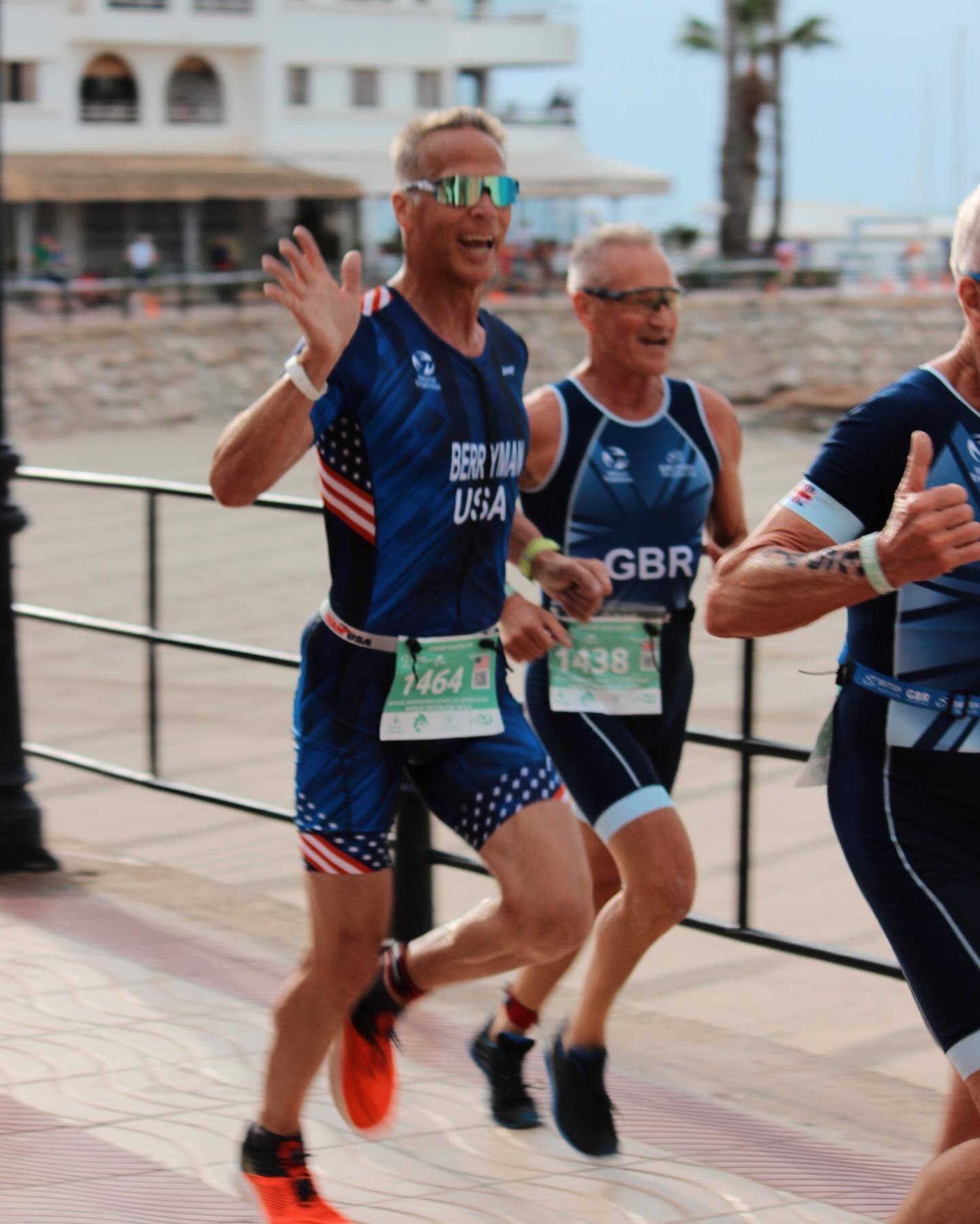 Special moments with my
dad
Sprint duathlete, Mike Berryman also raced on Team USA for the first time in a multisport event. It's worth noting there's no coincidence that we share the same last name — Mike is my dad and one of the reasons I'm able to share all of these amazing Team USA age group stories with you.

We chose to stay at Sol Beach House with the rest of Team USA. This turned out to be the best option for many reasons: proximity to USA Triathlon staff, walkability into town, calm, quiet atmosphere, and the ability to mix and mingle with other Team USA athletes over the course of our stay.

"The breakfast buffet was excellent and very extensive," Berryman said. "I loved being able to walk to so many restaurants and shopping. Yoga on Tuesday, Wednesday, and Friday was a nice surprise included in our stay and the view from our room was beautiful."

Berryman joined thousands of other athletes for his first experience at the Parade of Nations before lining up on Saturday for his race.

"It was an amazing feeling to walk with your teammates, meet new people on your team from around the U.S., and hear and feel the excitement and passion from each country as they walked in the parade to represent their nations," Berryman said. "The teams from Mexico and Spain were so much fun to watch. Each team was chanting and jumping up and down while getting ready to march and also during the parade. It was also fun to see people from so many nations; The two athletes from Zimbabwe, the team from Kuwait. It was all a great experience, and in particular, the feeling of representing your country and walking with your teammates."

What an incredible feat — hosting 3,000 athletes competing across eight disciplines in nine days. Kudos to World Triathlon and Ibiza for choosing three beautiful venues across the island and allowing us to take over.
With competition done, bags packed, and everyone heading back to their respective homes, the thing we'll remember most will be the connections made through our sport — and perhaps the 59 medals Team USA won.