Features
Q&A
Duathlon
National Championships
From Olympic Runner to Duathlete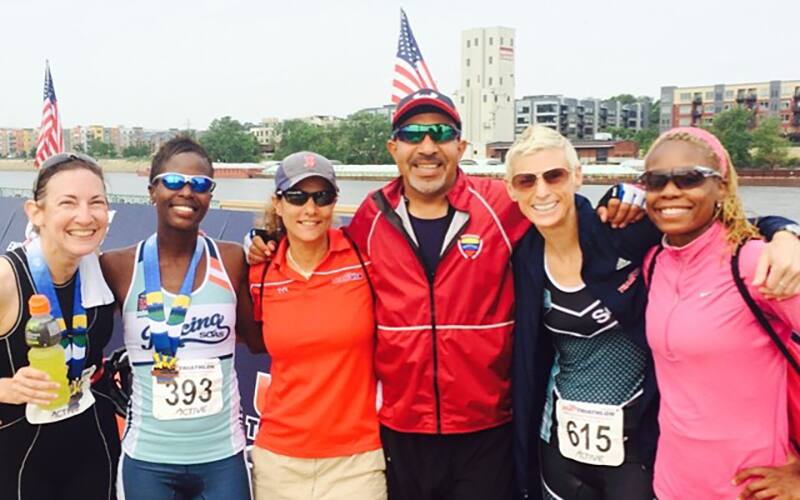 It all started when Ozzie Zea, 53, was a little boy in Venezuela. Living next to the triple-A baseball stadium, Zea and his friends would chase after cars in the parking lot to ask if they could wash them. Whoever got there first got to wash the car. Zea washed a lot of cars.
That was just the beginning. Later, Zea left his home for the United States as just a teenager. He continued his athletics training, earned a college scholarship and made the Venezuelan Olympic team. Now he spends his time in Long Beach, California, not only helping other young Venezuelans reach their Olympic dreams but still stays active, competing in duathlons.
He'll be toeing the line late this month in Bend, Oregon, at the 2016 USA Triathlon Duathlon National Championships. We took some time to talk to Zea about his journey and why he took up the run-bike-run discipline.
USA Triathlon: You came over to the U.S. when you were just 17 years old. What was the experience like, and why did you choose to leave Venezuela?
Ozzie Zea: I was very excited but still quite young. When I was offered a [college] scholarship, I knew it was the best thing that happened to me. It gave me the opportunity to better myself as an athlete and also to further my education while still competing.
USAT: How did you maintain a close connection with Venezuela so you could race internationally?
OZ: My whole family still lived there, so I maintained a very close connection. And though I lived here in the United States, I was still competing on the Venezuelan team so my ties were strong.
USAT: When did you first realize going to the Olympic Games was a possibility for you?
OZ: When I earned my scholarship, I knew I was pretty good. Then as my race times got better, I was aware of the scouts. There are a lot of scouts out there all the time. You always have to be your best because they are always watching. I knew that was a good thing but I was still a little naïve and the full impact of being an Olympian didn't hit me until later.
USAT: What was your first Olympic trials experience like in 1980?
OZ: I was only 16 years old at the time and the youngest person ever on the Venezuelan Track and Field Team. I just liked competing and being with a team of guys. But while we were practicing in Cuba for the relay, two of my teammates got suspended, disqualifying all of us. That killed my 1980 Olympic dreams.
USAT: Is that what made you want to push for the Olympics in 1984?
OZ: After missing out, I was more driven. I was also a little older and wiser. In 1983 I came in fifth overall in the Pan American Games. I broke two national records in two days. Track and Field Magazine ranked me 18th in the world. I knew my potential, so motivation and focus were definitely on my side for the '84 Games. And I would be competing on my new "home turf" — the United States.
USAT: What kept you from pushing for a second Olympics in '88?
OZ: I was competing at the University of Irvine. In a race against Edwin Moses, 1976 and 1984 Olympic champion in the 400m hurdles, I got a torn hamstring. It was pretty bad. I had already made my home here, so I focused on what I could do best now.
USAT: After your career as an elite runner came to an end, what made you want to pick up duathlon instead of continue with running?
OZ: I have always loved cycling. I did spinning classes every chance I got. I live in an area that is very bike friendly, so I found I was always on my bicycle riding somewhere. I still liked to run — just not at a highly competitive level. And since I'm not a really good swimmer, the duathlon was perfect for me.
USAT: Since transitioning, what have been some of your most memorable experiences from duathlon?
OZ: Meeting people and traveling to new places is the best. The World Championships in Canada and also in Spain were other special experiences. I also have three very special friends I compete with in nearly every race. They are not just teammates; they are my best friends.
USAT: What do you hope to accomplish in Bend at this year's Duathlon National Championships?
OZ: Of course my goal is to qualify for the next World Championships but also just continue to do my very best. Knowing, at my age, that I can still compete like this is extremely satisfying for me. It's what keeps me going every day. I have dual citizenship, and I'm very proud to represent my USA.
For more on of the Duathlon National Championships, such as course maps, registration link, Team USA info and more, visit the 2016 event page.