Who Will Win the Women's Varsity Collegiate National Championship?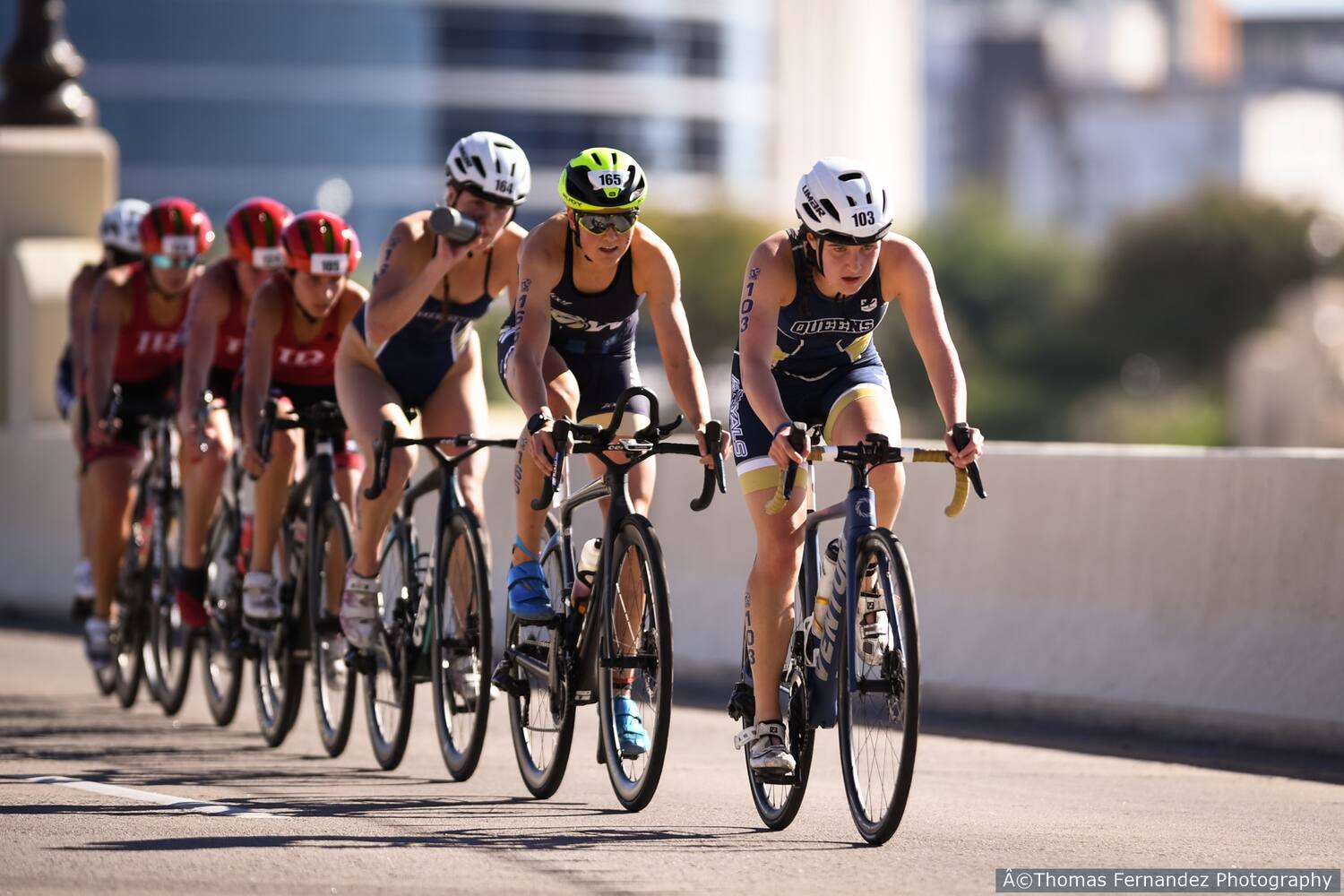 This Saturday, on the Arizona State University campus, 32 schools will face-off for the coveted women's triathlon national title.

After a busy fall season, teams competed back in October in two qualifying races, a Western Regional and an Eastern Regional, to earn a spot to the Women's Collegiate Triathlon National Championships. The top teams and a handful of qualifying individuals will now race in Tempe, Arizona, on Nov. 12.

Starting at 10:30 a.m. on Saturday, with the Division III race, followed by DII and then DI, the athletes will cover a draft-legal sprint course of a 750m swim, a three-lap 20k bike, and a two-lap 5k run. While many of the cold-weather schools don't always look forward to a hot race in Arizona, this weekend's weather should be cooler and calmer — which could affect who comes out on top.

For now, team scoring is made up of each squad's top five athletes, for DI and DII, and their top four athletes for DIII. Teams can field up to seven athletes on their national squad, however — which allows non-scorers to affect other teams' scoring athletes and come into play in event of a tie-breaker. Points are awarded, with the most going to first place, and the highest team score winning — which allows for smaller squads, during this build-up phase for the sport, to still field a team and earn a team score.

As women's varsity triathlon grows, bigger DI teams and additional schools are added, and the sport is approved as an NCAA championship sport, then the national title is expected to become even more competitive.
Who will win this
weekend?
"I think it's going to be hard to knock out ASU, the five-time reigning champs, but the gap is narrowing," said University of Denver coach Barbara Perkins, whose team has their eyes on the podium with the help of their squad's depth. The competition is getting more intense at the top and more DI schools are adding programs for next year, too, she said.
Since 2016, when they first fielded a team, ASU has won every national team title. But ASU coach Cliff English says they never take that for granted and always train like they're the underdogs. After all, anything can happen in a race: flats, illness, injuries, crashes.
In fact, the No. 1 ranked team going into nationals isn't ASU. It's Queens University of Charlotte, which moved up from Division II to DI this year after winning six national titles at the DII level. While the other top DI programs — ASU, Denver, University of San Francisco, and University of South Dakota — have faced each other during the season, they all said Queens is a bit of unknown for them.
"To put it into context, we essentially have a five-time national champion (ASU) racing a six-time national champ (Queens), with a lot of other really good programs in the mix. It will be the most exciting triathlon national championships yet in our sport's seven-year history," said Queens coach Sonni Dyer.
"I couldn't be prouder of how our women have made the transition from DII to this DI level of competition."
While ASU has won five team titles, the individual title last year finally went to a non-Arizona athlete. USF's Kira Gupta-Baltazar will look to defend her 2021 win, but she'll have a lot of competition. ASU's Heidi Jurnakova won the western regional qualifier, neck-and-neck with her teammate Amber Schlebusch down to a final sprint finish. And the top-ranked athlete coming into the nationals race will be Queen's Natalia Hidalgo-Martinez, who won the eastern regional qualifier and took second in the DII national race last year.
DI Rankings:

1.
Queens University
2.
Arizona State University
3.
University of Denver
4.
University of South Dakota
5.
East Tennessee State University
6.
University of San Francisco
7.
Delaware State University
8.
Wagner College

At the regional qualifying races, the divisions raced together before being pulled out into separate scoring and rankings. Coming out of those races, Wingate University, in North Carolina, was ranked third overall with the other divisions and first in DII — making them the heavy favorite for the DII title going into this weekend's race.
But you never know what could happen, said Wingate coach Nick Radkewich. "It's the race on the day," he said.
Like many college programs right now, he said, they've also been hit with illnesses, the flu, injuries, COVID. Their fifth girl from regionals even broke her wrist after stepping off a curb while walking to lunch and texting — not the sort of thing you can predict. Wingate, though, has a deep group of girls and the theme all year has been that it'll take all 15 athletes (including those who might not be racing in Arizona) to come together.
"Our strength is our group," he said, and he expects to see their team tactics deliver a tight pack of their third, fourth, and fifth racers. They'll field seven athletes out of their 15, making them one of the larger DII squads. Because of the differences on the size of teams at the DII and DIII level, there can be big drop-offs in terms of depth when it comes to the third, fourth, fifth, or six athletes. Some teams don't even have the full number of scoring athletes, yet, as they're still building up their squads.
Wingate's Julia Kekkonen is the top-ranked athlete and the highest returner from last year's DII race. But the team will face competition from Colorado Mesa University and from Lenoir-Rhyne, whose Eliska Rihova will be near the front.
At the DIII level, Millikin's Aly Barnes won the eastern qualifier and is top-ranked, but Hailey Poe will lead the top-ranked team, North Central College, and will look to defend her 2021 national title.
With the student-athletes all balancing heavy course loads with heavy training schedules, the national championship race is about winning, but it's as much about the respect they all have for each other and what they're helping to build for the future.
"It's also a celebration of all the effort they put in," said Radkewich.
DII Rankings:

1.
Wingate University
2.
Lenoir-Rhyne University
3.
Colorado Mesa University
4.
Drury University
5.
Black Hills State University
6.
Emmanuel College
7.
King University
8.
American International College
9.
Newberry College
10.
St. Thomas Acquinas College
11.
Cal Poly, Humboldt
12.
Middle Tennessee State University
DII Rankings:

1.
North Central College
2.
Trine University
3.
Millikin University
4.
Transylvania University
5.
Central College
6.
Calvin University
7.
Willamette University
8.
Eastern Mennonite University
9.
Concordia University Wisconsin
10.
Greensboro College
11.
Coe College
12.
Guilford College