Coaching Tips
Training Tips
Advanced
Intermediate
Beginner
How to find the right coach for you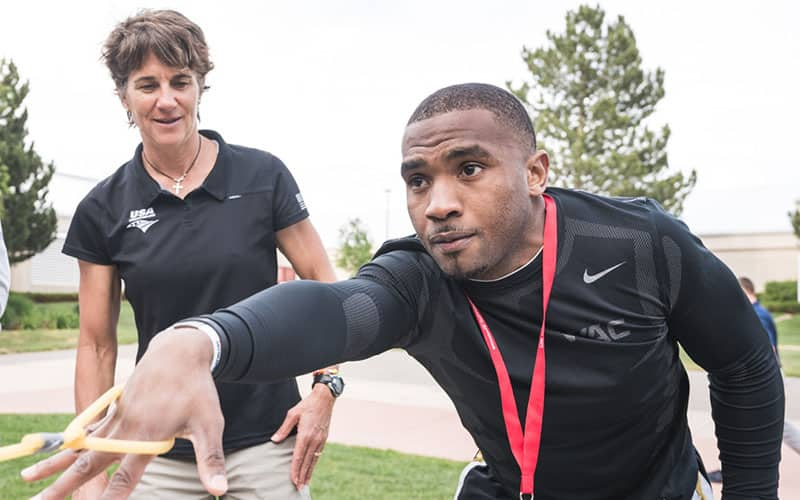 Your first coach is a big step. You've made a commitment to your training and you're ready to pursue a new goal. The goal might be to finish your first sprint triathlon or to win your age group down the road, but in many cases the right coach can help get you there.
Working with your first coach will be a learning experience and you should consider several factors when making the decision. Use these topics and questions as a starting point to develop a list of potential coaches to follow-up with and determine if they are the right triathlon coach for you.
These days most coaching is virtual, but it can be helpful to find a coach in your city or state if you're just beginning your triathlon journey. Local coaches will be able to point you to the popular training spots in your city or even pair you with one of their athletes of similar ability to show you the ropes. It may also pay off having someone local who can see your technique in person during training sessions.
Questions to consider: How important is it for your coach to see you in person or for you to have groups to train with? Ask your potential coach how often they see the athletes they coach and what resources they provide for their athletes.
If you're coming from a single sport background, you may need more of your training to be focused on your weaker disciplines. In that case, it can be helpful to look for a coach with strong experience in your weak sport (ex: cycling qualifications or swim technique work). As a true beginner it can also be helpful to use a coach who has experience with beginner athletes and who can guide you through the fundamentals of a training plan such as recovery, strength training and the proper intensity of training sessions.
Questions to consider: What are your weaknesses as an athlete? Have you done any athletic training in the past? How knowledgeable are you on the technical skills required for triathlon?
There are extreme variations in the pricing of different coaches and the more experienced coach, the more prices often increase dramatically. Further, an educated coach with name recognition will be more expensive. Write down the range you can afford per month and use this as additional criteria that can narrow down your search.
This is the category that only an interview will be able to identify. You'll want to get a feel for how your coach communicates and their style for interacting with athletes. The right coach should be someone you get along well with, but some athletes prefer a "tough love" attitude versus one of positivity in order to bring out their potential. Regardless of style, a good coach should challenge how you think about yourself and your abilities as an athlete. Different coaches also use different methods for communicating feedback with their athletes so check in with a coach on what forms of communication they use most frequently.
Questions to ask: What type of personality motivates you as an athlete? What type of feedback would you like for your training sessions? How much daily or weekly contact do you expect from your coach?
Tips for your Second Season and
Beyond
After your first race or season as a triathlete, it's common to look for additional guidance or further coaching to develop as an athlete. Or perhaps your first coach wasn't a great fit. In either case, these considerations will be important in taking that next step as a triathlete.
Many triathletes dream up bigger goals after their first couple races or seasons. If you're motivated by high achievement in the sport, you should look for a coach that has experience getting athletes to the next level. Look for a coach who has expertise in the area that you're focused on, for example Kona or Age Group National Championships qualification. It's also possible that if you're training for a specific event like an ultra marathon, you could benefit from a coach who has raced the race you're training for and knows the tactics, terrain and other details.
Questions to ask yourself: What are my goals for the next season? What sort of guidance will help me improve as an athlete?
There are many varieties and types of training out there. There are also a multitude of ways to put together a training plan, so it's worth considering how much time you have available to train and the style of training that you have responded well to (without burnout or injury) in the past. For example, if you've only done long, slow distance, it might be time to switch over to a coach with more variety or intensity or vice versa.
Take some time to consider the answers to these questions as well as your natural skills and strengths as an athlete. But keep in mind that your needs will evolve with your time in the sport so be willing to experiment to find what coach works for you. That's part of the fun!
Taylor Mahan-Rudolph is a USA Triathlon Certified Level I Coach with OutRival Racing. Taylor has been racing triathlon competitively since 2016. She began her athletic journey as a runner after graduating from college and was quickly hooked. She later discovered triathlon after suffering from a series of running injuries and finding joy while cross training. She has raced event distances from sprint to IRONMAN and has qualified multiple times to the 70.3 World Championships. Learn more about Taylor here.