Working through major health challenges, Amy Dixon takes steps toward Tokyo
by Nick Hehemann, USA Triathlon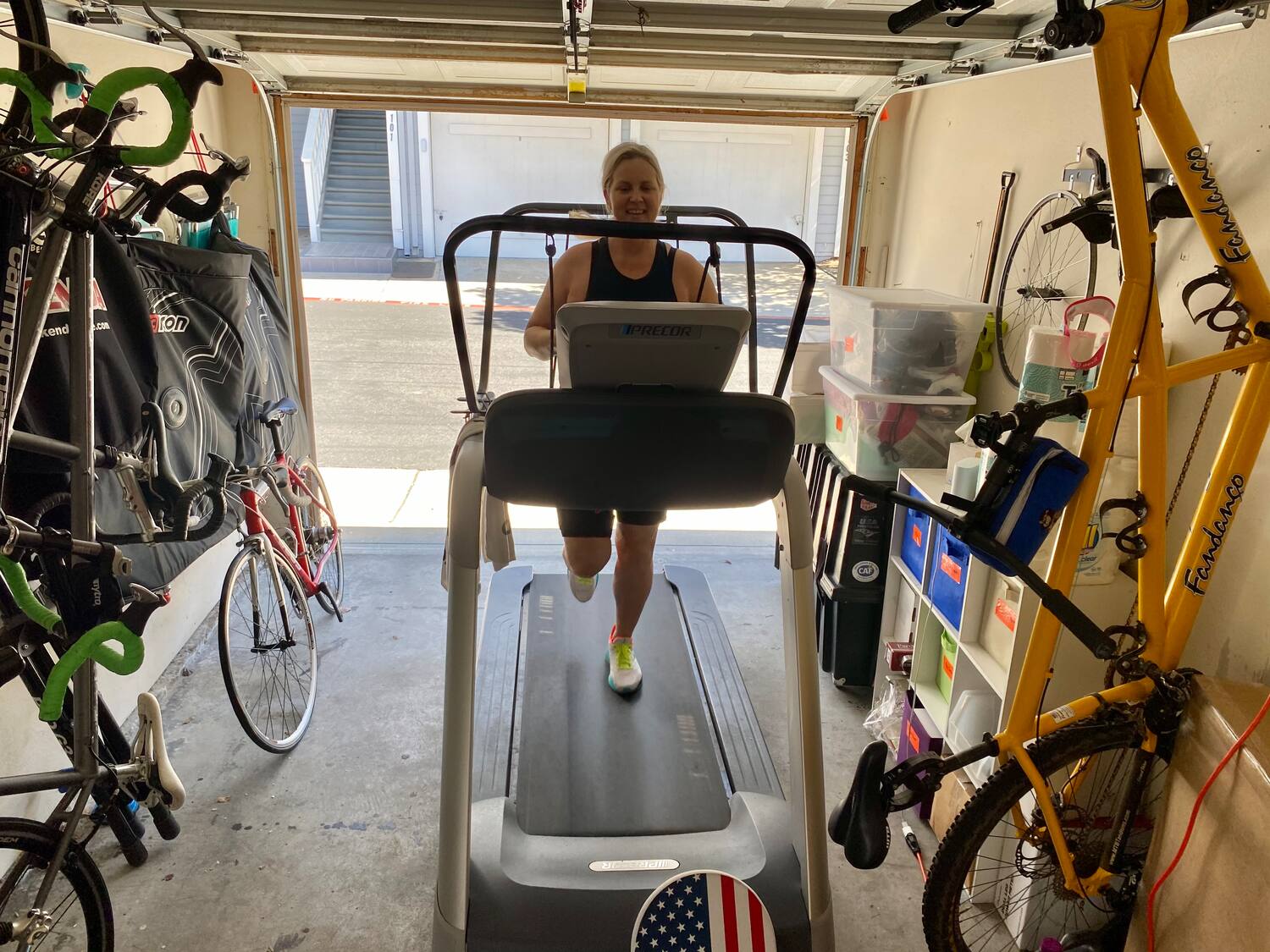 Amy Dixon has a long history of overcoming challenges. Her next one might just be the toughest yet.
Dixon, a 45-year-old elite U.S. paratriathlete from Encinitas, California, who is visually impaired, has been training and racing on the international circuit since 2014 with the goal of qualifying for this summer's postponed Paralympic Games Tokyo 2020.
So of course, the near-death experience, routine hospital visits and overwhelming health complications she's dealt with over the past six months weren't exactly what she had in mind for the lead-up to the biggest event of her life.
"It's not how I envisioned this year going, that's for sure," Dixon told USA Triathlon in an early March interview over Zoom.
While her competitors are training and racing around the world right now, she's just trying to get healthy. It's been a process, spanning more than 20 years.
Dixon was 22 when she began losing her eyesight from a rare autoimmune disease called uveitis. The same disease that ended up taking away 98% of her vision has also turned the better part of this last year into a recurring nightmare.
It started with some shoulder pain last August.
"Out of nowhere, I got up in the morning and it was hard to lift my right arm," said Dixon, who competes in the women's PTVI division along with her guide, age group world champion triathlete Kirsten Sass. "I couldn't figure out why. It wasn't painful. I just had no strength."
It couldn't be from swimming, she figured. She hadn't even been in the pool for a while due to COVID-19 restrictions.
After an MRI and visits with three different orthopedic surgeons, it was clear that structural damage wasn't the issue. The inflammation and buildup of fluid in her right shoulder was the result of complications from her rare disease.
"I was always worried that my disease would come out of remission before Tokyo," said Dixon, who was recently named to the 2021 Toyota U.S. Paratriathlon National Team. "It was always my biggest fear."
That fear was confirmed by a visit with a rheumatologist, who recommended chemotherapy drugs as a treatment to help suppress the immune response— which was now causing immense pain that prevented her from swimming and made even biking and running quite uncomfortable.
She tried everything: steroid injections, platelet-rich plasma therapy, the chemotherapy drugs, — nothing seemed to help. In fact, another MRI revealed a rare form of osteoporosis that was making things even worse.
"My shoulder was swelling up so much that it was dislocating every time I slept," Dixon said. "It was pulling off bone fragments from my clavicle. (The MRI) looked like I got shot."
Then came the surgery in October to remove the bone fragments. Her long period of medical misfortune was just getting started.
Trip to the ICU
Seven weeks post-surgery, Dixon was starting to feel like herself again. She was back to training, back to the pool, back to the treadmill — when all of a sudden, she knew something wasn't right.
"One day I was on the treadmill and I was really out of breath," Dixon said. "It kind of felt like I was at high altitude. I would try to take a deep breath and there was just no air."
The next day was even worse. Dixon — a world-class athlete and eight-time World Paratriathlon Event medalist — could barely make it up the stairs without losing her breath.
She called her doctor, when she noticed that even talking on the phone was difficult.
He recommended she get some bloodwork done right away at a laboratory down the road from her home. On the walk there, Dixon ran out of breath yet again and had to sit down.
"It was like I had just done a hard track workout," Dixon remembers. "I wasn't scared or anything. I was just frustrated. Like, 'what is going on? I should be able to walk a quarter mile. This doesn't make any sense.'"
After getting the blood work done, she was rushed to the hospital for an emergency CT scan.
Doctors discovered multiple blood clots in both of her lungs — presumably a result of the shoulder surgery, as well as her autoimmune condition.
What followed was three days in the ICU on blood thinners and other treatments.
"It went from something that wasn't feeling that great to an all-of-a-sudden super scary and almost fatal situation," Dixon said. "I never expected that."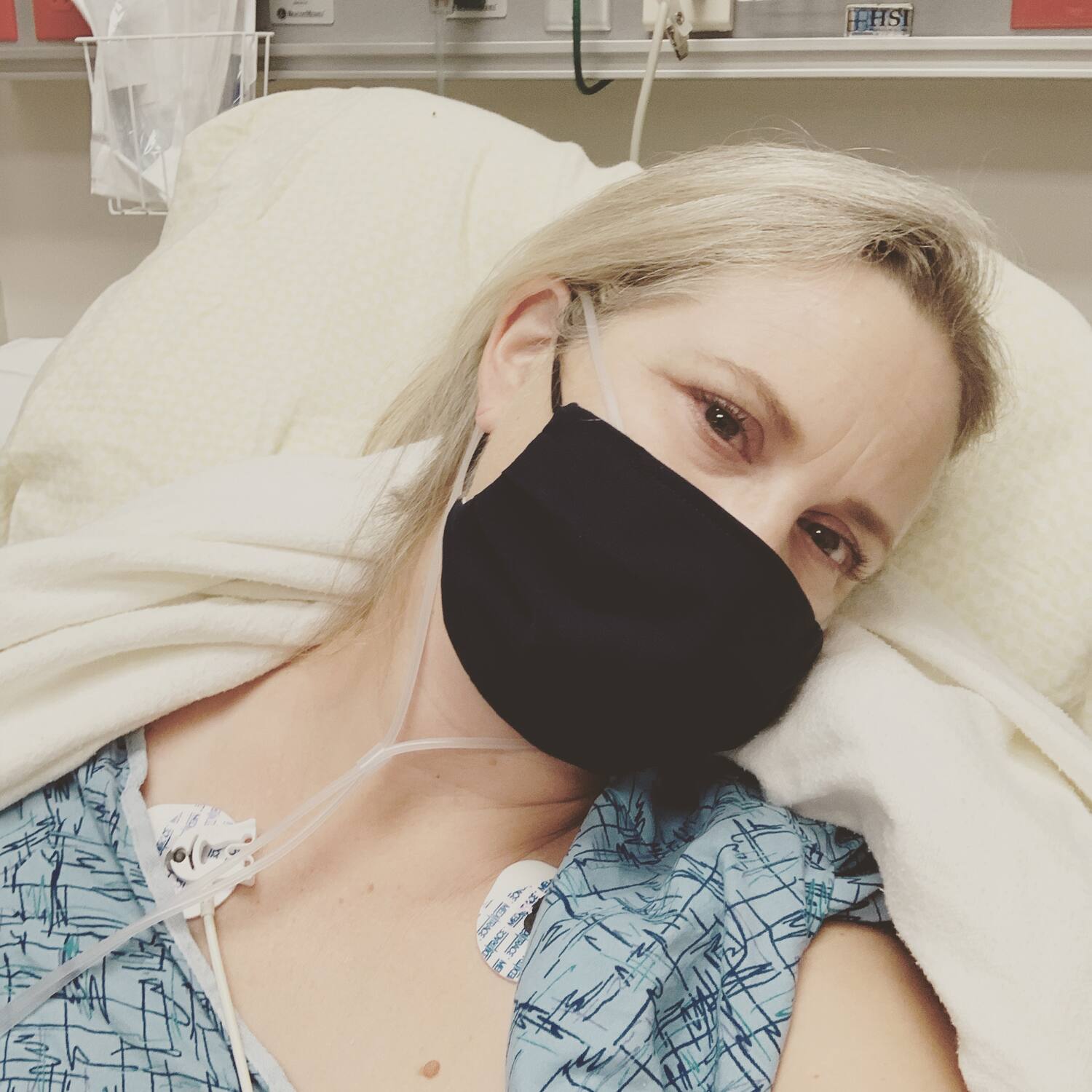 Two days later, she was back home and recovering. Then she felt a stabbing pain in her chest. She thought she was having a heart attack. Turns out it was a pulmonary embolism.
Dixon went back to the hospital. It was yet another major scare, another visit to the ER, another step back in a seemingly endless cycle — one health problem after another. All of it stemming back, in one way or another, to the rare disease that took her eyesight and changed her life completely.
Meanwhile, the Paralympic Games were just eight months away.
Walk, then Run…with Help
The road to recovery in the months since her near-death experience has been full of setbacks and baby steps. But no matter the size of each step or the number of steps along the way, the finish line goal is still there. Dixon wants to represent Team USA on sport's biggest stage later this summer in Tokyo.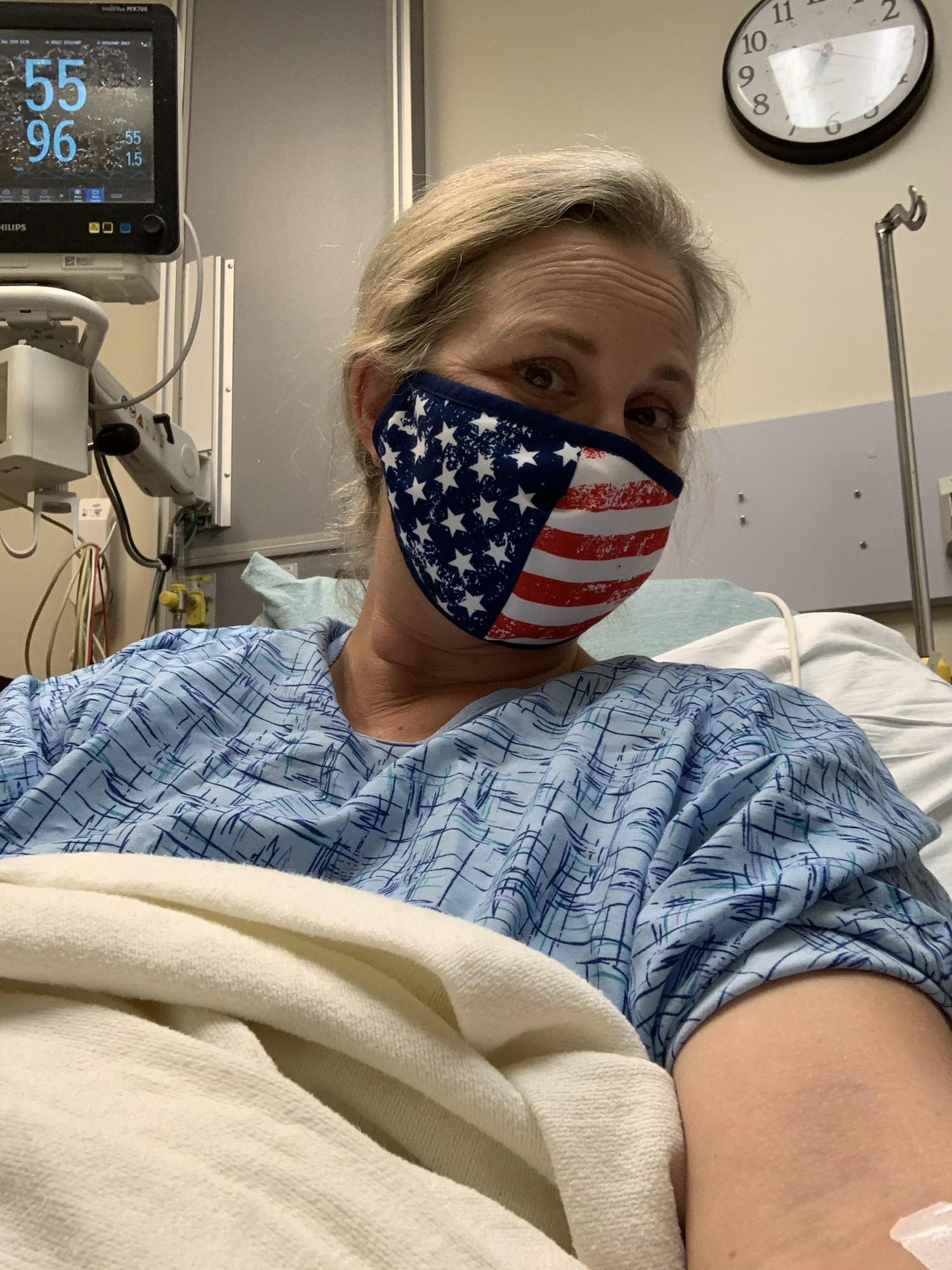 She's not 100 percent yet — not even close, actually. Her lungs and shoulder will take time to fully heal.
But since receiving the go-ahead from her doctors to return to training, she's slowly getting back into it. The routine just looks a whole lot different.
She started walking — first to the end of her garage, then down the street, then on the treadmill. She recently started running again, with some assistance.
For her birthday, Dixon asked her mom for an assisted running device from a company called Lever Running in Boulder, Colorado, that specializes in products to help athletes return from injury.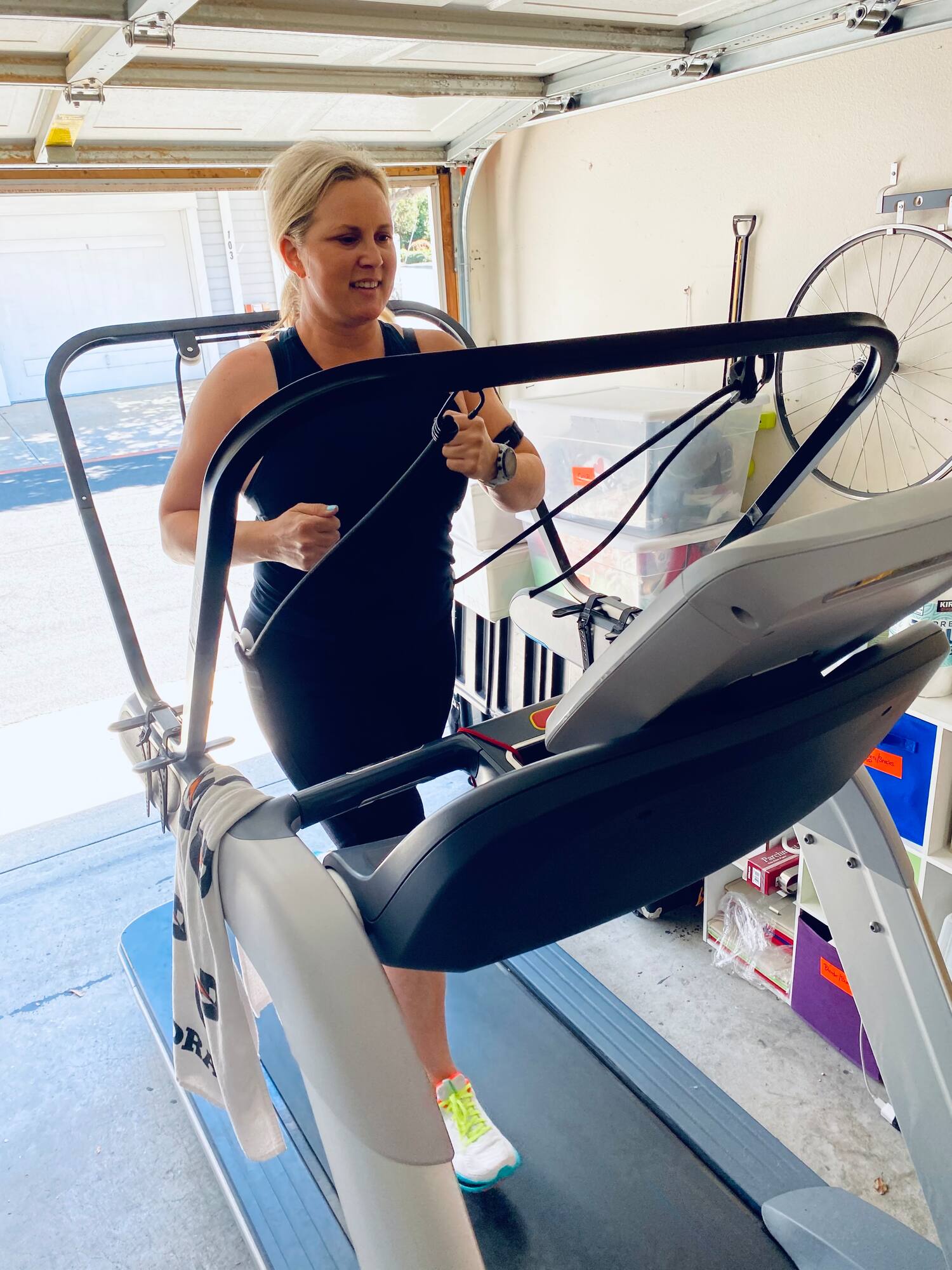 "It's sort of like a low-budget anti-gravity treadmill," Dixon said. "It's a frame that mounts to your treadmill. You wear these shorts and there's a bungee cord that allows you to hoist yourself above the treadmill and take some of the weight off while you're running. It's how I started rehabbing from the surgery and the embolism.
"It's been a long road with lots of setbacks," Dixon said, mentioning the medications she's been using on and off, the shoulder pain she still experiences and the fact that several specialists still haven't figured out why her body continues to fill up with fluid. "But I'm back to swimming, biking and running. It's painful, but I'm able to do it. I can't even lift a cup of coffee, but I can swim."
That's Amy Dixon in a nutshell — focusing on what she can do. Right now, that means assisted running on a treadmill, aqua jogging in the pool, working with a strength coach twice a week to get her muscle back, and more.
She's never been a quitter. She's never let obstacles or limitations get in the way of her athletic dreams. It's why she created a non-profit high performance camp called No Sight No Limits to help other blind athletes and their guides who are looking to grow in their careers.
The "no limits" mindset helped her win a World Championship title in the multisport discipline of aquathlon (swim-run) in 2016, as well as the gold medal at the 2019 Toyota USA Paratriathlon National Championships. The experience of this last year won't change that perspective, but these challenges have taken a toll.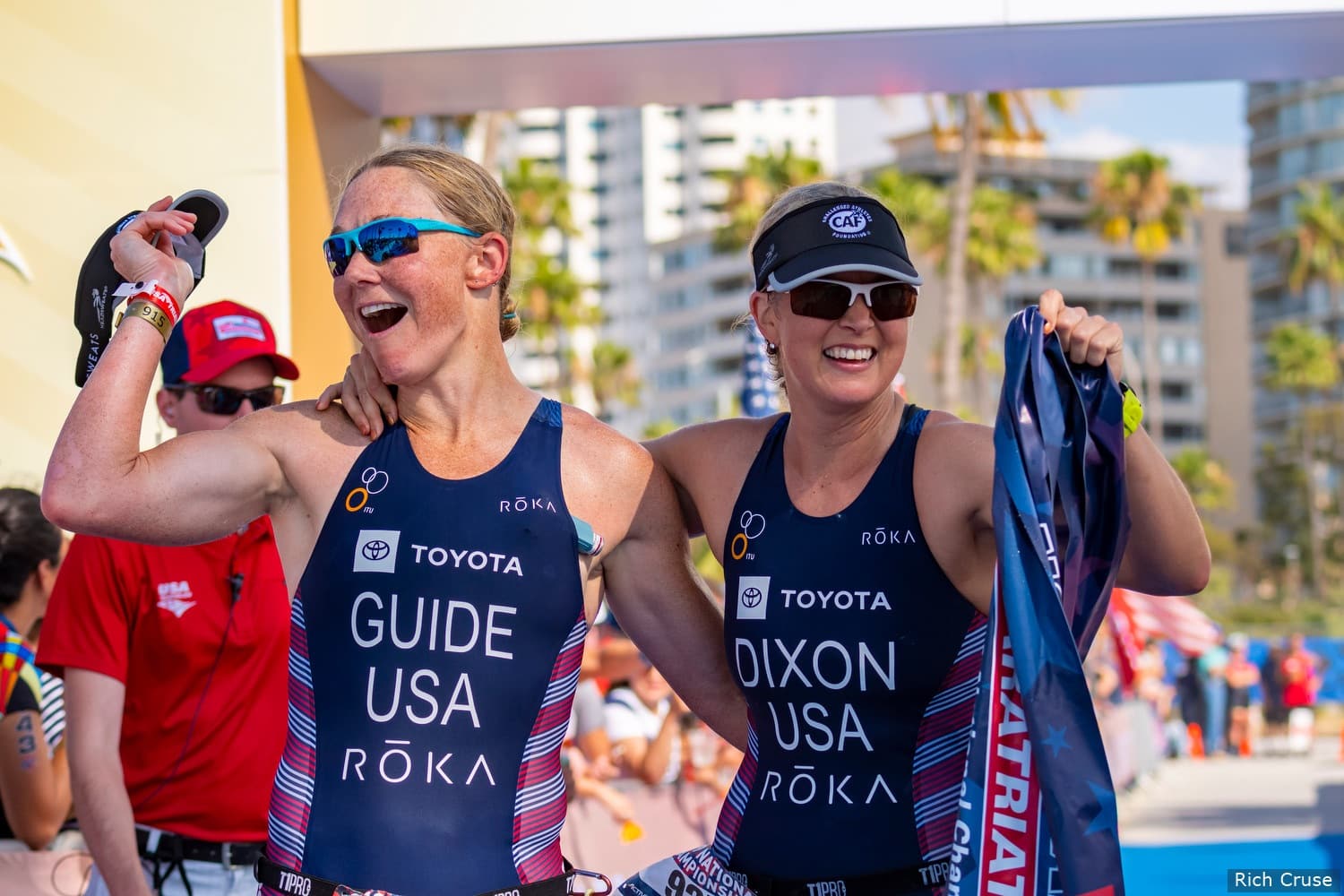 "I've definitely struggled with my mental health," said Dixon, who admits she had developed an eating disorder after the weight gains from her health complications.
She says weekly meetings with her dietician and a sports psychologist have helped immensely.
"I'm a positive person, but it's been hard to be at the highest level of your sport and start dealing with some pretty big health challenges at the most pivotal point of your career," Dixon said. "But perspective has been the thing that has gotten me through it, and I'm thankful to have a really good support network.
"I'm lucky that I get to train at all. That's been a blessing. I just need to keep my head down and keep doing the work and be as consistent as I can. That will eventually pay off."
Whatever the road looks like from now through August, Dixon will keep moving forward. And hopefully, that means competing at the Tokyo Paralympic Games, finally at full health — with no limits.
Follow Amy Dixon on Instagram to cheer her on in her journey to Tokyo.
As part of USA Triathlon's #TokyoUnited campaign, we are sharing the stories of U.S. elite triathletes weekly in the lead-up to the Tokyo Olympic and Paralympic Games this July and August. Follow @usatriathlon on Instagram, Facebook and Twitter to find these stories and more Olympic- and Paralympic-themed #TokyoUnited content.