Training Tips
Transition
Blogs
How to Improve Your Transition Times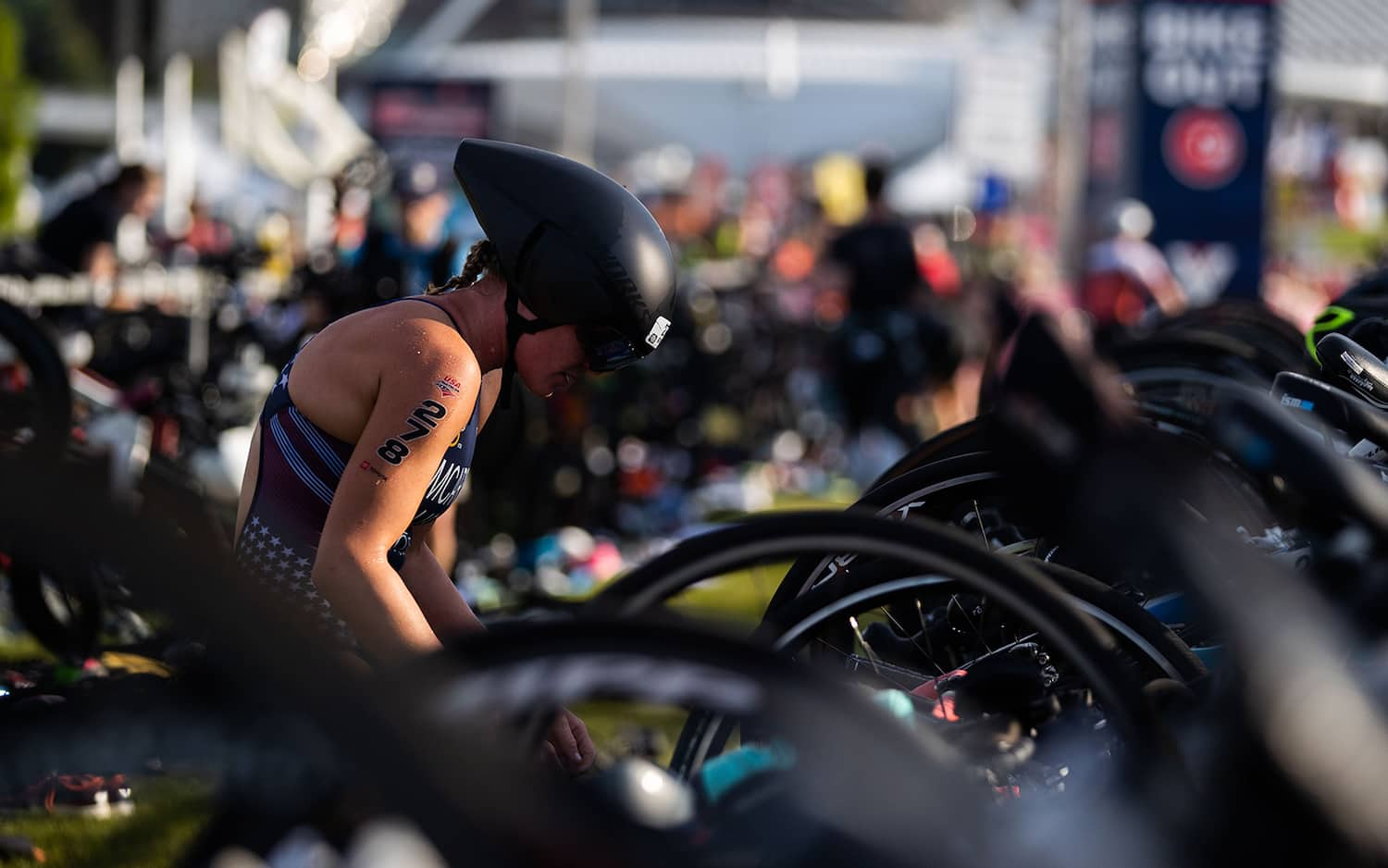 This past weekend, I lined up for my first triathlon of the season, a sprint triathlon.
After the race, I looked at my race stats: swim, bike, run and – yes – transitions! The person who finished just ahead of me beat me by around 3.5 minutes. My slower transition times accounted for nearly half of that time.
For most of my 20-year triathlon career, I focused on racing short course. Part of my training included practicing my transitions. But in the last several years, I shifted over to longer races where quick transition times tend not to be as important and stopped practicing. This weekend was a reminder that like everything else in triathlon, transitions must be well thought-out and practiced. Here are five tips to help reduce your transition time:
Take Note of Your Location in
Transition
On race morning, note where your transition spot is. Look for a landmark – a tree, pole, portajohn. If the rows are numbered, remember the number or count how many rows from the swim entrance you are. If the race allows, you can also put something colorful either on your bike or on the ground like bright handlebar tape or a colorful transition mat. Also, look at the transition flow – swim in, bike out, bike in, run out. Do a practice run from the swim entrance to your transition spot and from your transition spot to the exits. Don't wait until you're in the middle of the race to figure out how to exit transition.
Only bring the essentials into the transition zone: bike, bike helmet, sunglasses, race belt with race number, bike shoes, running shoes, bike bottles, nutrition, and potentially socks, a small towel, a transition mat and sunscreen. There's no need to bring a large race bag, a bucket to sit on, three pairs of socks or optional clothing.
Keep Your Setup
Organized
Your transition area should be kept as streamlined as possible. The goal is for everything to be logical and to take away the need to think!
Bike: Hang your bike from the saddle. Put your bottles in the cages.
Helmet & Sunglasses: I recommend putting your helmet on your aerobars. Unbuckle the strap and place it open side up with the front closest to you. When you pick up your helmet, it's now positioned to go directly on your head. Open your sunglasses and place them inside the helmet nose down. When you get to your bike, put on your sunglasses and then your helmet.
Bike Shoes/Running Shoes/Race Belt/Running Hat : The rest of your gear can be placed on a small mat or the ground near your front wheel. Place your bike gear in the front and your run gear behind. Open the top straps of your bike shoes and leave them ready to step in (heels closest to you, left shoe on the left, right on the right). If you plan to dry your feet, put a small towel on top of the bike shoes. For your running shoes, untie or loosen the laces and set up as you did the bike shoes. Unbuckle your race belt and place it on top of your running shoes with the bib facing down. If you'll wear a running hat, place it open side up on top of your running shoes. If you are planning to wear socks for the bike and/or run, leave them halfway unrolled inside your shoes.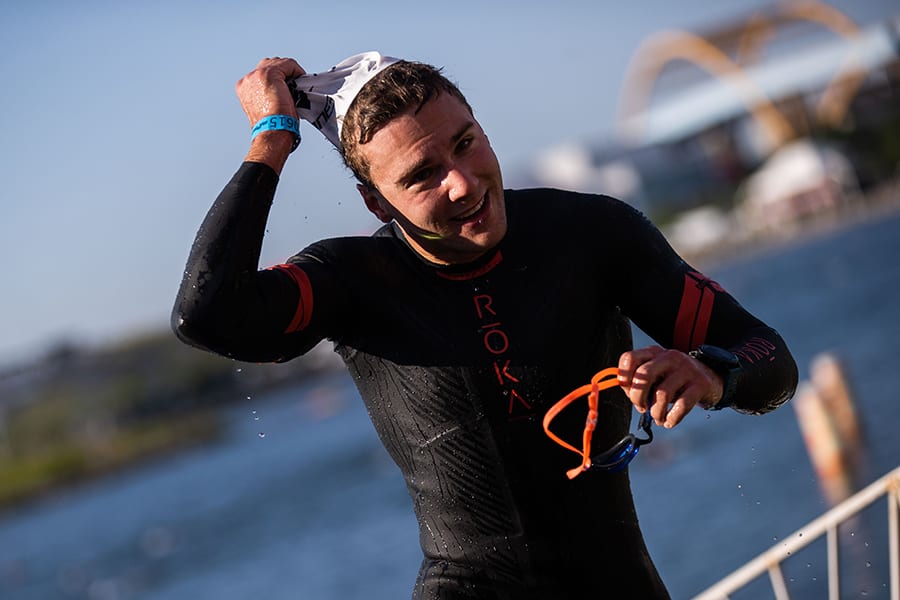 Practice Taking Off Your
Wetsuit
Taking off a wetsuit can be challenging. To make things easier, I recommend using an anti-chafing product on your lower legs and arms plus lubricant on the lower legs and arms of your wetsuit. This will help you remove your wetsuit more easily. When you do open water swims, practice running out of the water and taking off your cap and goggles right away. Also, try unzipping your wetsuit and pulling down the top half while you run.
Although the exact placement of timing mats will vary from race to race, the swim to bike transition generally starts upon exiting the water and finishes just before crossing the bike mount line. The bike to run transition generally starts when you cross the dismount line and ends when you exit the transition area for the run. Every second counts, and so try to keep moving.
In triathlon, your race time has five components: swim, T1, bike, T2 and run. Transition time is often an area where you can easily take off some time by thinking through organization in advance and practicing your routine.
Reem Jishi is a USAT Triathlon Level II Certified Coach and Coach with
QT2 Systems
. A 10-time All-American and four-time member of Team USA, Reem has been involved in the sport of triathlon as a participant since 2000 and a coach since 2010.