Three U.S. Olympians to Race New-Look Eliminator Format This Weekend in Montreal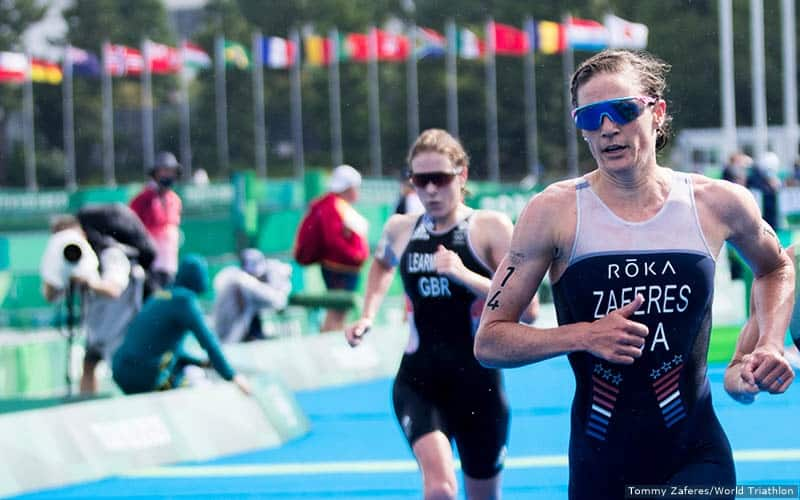 COLORADO SPRINGS, Colo. — U.S. Olympic medalists Katie Zaferes (Cary, N.C.), Taylor Knibb (Washington, D.C.) and Kevin McDowell (Geneva, Ill.), fresh off their historic performances at the Olympic Games Tokyo 2020, are set to compete this weekend in a brand-new eliminator format at the World Triathlon Championship Series (WTCS) stop in Montreal, Québec.

The U.S. Olympic Team is still riding a high from Tokyo, where less than two weeks ago Zaferes, McDowell, Knibb and Morgan Pearson (Boulder, Colo.) combined to win a silver medal in the inaugural Olympic Mixed Relay competition. Zaferes also won bronze in the women's individual event to become the third U.S. triathlete ever to medal at the Olympic Games, while McDowell's sixth-place finish was the highest-ever for a U.S. man at the Olympic Games. Knibb is also coming off an impressive showing at IRONMAN 70.3 Boulder last weekend, where she placed second in her first-ever long-course triathlon against a field of seasoned pros.

This weekend's race in Montreal is the penultimate stop on the 2021 WTCS calendar. The World Triathlon Championship Finals, taking place Saturday, Aug. 21, in Edmonton, mark the final stop. The overall leaders at the conclusion of the series are crowned world champions.

Zaferes, Knibb and McDowell all head to Montreal in contention for the overall World Triathlon Championship podium. Several other Americans are also in the mix, as the U.S. brings a nine-strong contingent including U.S. Olympic Team alternates Taylor Spivey (Redondo Beach, Calif.), Kirsten Kasper (North Andover, Mass.) and Seth Rider (Germantown, Tenn.). Also toeing the line are Erika Ackerlund (Missoula, Mont.) for the women and Chase McQueen (Columbus, Ind.) and Davis Bove (Franklin, Tenn.) for the men. Click here for complete start lists.

New-Look Individual Race Format, Plus Mixed Relay
The events in Montreal feature a unique "eliminator" format never before seen in World Triathlon Championship Series competition. The individual races are spread across two days, with qualifiers taking place Friday, Aug. 13, and finals set for Saturday, Aug. 14. A World Triathlon Mixed Relay Series event concludes the action on Sunday, Aug. 15.

The individual competition is made up of several "super-sprint" races, which each cover a 300-meter swim, 7.2-kilometer bike and 2-kilometer run.

Up to 60 athletes per gender will compete across two qualifying races (30 athletes per race) on Friday. The top-10 finishers from each qualifying race will progress through to the next day, along with 10 more athletes per gender in the repechage races. On Saturday, the 30 qualifiers per gender will line up for a three-race final. At the end of the first race, the last ten across the line will be eliminated. At the end of the second, ten more will be eliminated. The last race of the weekend will see the remaining 10 athletes battle it out for gold.

Then on Sunday, 10 countries will field Mixed Relay teams following a similar format as the Olympic Mixed Relay competition. With teams of four, each athlete will cover a 300m swim, 6.6k bike and 1.9k run before tagging off to the next teammate, alternating female-male-female-male. The four-person Mixed Relay rosters for all teams will be unveiled on race morning.

Tune In
All races will be broadcast live at TriathlonLIVE.tv and FloTrack.org, with subscriptions available for purchase. The qualification waves begin Friday at 11:30 a.m. and noon ET for women, and at 1 and 1:30 p.m. ET for men. The Friday repechage races are set for 2:30 p.m. ET for women and 3 p.m. ET for men.

On Saturday, the women's finals take place back-to-back in 30-minute increments starting at 1:36 p.m. ET, followed by the men's races back-to-back in 30-minute increments starting at 4:06 p.m. ET. The Mixed Relay will take place Sunday at 3:06 p.m. ET.

World Triathlon Championship Series to Date
U.S. athletes have won five of the 18 total medals awarded so far in the 2021 World Triathlon Championship Series, including Zaferes' individual bronze at the Tokyo Games. Spivey is the highest-ranked U.S. women currently at No. 4, while Zaferes, Knibb and 2020 U.S. Olympian Summer Rappaport (Thornton, Colo.) are in 6th, 7th, and 8th respectively. Pearson is the top U.S. man in fourth, while McDowell holds the No. 9 spot. Rappaport and Pearson are not racing in Montreal. Click here for the complete standings.

The shortened 2021 series had its first stop in Yokohama, Japan, on May 15, before heading to Leeds, England, on June 6. The Olympic Games Tokyo 2020 also counted as a stop in the series, followed by this weekend in Montreal and ending with the Championship Finals in Edmonton. The Championship Finals are weighted more heavily than regular-season races, with athletes earning proportionally more points toward the series total at that race. The world championship podium will be named in Edmonton, comprised of the top-three athletes per gender in the overall series standings.

About USA Triathlon
USA Triathlon is proud to serve as the National Governing Body for triathlon, as well as duathlon, aquathlon, aquabike, winter triathlon, off-road triathlon and paratriathlon in the United States. Founded in 1982, USA Triathlon sanctions more than 4,000 events and connects with more than 400,000 members each year, making it the largest multisport organization in the world. In addition to its work at the grassroots level with athletes, coaches, and race directors — as well as the USA Triathlon Foundation — USA Triathlon provides leadership and support to elite athletes competing at international events, including World Triathlon Championships, Pan American Games and the Olympic and Paralympic Games. USA Triathlon is a proud member of World Triathlon and the United States Olympic & Paralympic Committee (USOPC).