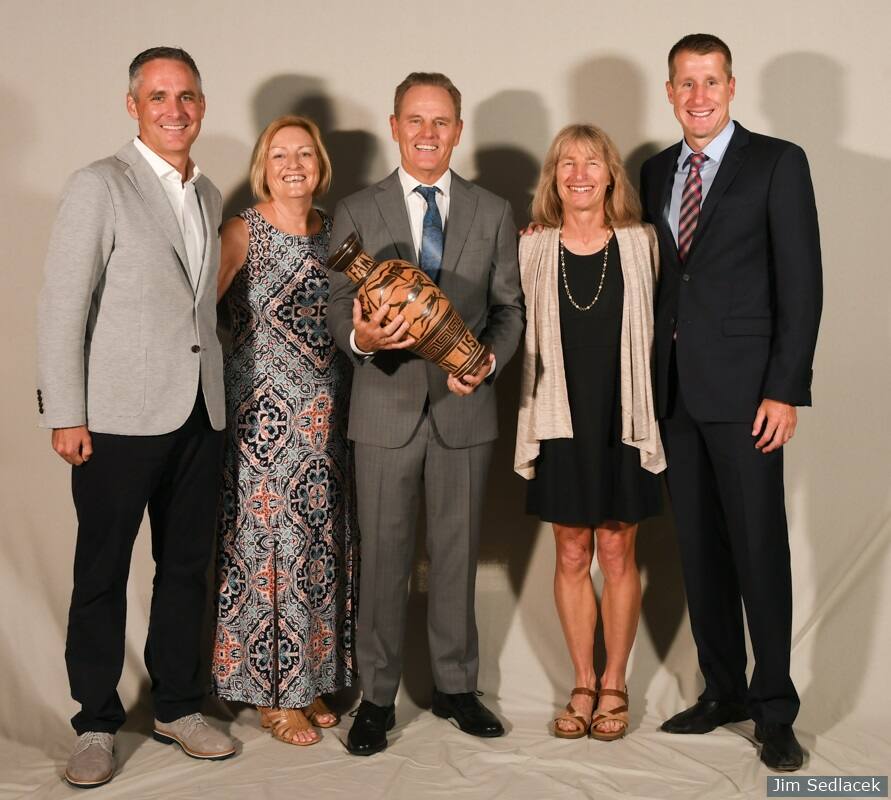 Read the full announcement here.
Hunter Kemper — Elite Athlete (Colorado Springs, Colo.)
Hunter Kemper is the most decorated U.S. male triathlete in history. He is the only American and one of only two male triathletes in history to have represented his country at the first four Olympic triathlon competitions. He placed 17th in the sport's debut in Sydney in 2000, ninth in Athens in 2004, seventh in Beijing in 2008 and 14th in London in 2012. Kemper also represented the U.S. at two Pan American Games, taking home silver in 1999 and gold in 2003. He earned a record seven USA Triathlon Elite National Championship titles and is one of only two American men to be ranked No. 1 in the world, which he accomplished in 2005. He won the 2007 Haul to the Great Wall Series, was named the 2005 U.S. Olympic Committee Sportsman of the Year, and is a five-time U.S. Olympic Committee Triathlete of the Year. Kemper continues to be involved in the multisport community, volunteering and promoting youth triathlons across the country and appearing at Olympic-themed community events in his hometown of Colorado Springs.


Mike Reilly — Contributor (San Diego, Calif.)
Through nearly 40 years of service, Mike Reilly has become the world's most famous endurance sports announcer. Best known as the "Voice of IRONMAN," Reilly has called the finishes of more than 160 IRONMAN triathlons, 1,200 races and more than 2 million athletes. Reilly was a leading representative of Saucony shoes throughout the 1980s and supplied the Saucony product line to Road Runner Sports in Del Mar — now the largest running store in the country. He participated and announced some of the first triathlons ever held on Fiesta Island in San Diego in the '80s. His passion for triathlon and announcing grew, and in 1989 he announced his first IRONMAN World Championship in Kailua-Kona, Hawaii. He went on to spend the next 30 years announcing millions of athletes at the finish line of IRONMANs worldwide, and continues to do so today.

Donna Smyers — Age-Group Athlete (Adamant, Vt.)
Donna Smyers has competed in triathlon since 1985, topping age-group podiums for several decades and in all disciplines. Her resume includes four USA Triathlon Age Group National Championship titles, two ITU Age Group World Championship titles, six age-group IRONMAN World Championship wins and an IRONMAN 70.3 age-group world title. She was named USA Triathlon Masters Triathlete of the Year in 1998 and 2002. Smyers suffered a quad tendon rupture and repair in late 2012, but was back on the podium at the national and international levels — including world titles at the ITU Age Group Sprint World Championships and IRONMAN 70.3 World Championship — by 2014. Off the race course, Smyers practices physical therapy in Adamant, Vermont, with a focus on athletes of all levels.


James Ward (Posthumous) — Age-Group Athlete (Seminole, Fla.)
James "Jim" Ward was an icon in the USA Triathlon age-group community, winning six USA Triathlon Age Group National Championship titles and three age-group world titles. He began competing in triathlon in his late 60s — an inspiration to many older athletes — and won his age group as the most senior competitor at the 1994 IRONMAN World Championship at 77. In addition to his success in racing, he also contributed to the multisport community as chair of the Senior Task Force of the USA Triathlon Age Group Commission. A retired U.S. Army Colonel and World War II veteran, Ward passed away in 2000 at 83 years of age. He was training for his next triathlon.