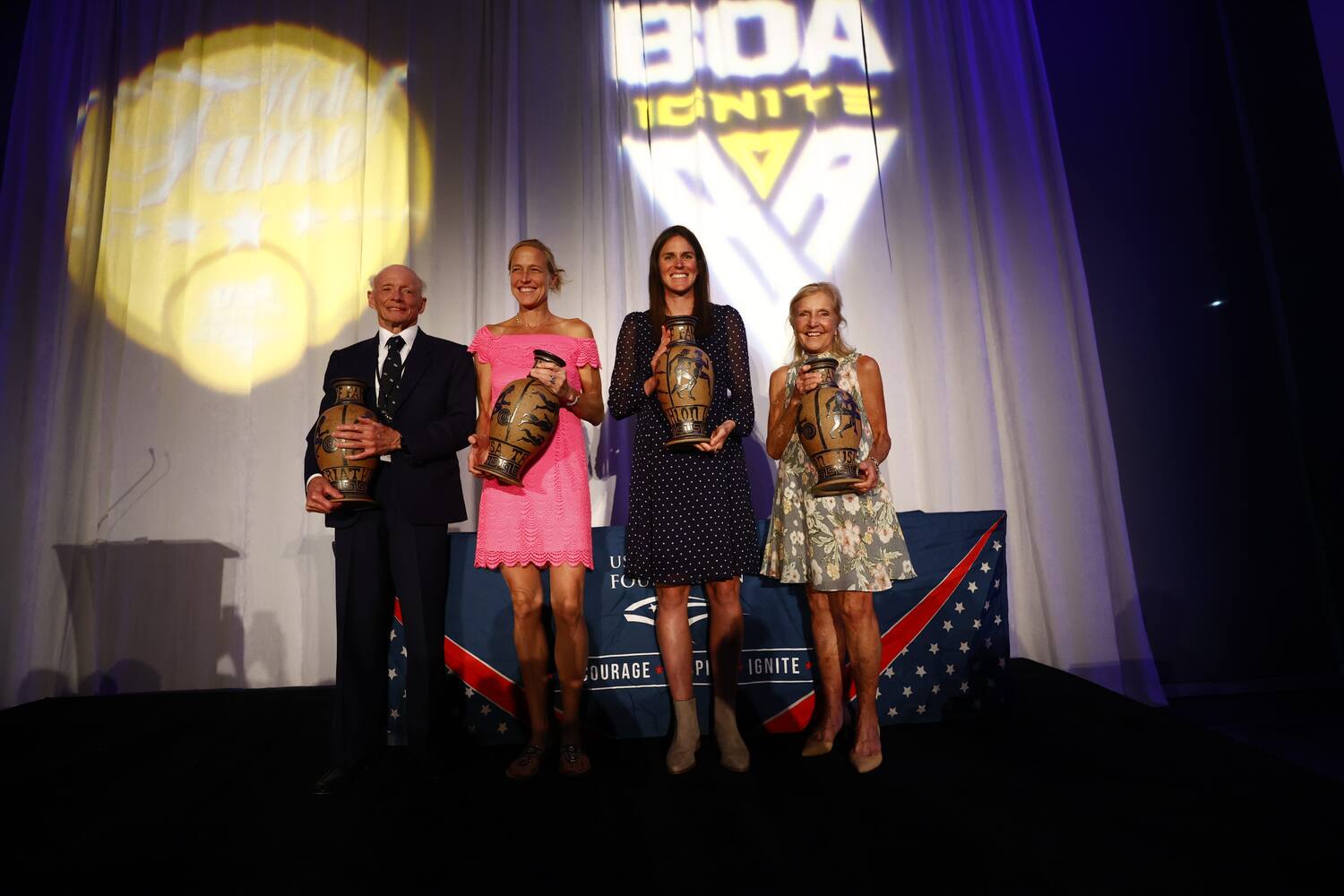 Read the full announcement here.
Gwen Jorgensen — Elite Athlete (Boulder, Colo.)
A Wisconsin native and an All-American track and cross-country runner for the University of Wisconsin, Jorgensen, 35, won the USA's first Olympic gold medal in triathlon at the Rio 2016 Olympic Games, capping a stellar — and unlikely —triathlon career. After graduating with her accounting master's degree and CPA license, Jorgensen hadn't planned to pursue sport professionally and was working as an accountant at Ernst & Young in Milwaukee when she received a phone call from Barb Lindquist, founder of USA Triathlon's Collegiate Recruitment Program, who noticed her running and swimming talent and urged her to compete in triathlon at the elite level. After learning the basics of the sport, Jorgensen earned her elite license in her first competitive triathlon. She went on to collect three podiums in her debut professional season — earning the title of 2010 USA Triathlon Rookie of the Year — and ultimately punched her ticket to the Olympic Games London 2012. She'd then go on to become the first woman to win a world title after a perfect undefeated World Triathlon Series season, to hold onto a 12-race World Triathlon Series winning streak, and to win the Olympic test event followed by a gold medal the following year at the 2016 Olympics in Rio. Since she won gold at the 2016 Olympics in Rio, Jorgensen has captivated fans of running, and in 2017, she announced she was pursuing a bold new goal: win an Olympic gold medal in the marathon.
Laura Bennett — Elite Athlete (Boulder, Colo.)
A two-time Olympian, Bennett, 46, took fourth at the Beijing 2008 Olympic Games and finished 17th at the London 2012 Olympic Games. A North Palm Beach, Florida, native, Bennett began competing in triathlons when she was 10 years old, and in 1994, was named USA Triathlon's Junior Triathlete of the Year. She earned the silver medal at the 2003 World Triathlon Championships and a bronze in 2004, 2005 and 2007. Bennett was the U.S. team's second alternate for the first Olympic Games triathlon in 2000 in Sydney and was the first alternate for the Athens 2004 Olympic Games. Bennett also competed on the IRONMAN 70.3 circuit, winning her IRONMAN 70.3 debut in 2009 in Augusta, Georgia, and followed that with a fifth place at the 2009 IRONMAN 70.3 World Championship. Bennett was named USA Triathlon's Elite Female Triathlete of the Year in 2006, 2007, 2008 and 2010. Today, she and her husband, Australian Olympic triathlete Greg Bennett, own and operate Bennett Endurance High Performance, based in Boulder, Colorado.
Lesley Cens-McDowell — Age Group Athlete (West Chester, Pennsylvania/Holualoa, Hawaii)
A longtime age-group triathlete, Cens-McDowell, 75, has won multiple triathlon races of all distances, including the IRONMAN World Championship in Kona, half-Ironman, Olympic distance, and sprint triathlons. She won 11 first place age group titles at the IRONMAN World Championship in Kona, and 3 second place finishes in 17 races there. She set two age group records in Kona and a personal best was 10:58 in the 45-49 age group. In one of these races, a stress fracture of her fibula developed into a complete fracture halfway through the marathon and she still finished in second place. Lesley won seven national titles at USA Triathlon Age Group National Championships and she was chosen as USA Triathlon Masters Triathlete of the Year in 1991, earning a trip to Japan to compete there on behalf of the US. She qualified for four Olympic distance World Championships and competed in three: Avignon, France; Orlando, Florida; and Manchester, England. She won a place on the podium in all three races. Lesley came to triathlon from a background of tennis, Grand Prix motorcycle racing, and then running. She was featured in Sports Illustrated: "Faces in the Crowd" in two separate issues. She now splits her time between homes in West Chester, Pa., and Holualoa, Hawaii, just upslope from Kona on the Big Island.
Robert Plant — Age Group Athlete (Woodside, Calif.)
Plant, 78, has won several USA Triathlon age group national titles including seven Olympic-distance triathlon titles, two standard-distance duathlon (run-bike-run) titles and fouraquathlon (swim-run) titles. He won Competitor Magazine's Master's Triathlete of the Year Award in 1998. He took first place in the 75-79 age group at the 2018 ITU World Championships in Queensland, Australia. For years, Plant has represented the age group Team USA at World Triathlon world championship events and is one of the most decorated age group multisport athletes in the world, having won more world medals across all the on-road multisport disciplines than any other athlete. Plant has also earned six age group podium finishes at the IRONMAN World Championships.
.