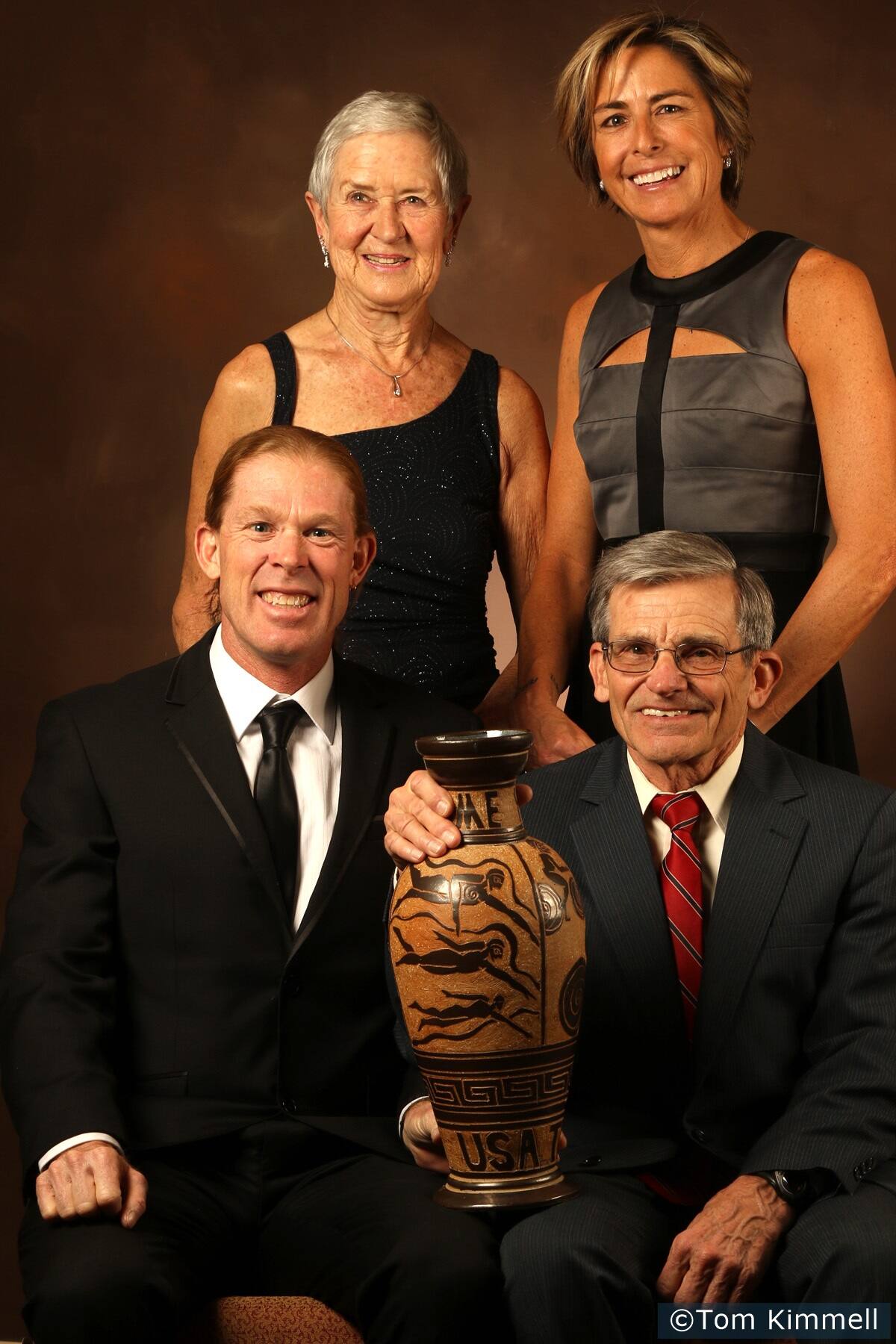 Read the full announcement for the 2015 class here.
Harriet Anderson has completed more than 100 triathlons over the past 20 years. A three-time national champion and age-group world champion at the 2001 ITU Sprint Triathlon World Championships, Anderson has competed in all distances from sprints up to ultra-distance events. Her first IRONMAN was in 1989, and she has finished the IRONMAN World Championship in Kailua-Kona, Hawaii, 21 times, claiming age-group wins 11 times. Anderson won her age group at the IRONMAN World Championship every year from 2006 to 2013 and holds the record as the oldest female competitor to finish the event at 78 years of age.
Roger Brockenbrough is one of the most decorated male age-group athletes in multisport. He has won 20 USA Triathlon National Championship titles over the last 30 years, as well as several silver and bronze medals. Brockenbrough has excelled in both triathlon and duathlon events, winning a combined seven ITU World Championship titles and five silver medals. He has also medaled at seven IRONMAN events, winning his age-group four times. Brockenbrough began his triathlon career in 1986 with his oldest son and organized triathlon events in the Pittsburgh area, serving as a volunteer at youth triathlon and running races in the area. He was inducted into the Western Pennsylvania Sports Hall of Fame in 2007, and was featured on "TV Made Me Do It" in Canada in April 2009, an episode that was filmed at IRONMAN Wisconsin.
Ken Glah has competed in more than 70 IRONMAN events in his career, and celebrated his 32nd consecutive start at an IRONMAN World Championship in Kailua-Kona, Hawaii, in 2015. His best finish at the IRONMAN World Championship was third in 1988, and he raced to nine additional top-10 finishes there. Glah is a six-time IRONMAN champion, claiming victory at IRONMAN Brazil in 1998, 1999 and 2000, IRONMAN New Zealand in 1992 and 1993 and IRONMAN Canada in 1993. In addition to his accomplishments at the IRONMAN distance, Glah has also won national and world titles in short- and long-course triathlon events. In 2002, he founded Endurance Sports Travel, providing support to 2,000-plus athletes and their friends and family members at 28 locations around the world.
The No. 1 world-ranked triathlete in 2001 and 2002, Siri Lindley's career includes 12 ITU World Cup victories and the 2001 ITU World Championship title. Lindley also won gold at the 2001 ITU Aquathlon World Championships and silver at the 2000 ITU Duathlon World Championships. She claimed USA Triathlon's 2001 Triathlete of the Year award and raced to a USA Triathlon Elite National Championship title in 1998. Lindley is now a successful triathlon coach and has worked with top-ranked athletes, including 2004 Olympic Games bronze medalist Susan Williams and multiple-time IRONMAN World Champion Mirinda Carfrae. Lindley served as a color commentator for NBC's Olympic Games triathlon coverage and was inducted into the Brown University Hall of Fame in 2007 for achievements as a collegiate athlete in field hockey, ice hockey and lacrosse.