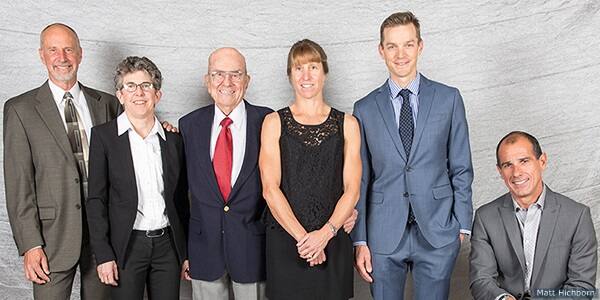 Olympic bronze medalist Susan Williams, IRONMAN World Champion Tim DeBoom, multisport contributor Dan Empfield, age-group multisport stars Bill Bell and Karen McKeachie and paratriathlete pioneer Carlos Moleda were announced as the seventh induction class of the USA Triathlon Hall of Fame.
"We are thrilled to welcome this stellar class into the USA Triathlon Hall of Fame," said Jon Gray Noll, chair of the USA Triathlon Hall of Fame Executive Committee. "The inductees represent every aspect of multisport, from elite athlete to contributor, and we could not be more proud of both their accomplishments and their respective roles in the promotion of our sport."
Founded in 2008, the USA Triathlon Hall of Fame has recognized the best performances and contributions in the sport's 40-year history. This year's class brings the total number of inductees to 33.
Bill Bell (Palm Desert, Calif.) has been competing in multisport events for more than 30 years, having entered his first race in 1982. He completed his last full IRONMAN triathlon at age 78, but still competes in multisport events at age 92. A member of the USA Triathlon Century Club, his list of 300-plus completed triathlons includes 32 IRONMAN triathlons, with 19 of those at the IRONMAN World Championship in Kailua-Kona, Hawaii, and 41 IRONMAN 70.3 events. Bell won his age group at the IRONMAN World Championship in 1994-1997 and 1999. He also won his age group in the 1983 and 1985 Ultraman races and the World's Toughest Triathlon in 1987, 1991 and 1992.
An elite athlete for nearly two decades from 1995-2012, Tim DeBoom (Boulder, Colo.) is best known for his performances at the IRONMAN World Championship, winning the overall title in 2001-02 and finishing as the top overall U.S. finisher for six years. Before his elite career, DeBoom was the top age-group finisher at the ITU World Championships in 1993-94. DeBoom owned a production company from 2009-12, producing events such as the SOMA and Marquee Triathlons. He has written a monthly column for Triathlete Magazine since 2008 and works with his former sponsors PowerBar Nutrition, Shimano and Pearl Izumi as a consultant with a focus on product development and athlete recruitment.
Paving the way for thousands of athletes, Dan Empfield is the founder of Quintana Roo and inventor of the triathlon-specific wetsuit, which first sold in early 1987. He also created an innovative system of bike fitting now known as FitInstitute Slow Twitch (FIST) — recognized globally by most major bike manufacturers. As a race director, Empfield resurrected the U.S. Triathlon Series, hosting 21 events between 1997-99. He co-authored a membership initiative in 2005 in relation to USA Triathlon's election processes, which amended the bylaws to improve the process moving forward. Empfield is the founder and owner of Slowtwitch.com, and completed his first triathlon in 1980.
Karen McKeachie (Ann Arbor, Mich.) has a storied career as a 15-time national champion and a six-time world champion. She was named USA Triathlon's Overall Triathlete of the Year in 1999, the only 40-plus female age-group athlete to be awarded the honor, and was the USA Triathlon Masters Triathlete of the Year in 2000. McKeachie was the overall winner of the 2011 Trek Women's Triathlon in Howell, Michigan, and at 58 years, 5 months, 8 days, is believed to be the oldest athlete ever to win her gender outright in a race with 200-plus finishers. A prolific race director of running races, triathlons and marathon swims, McKeachie also co-founded Triathlon Today magazine (later Inside Triathlon) and created the first-ever women's bike saddle.
One of the most familiar names in wheelchair racing, Carlos Moleda is seen as a pioneer for the sport. A Navy SEAL and Purple Heart recipient, Moleda was injured in the line of duty and was paralyzed in 1989. After an introduction to triathlon, Moleda became the first handcycle athlete to break 11 hours at the IRONMAN World Championship and won the division four times. He is a seven-time national champion and also won the Buffalo Springs Triathlon, the only wheelchair qualifier for the IRONMAN World Championship, twice. Moleda has helped to develop rules for paratriathlon events, and he completed Race Across America in 8 days, 9 hours on a four-person handcycle relay team.
The bronze medalist at the Athens 2004 Olympic Games, Susan Williams is the only American triathlete to win a medal at the Olympic Games. Before transitioning to an elite athlete in 1997, Williams was a champion age-group triathlete who logged the fastest time at the 1996 ITU World Championships. In her return to age-group racing, she clocked in as the fastest overall woman at the 2011 USA Triathlon Olympic-Distance Nationals in Burlington, Vermont. An All-American high school swimmer and captain of the University of Alabama swim team, she continues to participate in the sport as a coach and serves on the USA Triathlon committee to develop qualification criteria for the Olympic Games and the Pan American Games.