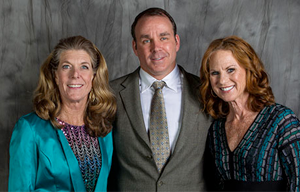 Introduced to triathlon by her masters swim coach, the legendary Dave Scott, Missy LeStrange went on to post a decorated career as an age-grouper following her first race in 1980. The three-time USA Triathlon Masters Triathlete of the Year (1994, 1995, 1997) honoree won 14 age-group titles at the Ironman World Championship, two USA Triathlon Age Group National Championship titles and an Olympic-distance age-group world title. LeStrange also served as a member of the USA Triathlon Age-Group Committee from 1992-97 and helped develop a number of organizational programs empowering youth, women, seniors and paratriathletes. She is currently a member of the USA Triathlon History Project.
Jim MacLaren is considered by many to be the forefather of the sport of paratriathlon. After his left leg was amputated below the knee following a 1985 accident, MacLaren finished the 1989 Ironman Hawaii in 10 hours, 42 minutes — a record that stood for 11 years. A second accident, this one at the 1993 Orange County Ironman, left MacLaren a quadriplegic. A fundraiser for MacLaren following the second accident led to the creation of the Challenged Athletes Foundation, which has raised over $40 million to help disabled athletes stay in the game of life through sport. The winner of the ESPN's Arthur Ashe Courage Award in 2005, MacLaren passed away in August 2010. The growth of paratriathlon and its inclusion in the 2016 Paralympic Games is a testament to his legacy.
Broadcast across the nation on ABC's "Wide World of Sports," Julie Moss' crawl to the finish line of the 1982 Ironman World Championship endures as one of triathlon's most iconic moments. Determined to finish second in the race after collapsing 15-feet short of the finish and being passed by winner Kathleen McCartney, Moss inspired thousands of athletes around the globe to compete in the sport during its infancy. After racing competitively as an elite, Moss continued to contribute to the sport as a broadcaster and motivational speaker. Moss returned to compete in Kona last year alongside McCartney to celebrate the 30th anniversary of this memorable moment. Moss and McCartney also recently collaborated to form a motivational speaking company, Iron Icons: Inspirational Speakers.