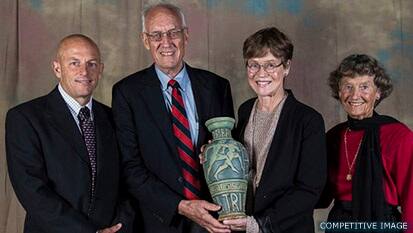 USA Triathlon Hall Inducts Five Multisport

Icons into Hall of Fame


Read the full announcement for the 2013 class HERE.

Madonna Buder (Age Group Athlete, Spokane, Wash.) is widely known as Sister Madonna or the Iron Nun. She has won 11 U.S. national titles, including eight at the Olympic-distance race at USA Triathlon Age Group Nationals, and she is also a 16-time world champion. In addition to her collection of national and world titles in Olympic-distance events, she has also captured 12 age-group wins at the Ironman World Championship in Kailua-Kona, Hawaii. She was named the 1999 USA Triathlon Grand Masters Triathlete of the Year and was considered a competitive rival of fellow Hall of Fame inductee Ethel Autorino.
Creators of the Ironman Triathlon in 1978 in Hawaii, John and Judy Collins (Contributors, Coronado, Calif.) served as race directors of the Ironman Triathlon in Hawaii in 1978-79. The pair are Ironman finishers themselves, John completing the 1978 Ironman and Judy participating in the 2003 Ironman Revisited on the original Oahu course. Both competed in the first-ever triathlon in the U.S. in San Diego in 1974 along with their 12- and 13-year-old children. Taken with the sport, they convinced their masters swim coach to start the longest-running triathlon in the world (Coronado Optimist Sports Fiesta Triathlon in 1975). They were inducted into the Ironman Hall of Fame in 1998.
Known for his cycling prowess, Mike Pigg (Elite Athlete, McKinleyville, Calif.) dominated Olympic-distance racing in the U.S. for several years in the late 1980s and early 1990s. He became the first men's ITU World Cup winner in 1991 in St. Croix. His credentials also include three-time triathlon national champion and two-time USOC Male Triathlete of the Year. He competed in the Ironman World Championship for five straight years from 1985-89, recording his best finish (second) in 1988 behind Scott Molina. A current resident of Humboldt County, Calif., he remains active in community affairs, acting as the race director for a local youth triathlon and serving a term as chair of the county school board.
Tom Warren (Contributor, San Diego, Calif.) is considered triathlon's first folk hero and he has been involved with the sport from the early days in the 1970s. As the winner of the 1979 Ironman Hawaii, he was featured in the pivotal feature in Sports Illustrated, written by Barry McDermott, which helped inspire a generation to participate in the sport. In 1989, he finished third in his age group at the event. He also won the 45-49 age group at USA Triathlon's Age Group Nationals in 1989-90. As an event director, he produced a wildly popular three-leg event called Tug's Swim-Run-Swim from 1975-85.