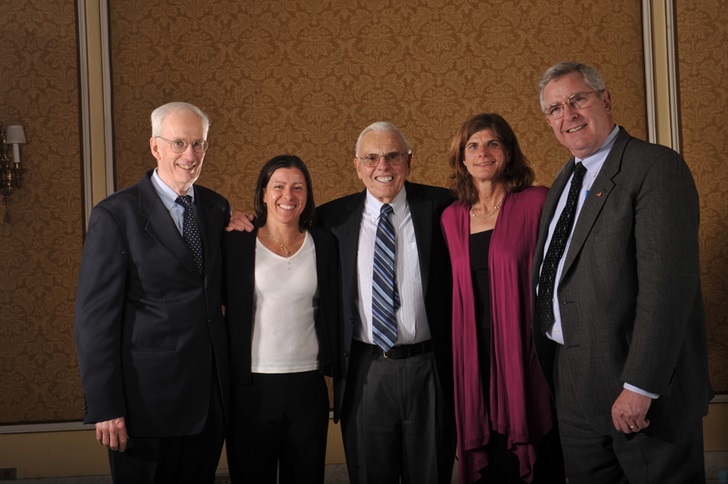 One of the sport's early age group stars, Judy won seven national triathlon titles, two duathlon national titles, four triathlon world gold medals, and five duathlon world gold medals. She was instrumental in establishing the USAT Women's Committee and annual women's breakfasts at major national and international races. She persuaded the Danskin Series to become USAT-sanctioned and inspired thousands of women to become involved in the sport.
She was tragically killed while biking in 1997. Her award was accepted by her husband Dennis Flannery.
President of Tri-Fed from 1984 to 1989, Jon Gray Noll teamed with Verne Scott to establish the foundation of the National Governing Body. His accomplishments include the establishment of the first set of competitive rules and the first true set of event production standards, while putting the organization's business plan in place. He also helped rebuild the organization's structure and bylaws to conform to the Ted Stevens Olympic and Amateur Sports Act.
He was instrumental in creating the NGB's first magazine (Transition Times) and securing its national distribution, and he also created the Tri-Fed National Championship as a separate race. His final act in office involved appointing the delegation that helped create the International Triathlon Union and the ITU World Triathlon Championship.
Based out of his bedroom office and on a shoestring budget, Verne Scott worked tirelessly to put everything, big and small, in place for the establishment of the Triathlon Federation (USA Triathlon) in the 1980s. Rules, event production standards, sanctioning process, championships, meetings, membership, magazine, without Verne nothing would have been completed.
Although his son, Dave, may be the most famous athlete in the family, Verne had his share of age group wins. After retiring as Executive Director of Tri-Fed in 1987, Verne returned to his full time responsibility as a professor at University of California-Davis until his retirement in 1989 at age 65. He continues to swim and work out three to four times per week, coaches swimming classes for beginning adults, plays golf, and serves as a volunteer for community service activities.
Karen Smyers is one of the most versatile women in the history of triathlon. Over her professional career, she accumulated seven national triathlon titles (including six in a row), one national duathlon title, three ITU Triathlon World Championship titles and one victory at Ironman Kona. Her 1995 double of winning at Kona and returning five weeks later to capture the ITU triathlon world title is perhaps the single most remarkable achievement in the sport to date. Karen was also a Pan American Games gold medalist and a three-time USOC Triathlete of the Year.
She continues to serve as an inspiration through her coaching, writing, speaking, and sharing her story of surviving cancer.
Sheila is considered by many to be one of the greatest athletes in history and is one of only a handful to have ever risen to the top in three separate sports. After a successful swimming career, which included a gold medal at the Atlanta Olympics in 1996, Sheila made the move to triathlon. She won silver at the 2003 Pan American Games, gold at the 2004 ITU World Championship, and earned podium finishes at 10 ITU World Cups - including three wins.
She is the only U.S. woman to make two Olympic triathlon teams, finishing 6th in 2000 and 23rd in 2004. Not content to walk away from sports, Sheila sought a new challenge in 2005 and quickly began to excel in the sport of modern pentathlon. After three world cup podiums, Sheila made history by making her fourth Olympic Games – in three sports. She finished 19th at the Beijing Olympics.